Sri Lanka
Visit Ella and Sri Lanka's Hill Country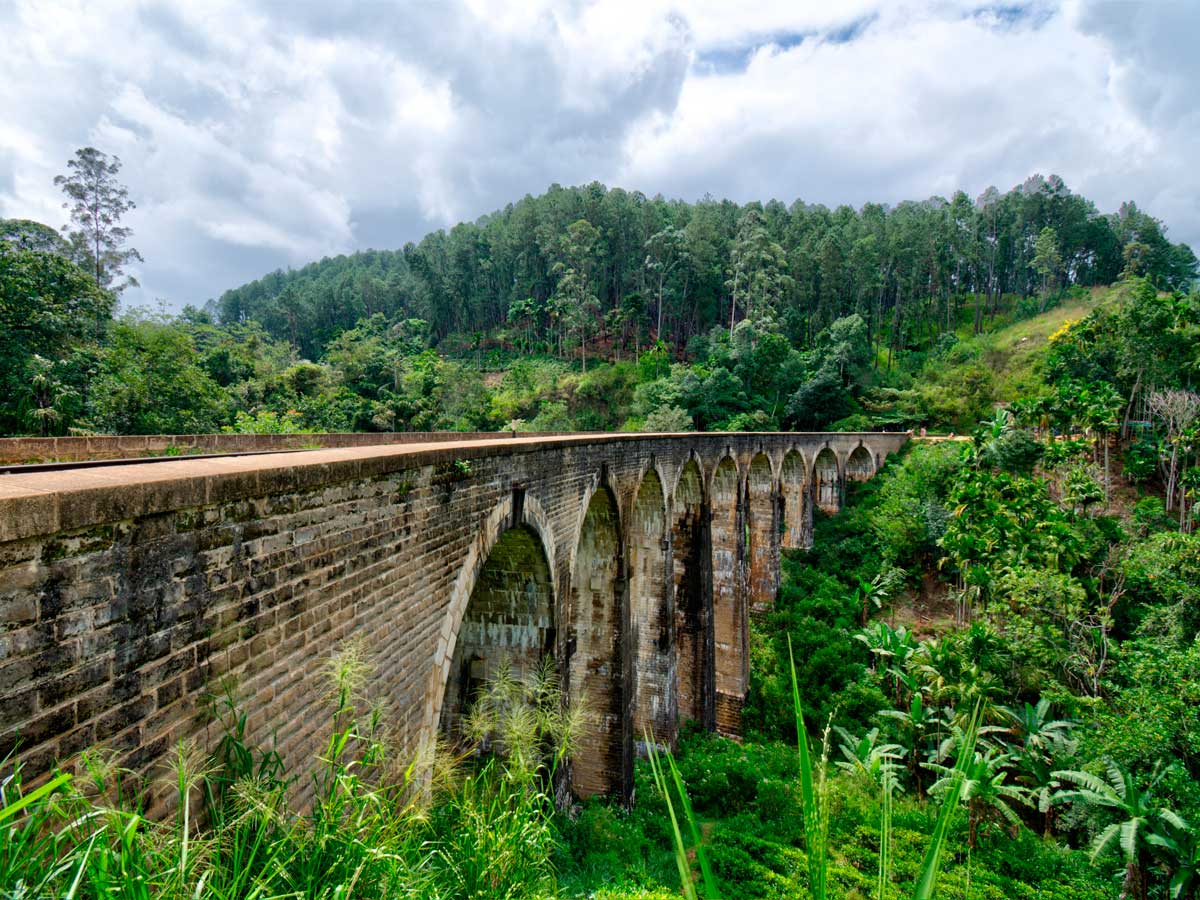 Welcome to Sri Lanka's favourite hill country village! Ella is a blissfully relaxing place nestled in valley at around 3500ft elevation; it is surrounded by mountains covered in lush green farmland and tea plantations. This is a great place to spend 2 or 3 days relaxing and cooling off in cooler temperatures than you normally find in costal areas of Sri Lanka. Be sure to make time for some laid-back walks through tea plantations to temples, waterfalls and viewpoints. The views through Ella gap are simply stunning and the short but rewarding hikes to Little Adam's Peak and Nine Arch Bridge are well worth the effort. The main attraction for us though was taking the train journey from Ella to Nuwara Eliya which is rated as one of the best scenic train journeys in the world!
The sleepy centre of Ella is fairly unspectacular yet pleasant enough and offers a few good options for lunch, dinner and drinks, these include: Ceylon Tea Factory – a relatively new establishment offering Asian, Fusion and Sri Lankan cuisine with Vegetarian, Vegan and Gluten Free options; Café Chill – a long established favourite in Ella offering western cuisine, pizzas and Sri Lankan curries, also a good place for drinks and the bar is open late; Matey Hut – The most popular place in Ella for Authentic Sri Lankan cuisine, this place has many rave reviews for it's Curries and Kottu dishes.
There are plenty of good accommodation options in Ella and the surrounding area ranging from backpacker hostels to luxury resorts. We stayed two nights at the luxury picturesque 98 Acres Resort and would highly recommend it. The resort is located within the grounds of the Greenland Estate, which is a 5 minute drive from the centre of Ella. All of the rooms at 98 Acres Resort offer balconies with breathtaking panoramas of the Ella Gap and Little Adam's Peak.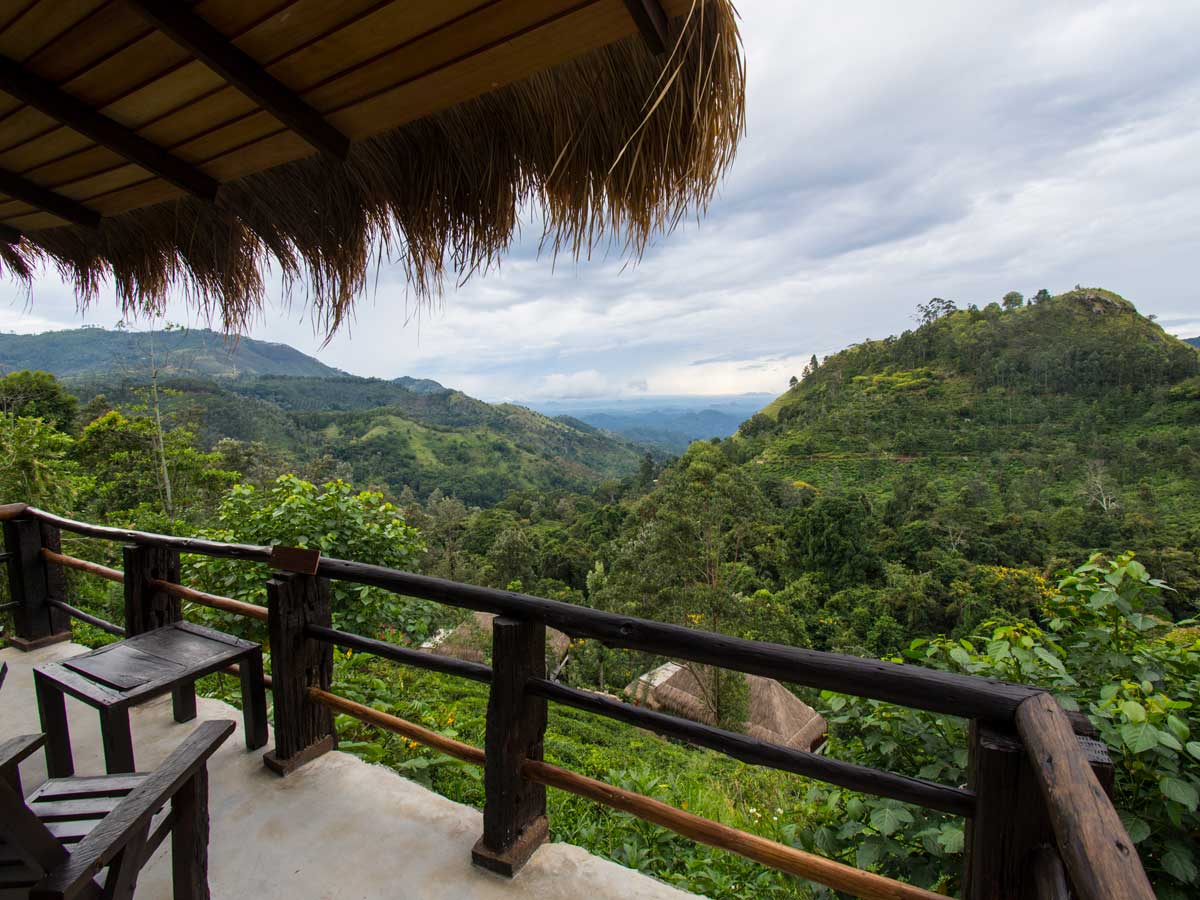 View from 98 Acres Resort
Little Adams Peak
Little Adams peak is one of the closest and easiest hikes to do in Ella. The start of the hike to the peak is about 15 min walk from Ella town, you could also take the bus towards Passara or just get a tuk tuk for the 5-10 minute ride. If you are walking from Ella town, turn on to the Passara Road and you will reach the entrance at 3rd mile post just after the Flower Garden Resort to your right with a sharp bend, you can also access the hike via the 98 Acres resort if you are staying there, in which case it is only about 5 minutes away.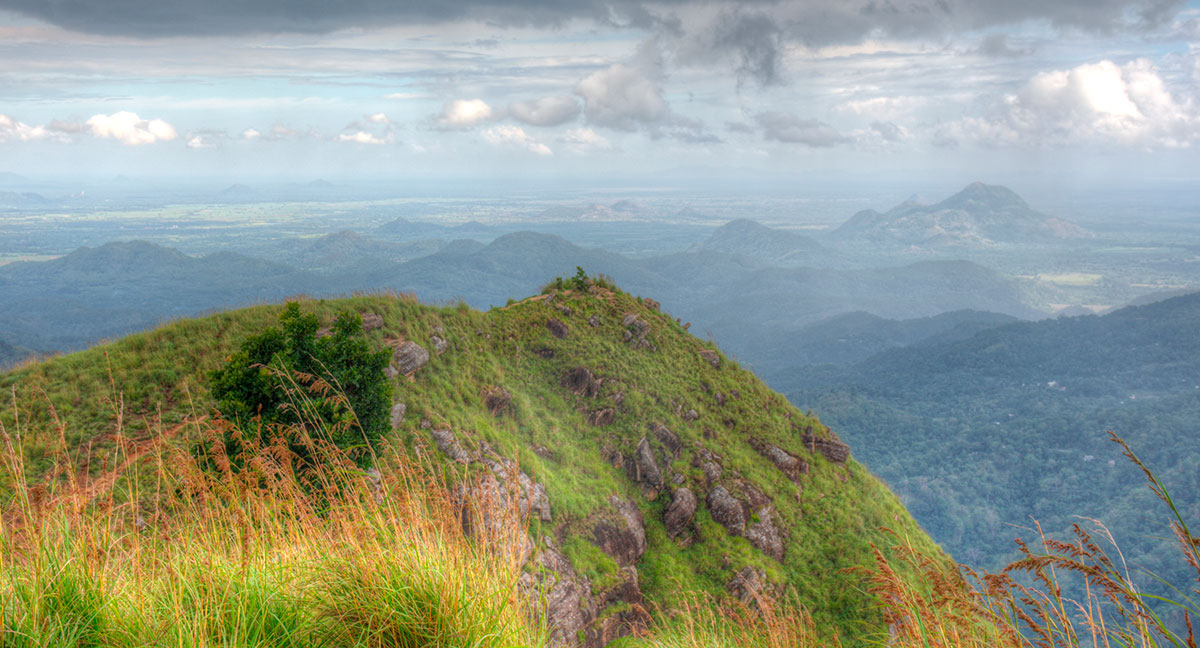 The summit, Little Adams Peak
Little Adams peak is 1141m and it's about a half hour climb to the summit. Take a short but very pleasant walk through the Greenland Tea estate to reach the main climb. Views from the summit are a spectacular 360 degrees panorama with clouds rolling in, it really is very rewarding.
We recommend you go early mornings or late evenings for the best views and it will be less tiring.
Nine Arch Bridge
The glorious Nine Arch Bridge between Ella and Demodara station is one of the engineering marvels in the early 20th century and one of the most iconic bridges in Sri Lanka; built with only bricks and mortar without the use of steel. Construction of the bridge finished in 1921 and it is one of the best examples of British railway constructions from the colonial period. The construction of the bridge is generally attributed to a local builder, P. K. Appuhami, in consultation with British engineers. You can access the Nine Arch Bridge by either walking along the tracks from Ella station – this is perfectly safe as the trains are slow and noisy so you'll be able to hear them coming! Alternatively you can take a short hike from Ella town via the Passara Road turning off to you left onto Nine Arch Bridge Road.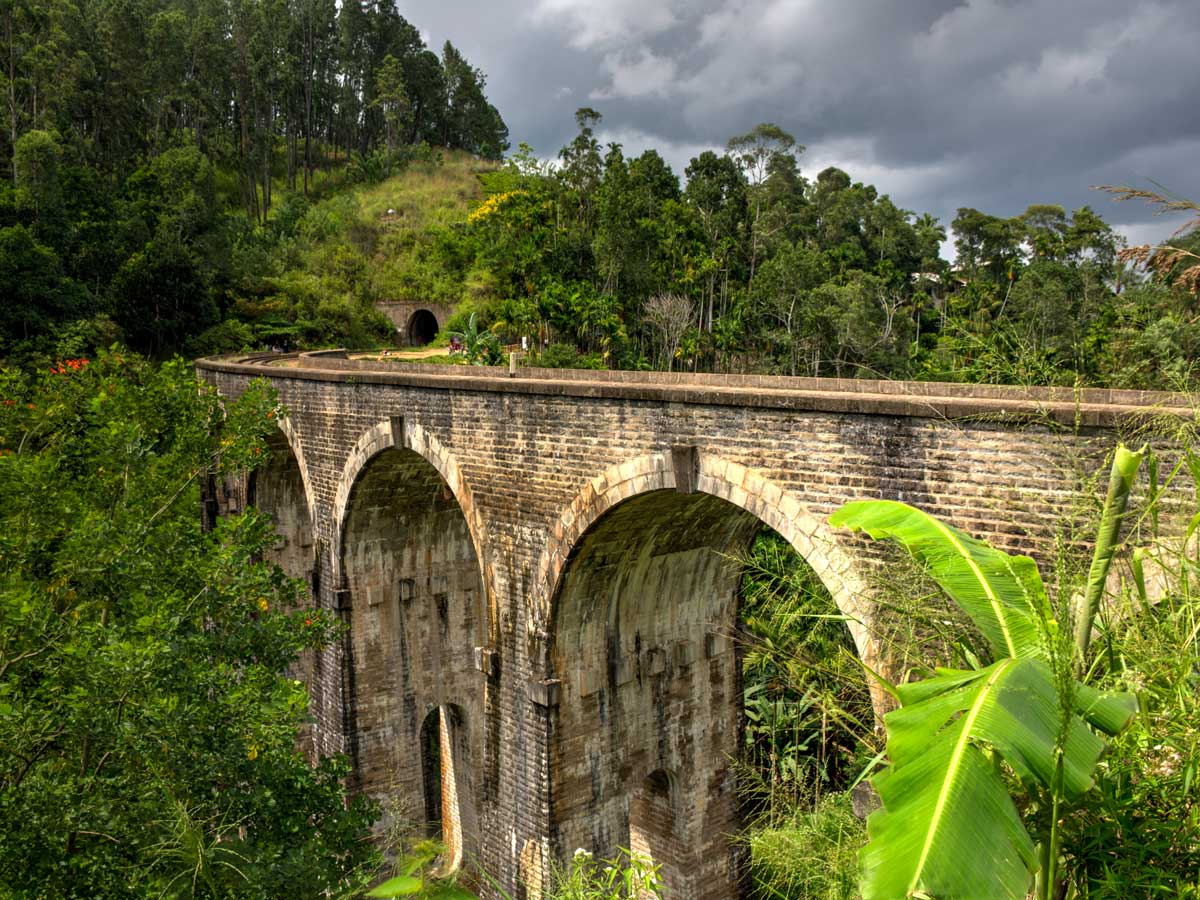 Nine Arch Bridge, Ella
Ella Rock
Ella Rock is the most challenging hike you can do in the area and it is roughly 10km (6 miles) and will take around 4 hours, however the stunning views across the hill country and the plains below, plus the experience of walking along the railway tracks to get there are worth the effort. You can pay for a local guide to show you the way (around 1,500 RS / £8 / $12 per person) if you are not hugely confident, or you can trek it yourself without any trouble.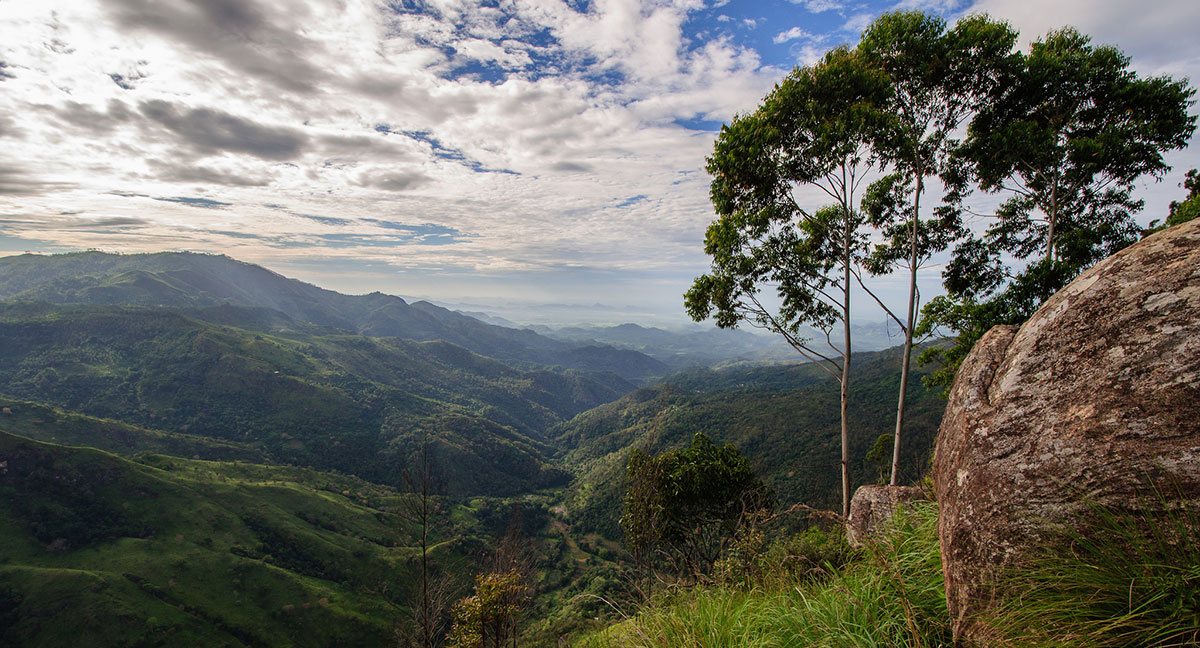 Ella Rock
From Ella town you need to start from the train station and walk south towards Kithaella station. If you've seen the film "Stand By Me", you'll particularly appreciate the walk along the railway tracks, so take your time and enjoy! After Kithaella station take the second left turn, then cross the bridge over the river. Take the path going straight up and you will notice some blue arrows pointing you in the right direction. The path will eventually start going left towards Ella Rock, taking you through tome tall vegetation and you will eventually reach the main ascent up to Ella Rock through a forest of rubber trees. There are a number of paths leading up to the top at this point so you can take any of them.
Rawana waterfall
The 25m-high Rawana Ella Falls are about 6km down from Ella Gap towards Wellawaya and cascades from an oval-shaped concave rock outcrop. During rainy months, the water comes leaping down the mountainside resembling an areca flower with withering petals, in what is claimed to be the 'wildest-looking' fall in Sri Lanka. There are vendors selling food and trinkets nearby. You can access the falls by catching any bus from Ella heading towards Wellawaya.
Ella to Nuwara Eliya by train
Wow, this had to be one of the highlights of our Sri Lanka trip and at a tiny cost (around 30p each). Although this journey is only around 60 km it takes around two and a half hours due to the somewhat mountainous terrain. There are three classes of travel on most trains but we would recommend travelling in second or third class where the windows open and you can get the best photographs.
The journey takes you through the delightful Sri Lankan hill country which is incredibly green and covered in tea plantations. At each train station on the way, the train cabins were filled with sellers hustling treats like freshly cut pineapple and mango with cinnamon, corn with salty butter, freshly made rice and curry, chili fritters and crispy poppadoms.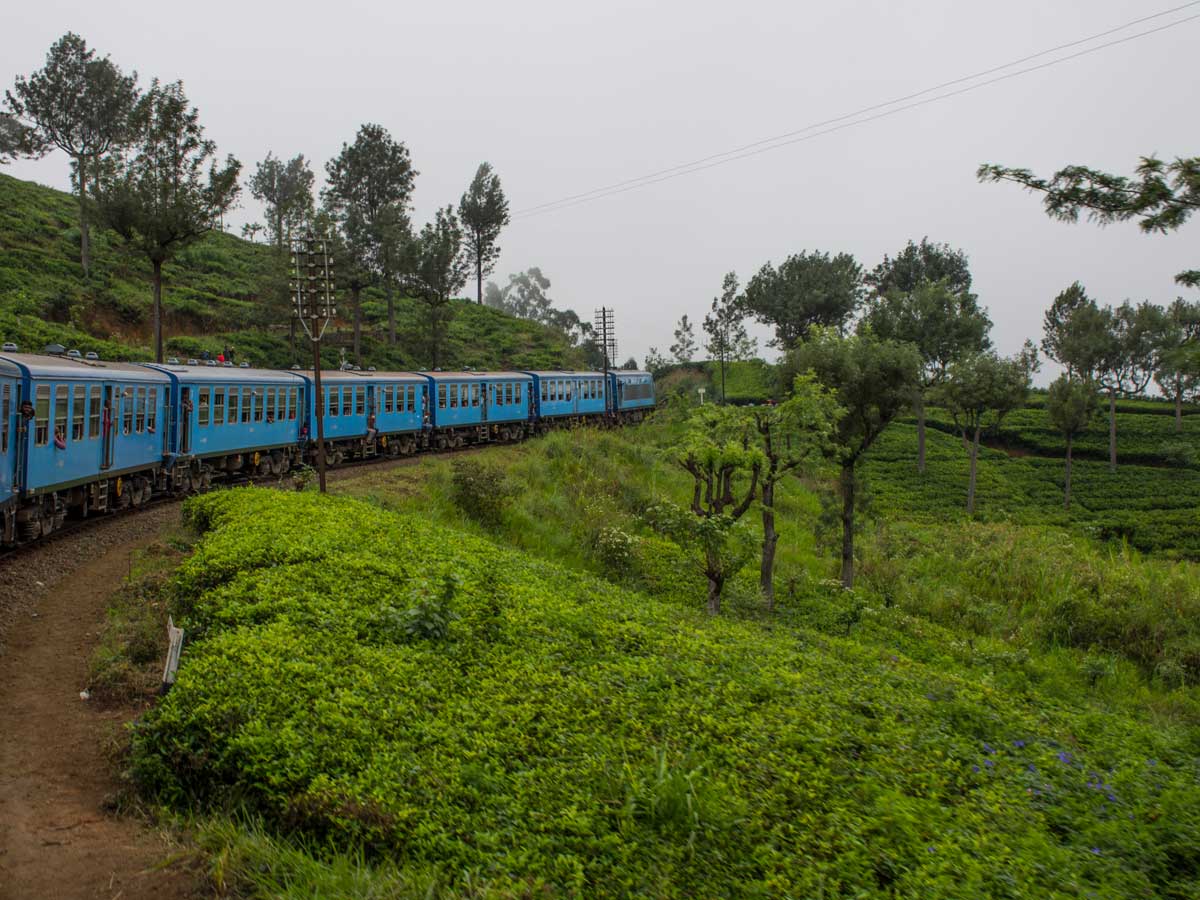 Ella to Nuwara Eliya by train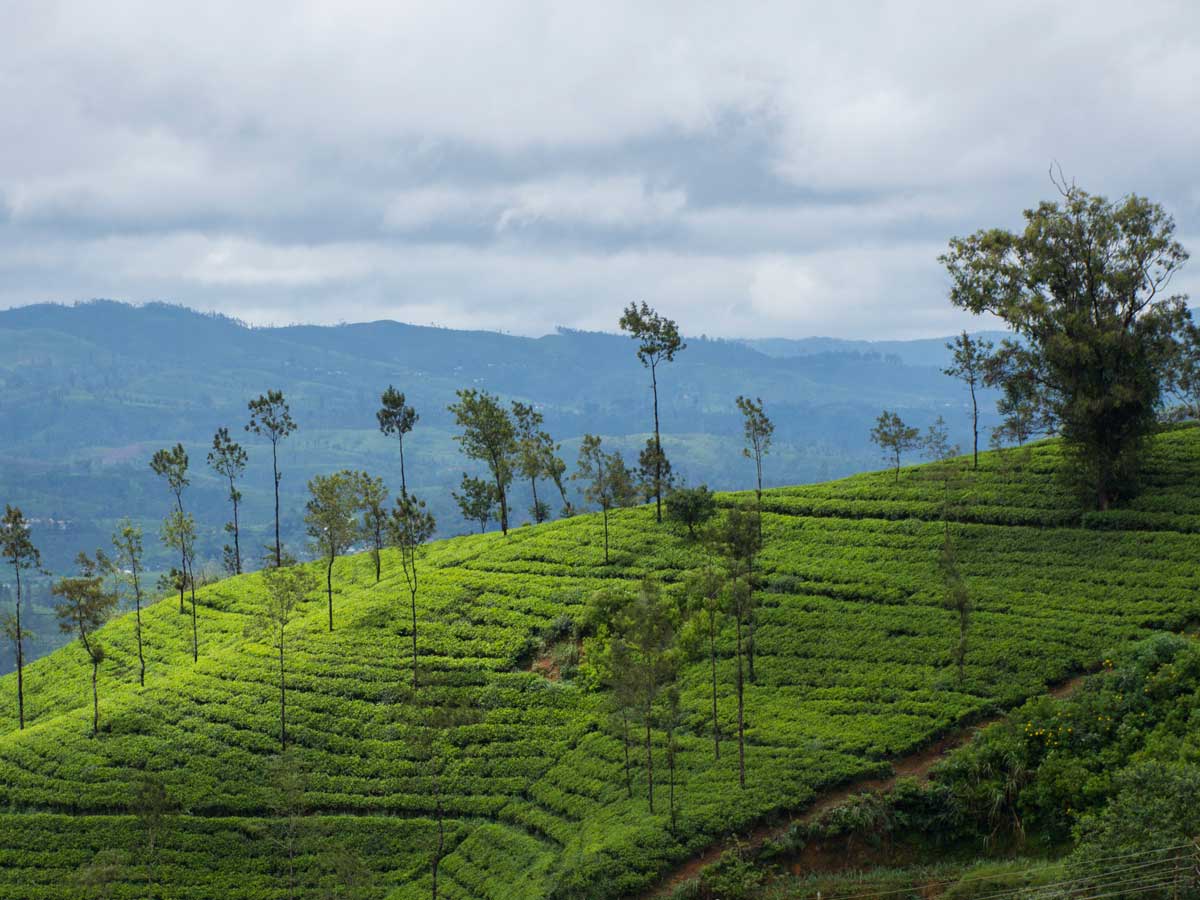 Ella to Nuwara Eliya by train
We were very fortunate in that our excellent driver Dimuthu from Tharul Tours was on hand to organise our train tickets and take all of our heavier bags by car so all we had to do was sit back and enjoy the stunning scenery. The train was quite busy so we'd definitely recommend booking tickets in advance.