Peru
Peru in two weeks - how to plan a trip of a lifetime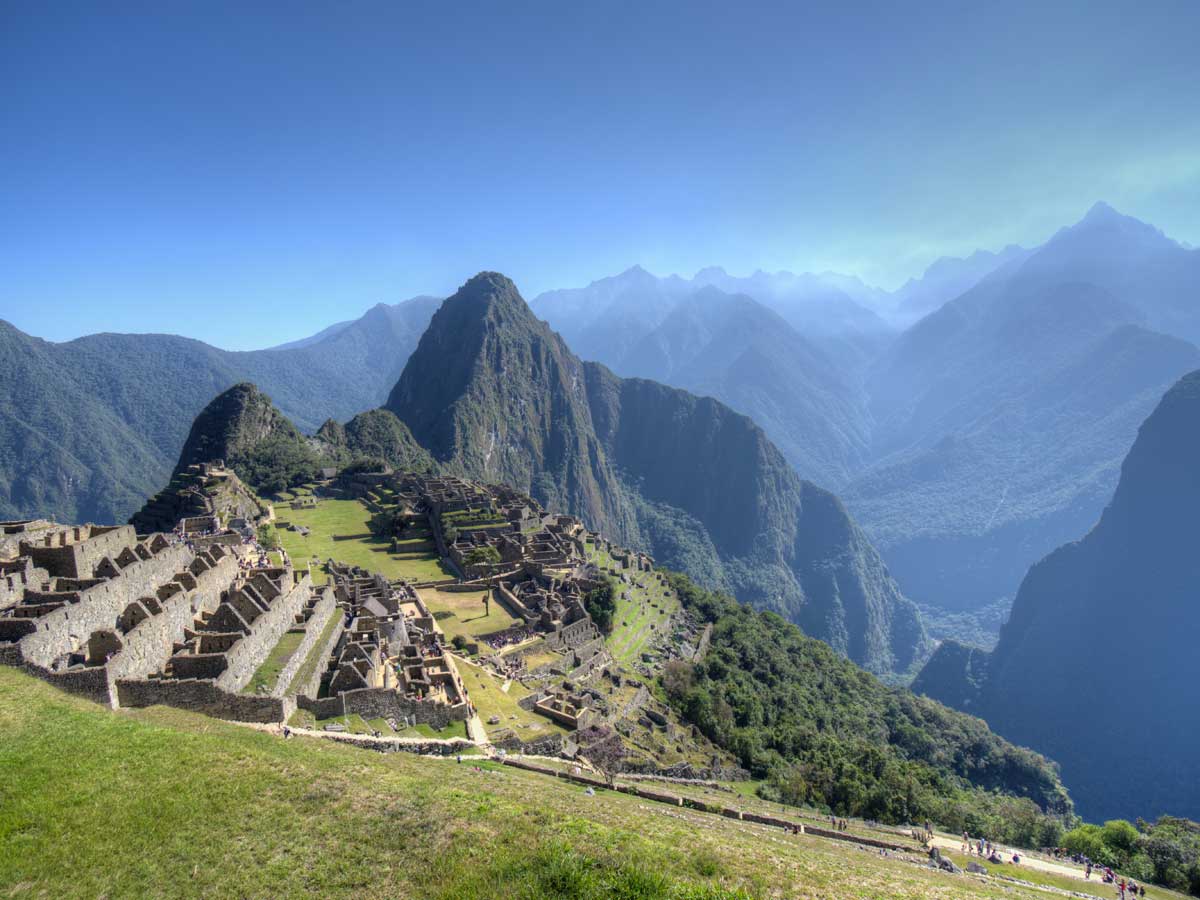 Peru is a trip of a lifetime where you can find adventure at every turn. From the Amazon Rainforest to Machu Picchu and the highlands of Cusco, Lake Titicaca, the Colca Canyon and Arequipa, Peru has it all. Visiting Peru is a truly unforgettable experience, and ideally you would want to stay for a month or longer. Here we have picked what we consider to be the highlights, which can be comfortably achieved in around two to two and a half weeks. With British Airways now running regular direct flights from London Gatwick to Lima, it's also more accessible than ever before, and with a bit of careful planning and booking ahead a hassle free tour of this stunning corner of South America can be organised with relative ease.
Useful information / top tips
The direct flights to Lima from London Gatwick have become increasingly expensive since they began operating, particularly during the UK school summer holiday period. The best alternative routes with a stop-over are via Miami with American Airlines of via Madrid with Iberia, KLM/Air France also offer flights via Amsterdam and Paris but timings of these can be less convenient.
One thing we leant while planning a recent trip to Peru was to book key excursions and internal flights well in advance. For instance you should think about booking tickets for Machu Picchu (including the bus from Aguas Calientes) and train tickets at least 3-4 weeks in advance. Only book your tickets for Machu Picchu through the official government website, the website itself is slow and generally dreadful but it's worth the battle!
Accommodation in the Puerto Maldonado / Tambopata region also gets booked quickly so if you want to stay in one of the better lodges then you should be looking to book 2-3 months in advance.
With regard to transport, it is often more comfortable and reliable to travel in a private car with a driver than to undertake long cramped bus journeys and look out for reward flights on available on LATAM booked using Avios points through British Airways which can cut the cost of internal flights substantially. Another thing to note is that you should always plan to arrive 2-3 hours before flights (yes even internal flights) as airports in Peru can be somewhat chaotic at times.
Which route / itinerary is best?
We suggest following an itinerary taking in the following areas:
2 days Lima
4 days Sacred Valley
3 days Cusco
1 or 2 days Puno / Lake Titicaca
1 or 2 days Colca Canyon
2 days Arequipa
2 or 3 days Amazon Rainforest – Puerto Maldonado
The route you take will largely depend on budget and flight / bus timetables. However it makes good sense to do the Amazon at either the beginning or end of the holiday. The route across the highlands area is best done in this order (or the reverse) from Lima.
Cusco & Sacred Valley
Puno / Lake Titicaca
Colca Canyon
Arequipa
Two of the most enjoyable experiences in Peru are the iconic railway journeys you can take from Cusco to Machu Picchu and Cusco to Puno. The Peru Rail "Titicaca Train" which operates on certain days from Cusco to Puno is an unforgettable journey, which, budget permitting should be something to plan your time in the region around. With the above in mind our recommended two week Peru itinerary is as follows:
Lima – arriving in Peru and the first two days
If arriving on the direct flight (BA from Gatwick) you'll be touching down at around 9pm local time. We found it best to book airport car transfers in advance and Lima based Taxidatum offered an affordable and excellent service. Being met by a driver with a sign and taken to your hotel in a hassle free manner certainly beats the stress of hailing a cab or navigating public transport as soon as you arrive after a long flight!
Miraflores and Barranco are by far the most pleasant and tourist friendly areas of Lima and so we would only recommend staying at hotels in those areas.
These districts are next to each other and journey time from the airport is usually about a 45 minutes depending on the slightly insane Lima traffic!
Depending on what time you arrive in Lima, you can check in at your hotel and either head out for a quick bite to eat and a drink before retiring to bed or spend the day getting familiar with Miraflores. Calle Manuel Bonilla (off Av Jose Larco near the central park) has a few bars, pubs and restaurants, Cafe Bar Habana in particular does great cocktails (the best Mojitos in town) and tasty tapas. Also just north of the central park is the excellent Panchita restaurant but be sure to book in advance as it does get busy. At the other end of Av Jose Larco (near the sea), you'll find the Larcomar outdoor shopping mall which houses plenty of bars, cafes and restaurants - Mangos and Tanta are both very good. For more upscale dining try Cala, Amaz, the restaurant at Huaca Pucllana, Astrid & Gaston (Gaston Accurio) and La Rosa Nautica located on the pier.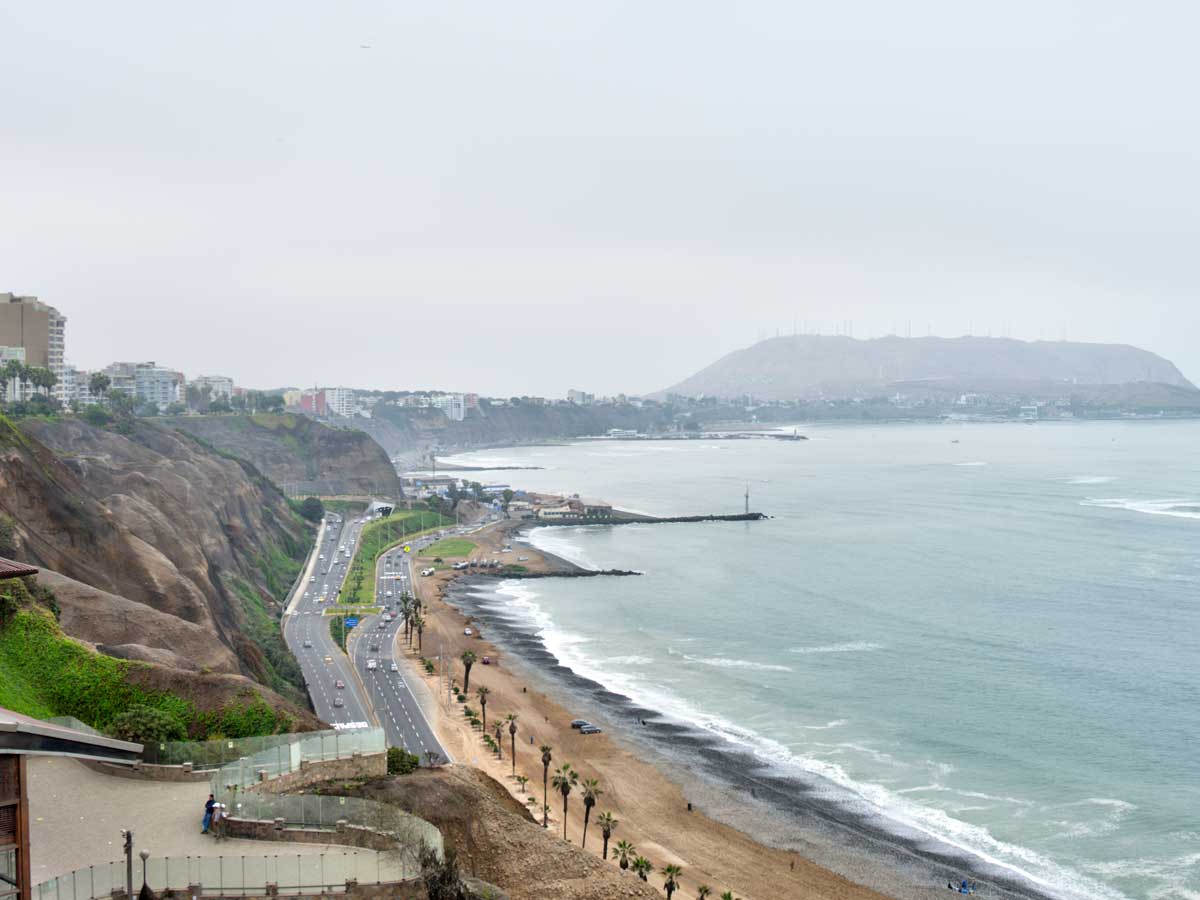 Coastline from Miraflores to Barranco
Cultural Lima
For your first full day in Lima we suggest spending the morning sightseeing around Miraflores and/or Parque de la reserva . The top tourist attractions are the Museo Larco where you can learn about Inca culture prior to visiting the sacred valley, Parque de la reserva where you can see the famous fountains and light show, and the pre-inca ruins at Huaca Pucllana.
The Lima "foodie" scene
Over the last few years Lima has firmly established itself on the foodie map as the culinary capital of Peru and South America. If you like your food as much as we do then sampling the delights on offer in this city is the main draw. For an all round experience you cannot beat the organised tours offered by the Lima Gourmet Company. The 5 hour evening foodie tour is exceptional and includes a Pisco Sour demo, Amazonian appetizers, cebiche and cocktails a gourmet Peruvian dinner amid pre-Incan ruins at la Huaca Pucllana and a tour of the colonial, bohemian Barranco district. We highly recommend taking this tour on the evening of your first full day in Lima.
Onwards from Lima, the Peruvian Amazon
Welcome to the jungle! Puerto Maldonado is the town where the Tambopata and Madre de Dios rivers converge; this watery wonderland offers the most accessible primary jungle experience in all of Peru.
There are many eco-lodges in this region offering varying standards of accommodation. There are a few, which we would happily recommend, these are the Inkaterra owned Reserva Amazonica and Inkaterra Hacienda Concepcion, we have stayed at the latter and also visited the former. Both properties are superb, the cabanas are incredibly luxurious for the middle of the Amazon jungle and the overall experience was top notch. The properties owned by Rainforest Expeditions are also highly rated; Posada Amazonas and Refugio Amazonas. Both of these are located deeper into the rainforest (along the Tambopata river) than the Inkaterra resorts. Posada Amazonas is bigger and closer to Puerto Maldonado, whereas Refugio Amazonas offers a more unique experience putting you more in touch with nature. The Corto Maltes lodge on the Madre De Dios river, closer to Puerto Maldonado than the Inkaterra properties and featuring a swimming pool is also a good option.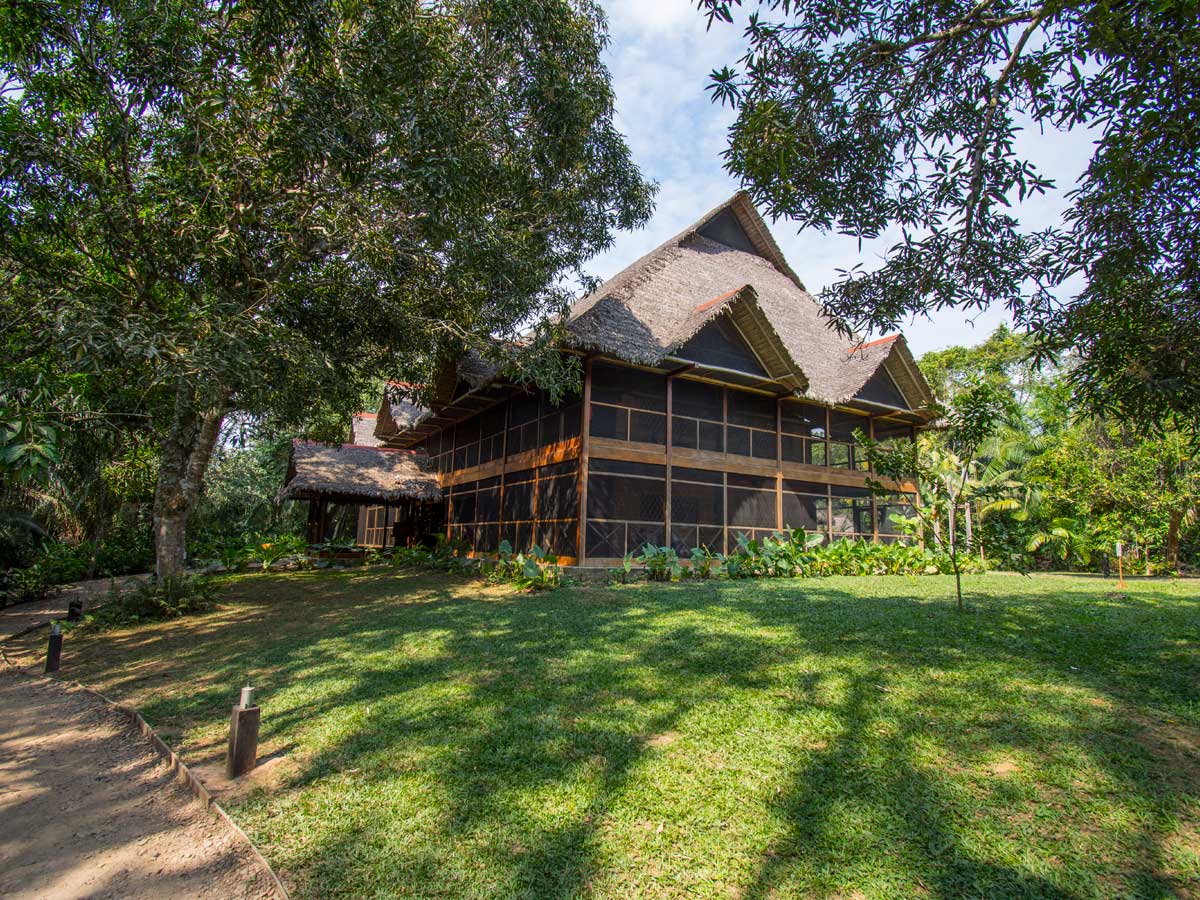 The main house at Inkaterra Hacienda Concepcion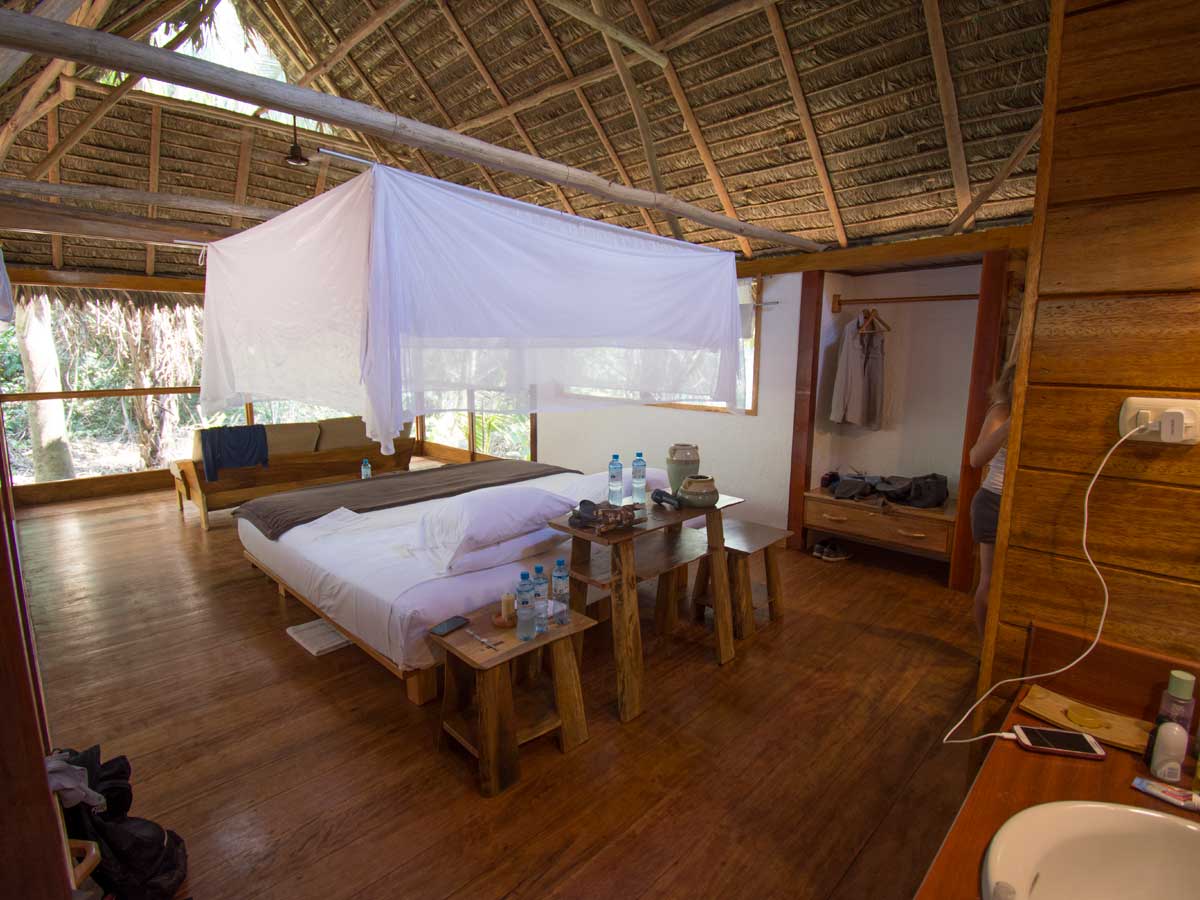 Inside our room at Inkaterra Hacienda Concepcion
Most of the lodges all run similar itineraries, usually including; a night-time trip along the river spotting Caiman, a trip to an oxbow lake in dugout canoe to see Caiman, Giant River Otters and exotic species of birds, night-time walks to find nocturnal insects and amphibians and trips to the clay licks to see parrots and macaws. If you stay at the Inkaterra or Rainforest Expeditions properties you'll also get the opportunity to climb an observation tower / walkway to experience the rainforest from the top of the canopy.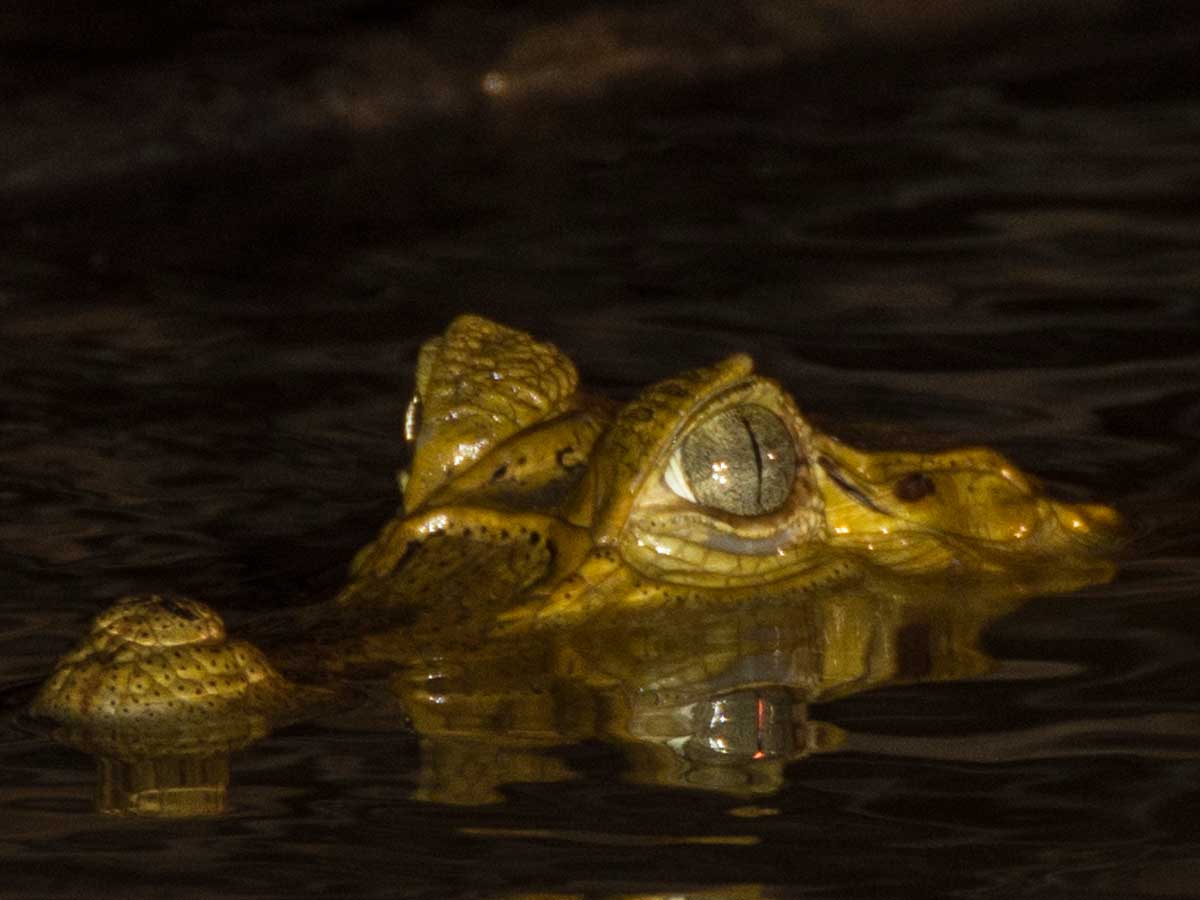 Caiman on the night time river cruise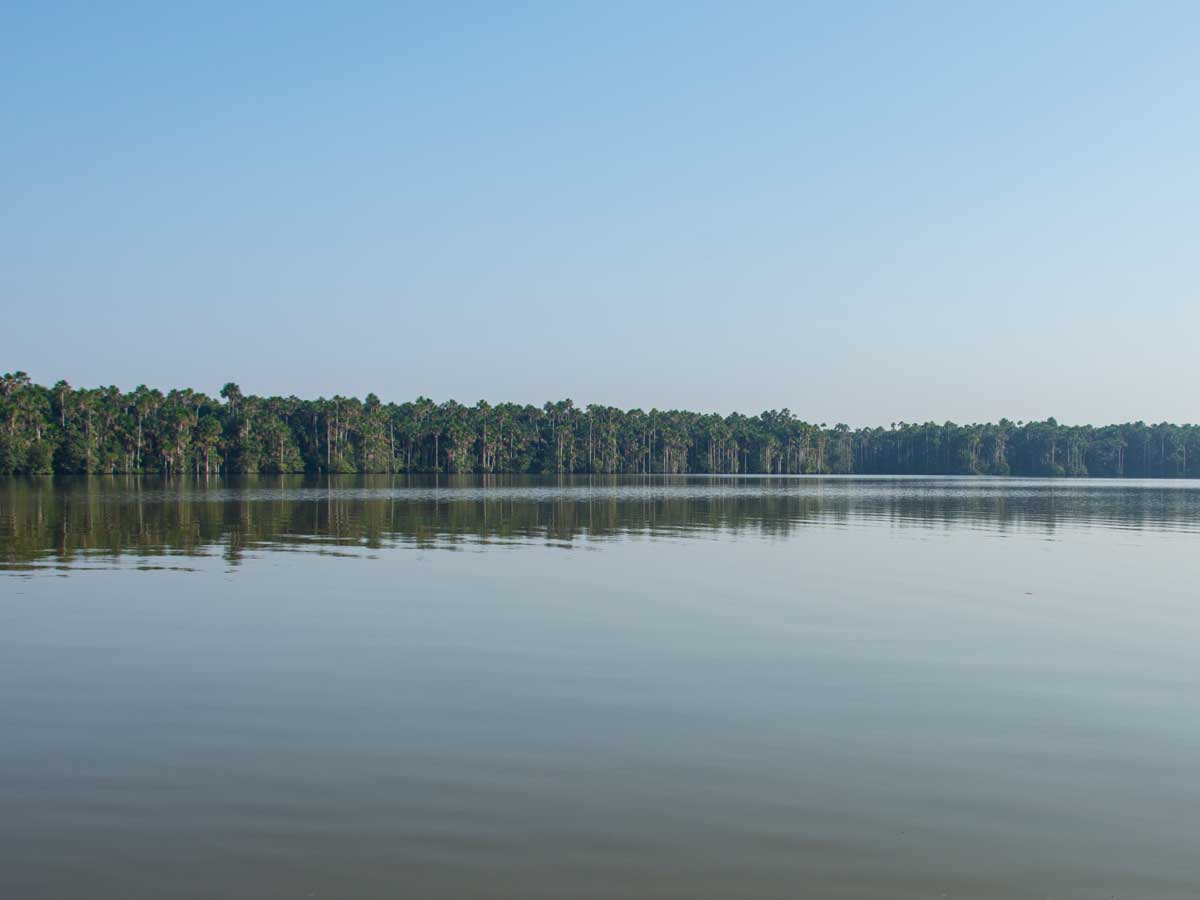 Oxbow lake in the Amazon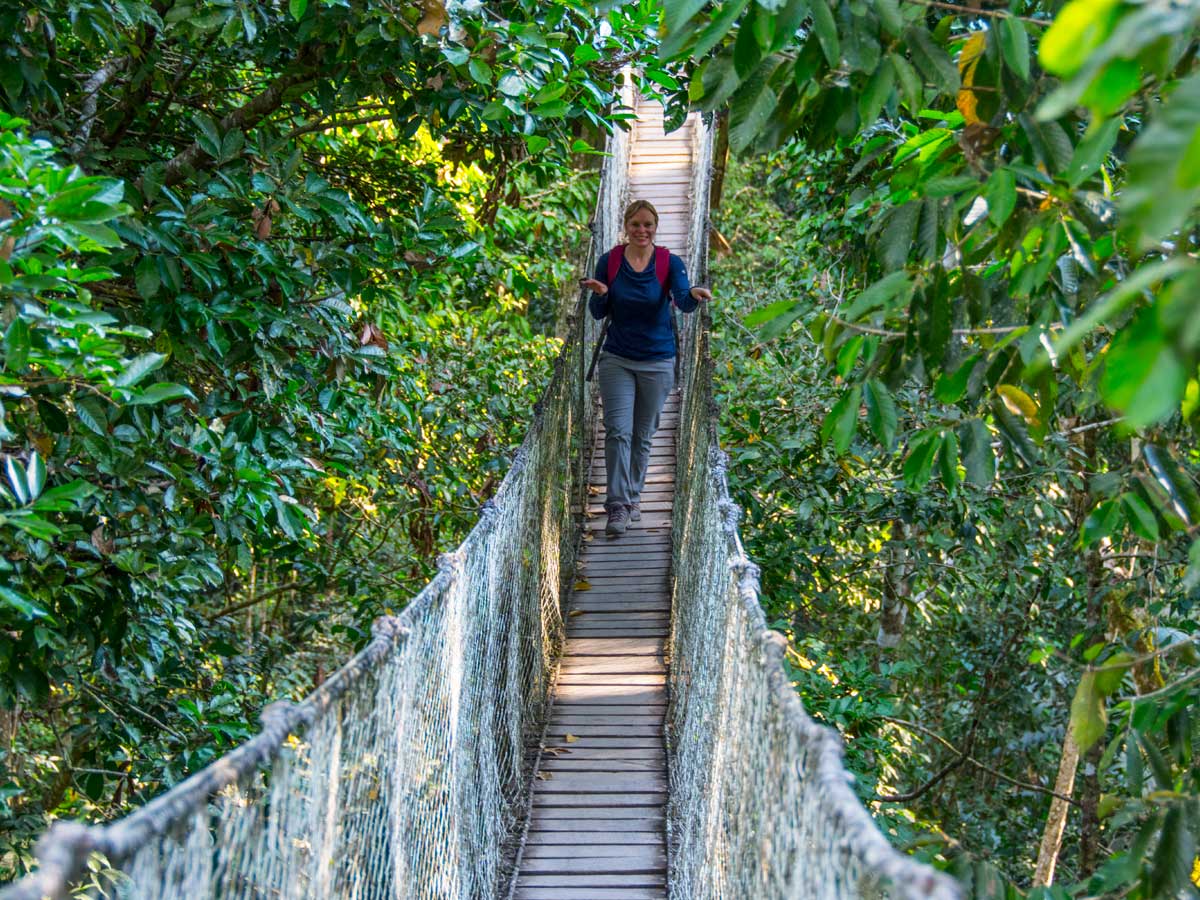 The Inkaterra Canopy Walkway
The Amazon is a truly unique place and a wonderful experience, definitely not to be overlooked on your Peru itinerary.
Cusco & The Sacred Valley
One of the benefits of heading to the Amazon at the beginning of your holiday is that you can then fly direct from Puerto Maldonado to Cusco, flight time is usually just under one hour and flights arrive in Cusco around lunch time.
Upon arrival in Cusco it is a good idea to immediately travel to lower altitude so you can gradually acclimatise, Cusco sits at an elevation of 3,400m (11,200 feet). We advise either taking a train, bus or private taxi from Cusco to Urubamba or Ollantaytambo in the sacred valley and using one of these towns as a base for 4 days or so to explore the area. Both of these towns have a train station from where you can reach Machu Picchu in around an hour and a half, there is plenty to see in this area including the Inca ruins of Ollantaytambo and Moray, Pisac Market and the salt pans at Salinas de Maras.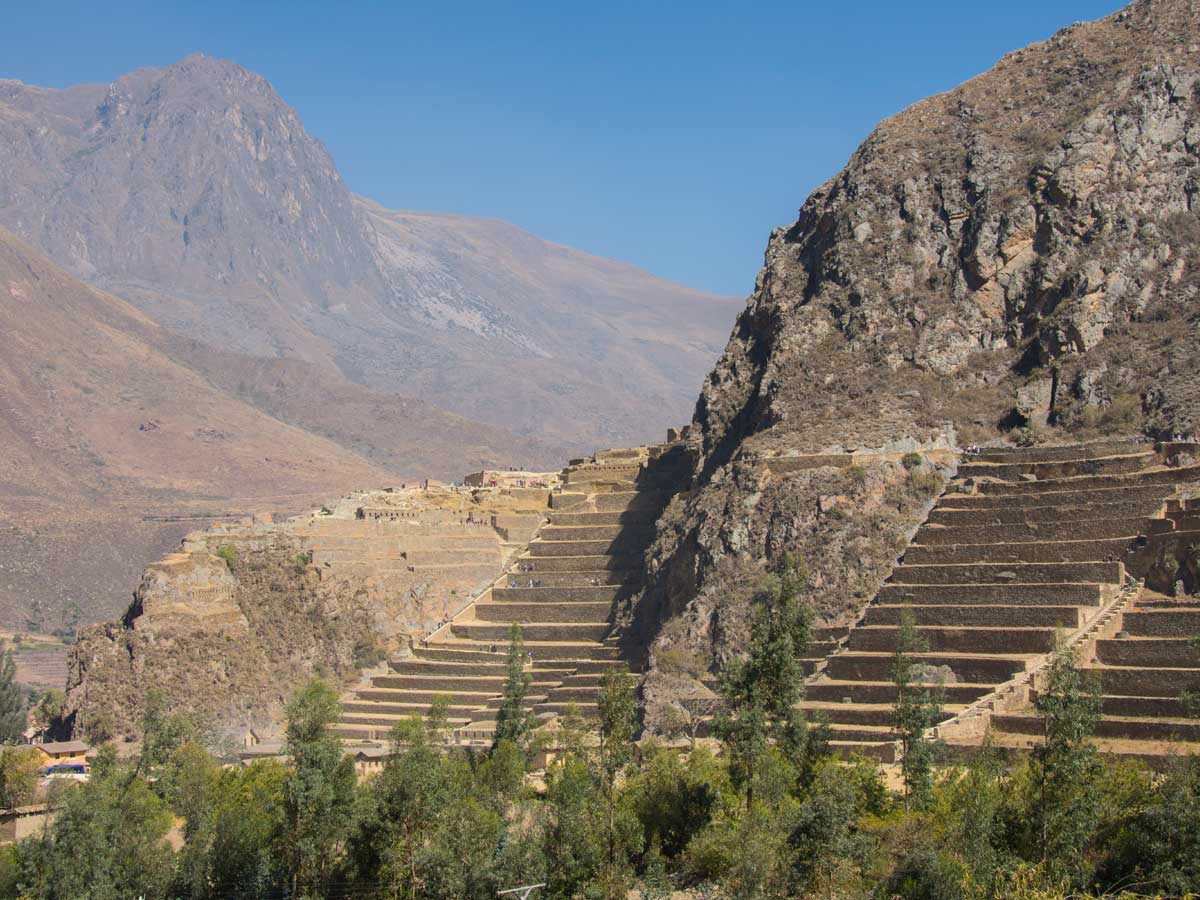 Inca ruins Ollantaytambo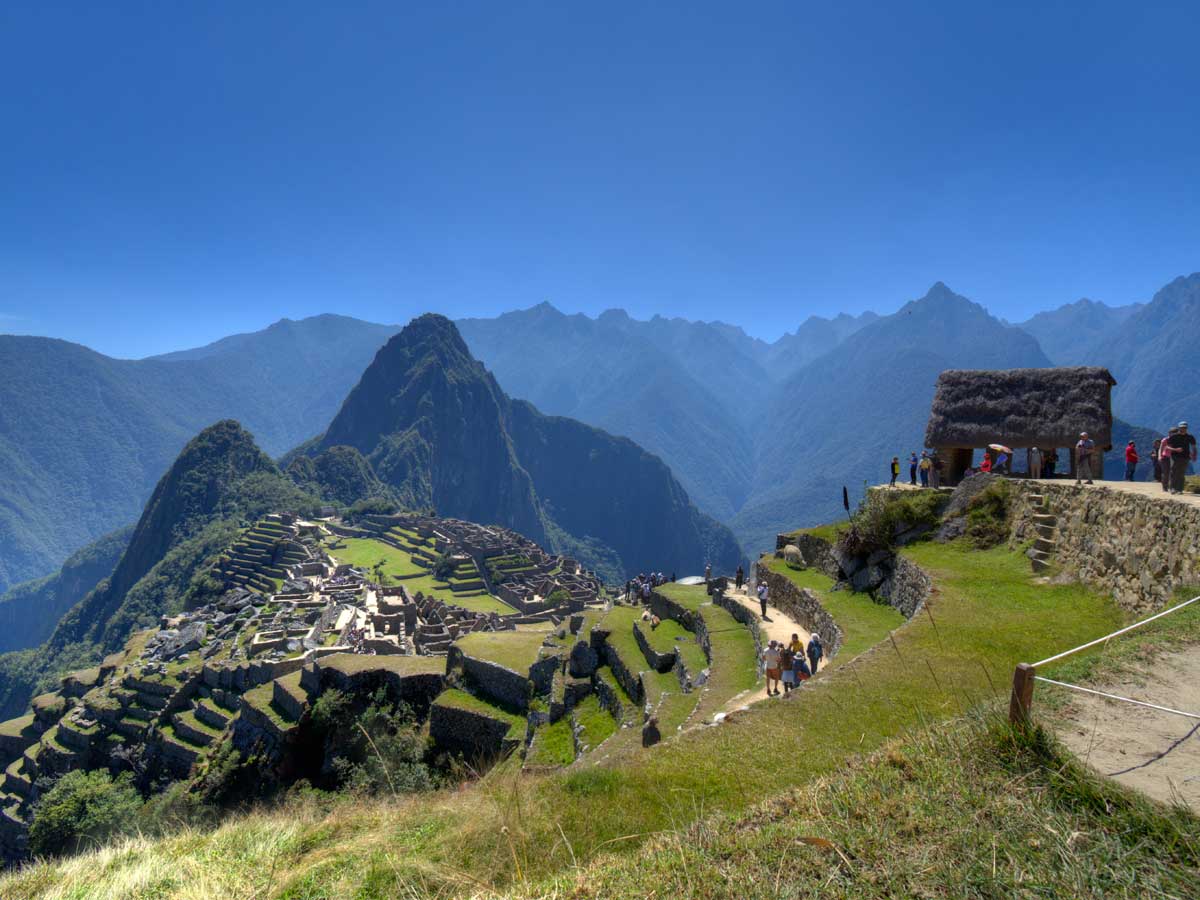 Machu Picchu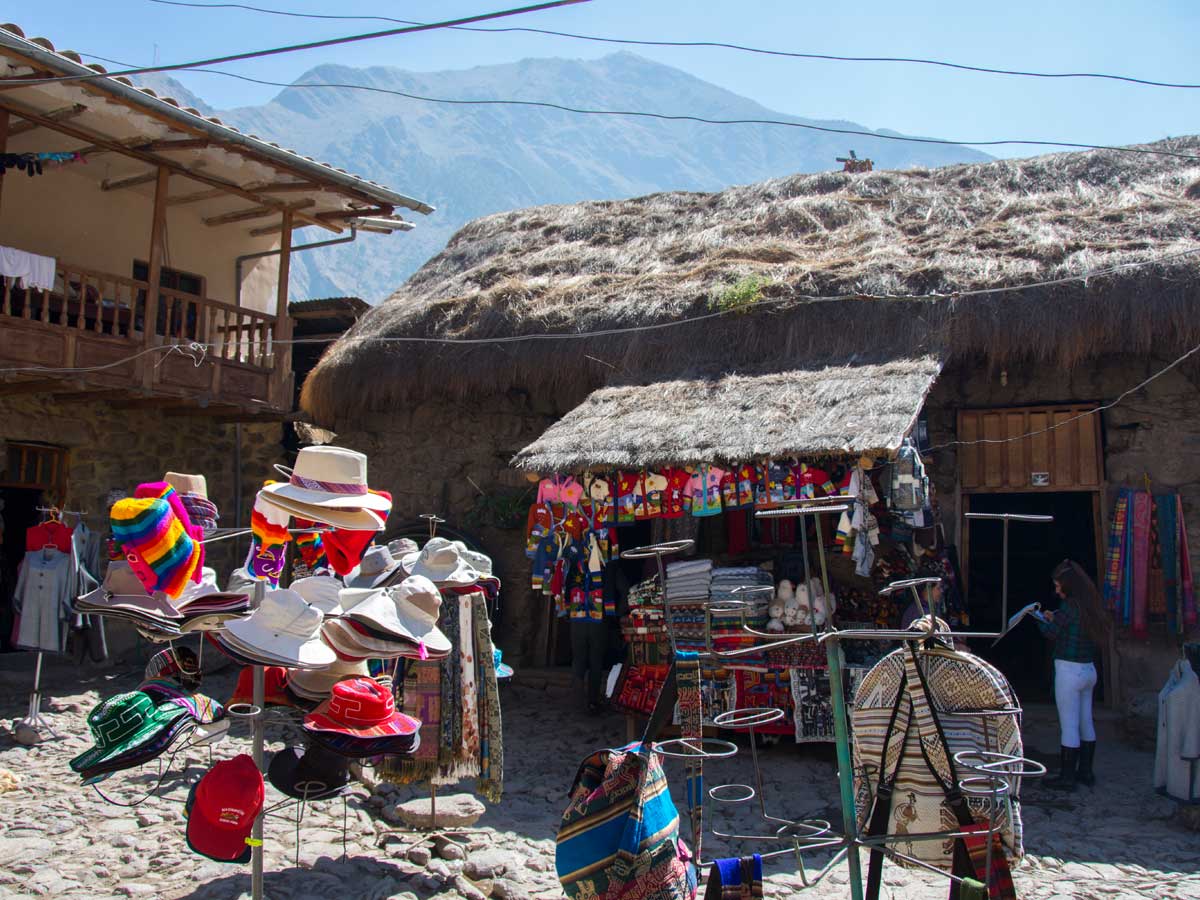 A small market in Ollantaytambo
The City of Cusco
Having spent some time acclimatising to the high altitude returning to Cusco shouldn't be a problem. You can take a scenic train journey from Ollantaytambo to Cusco in the afternoon – journey time around 2 hours, or, if travelling by road you can stop at the pretty town of Chinchero and visit a textile outlet. Cusco, the ancient capital of the inca empire is a great little city and you can easily spend two or three days relaxing and taking in the points of interest and there is a good variety of cafes, bars and restaurants.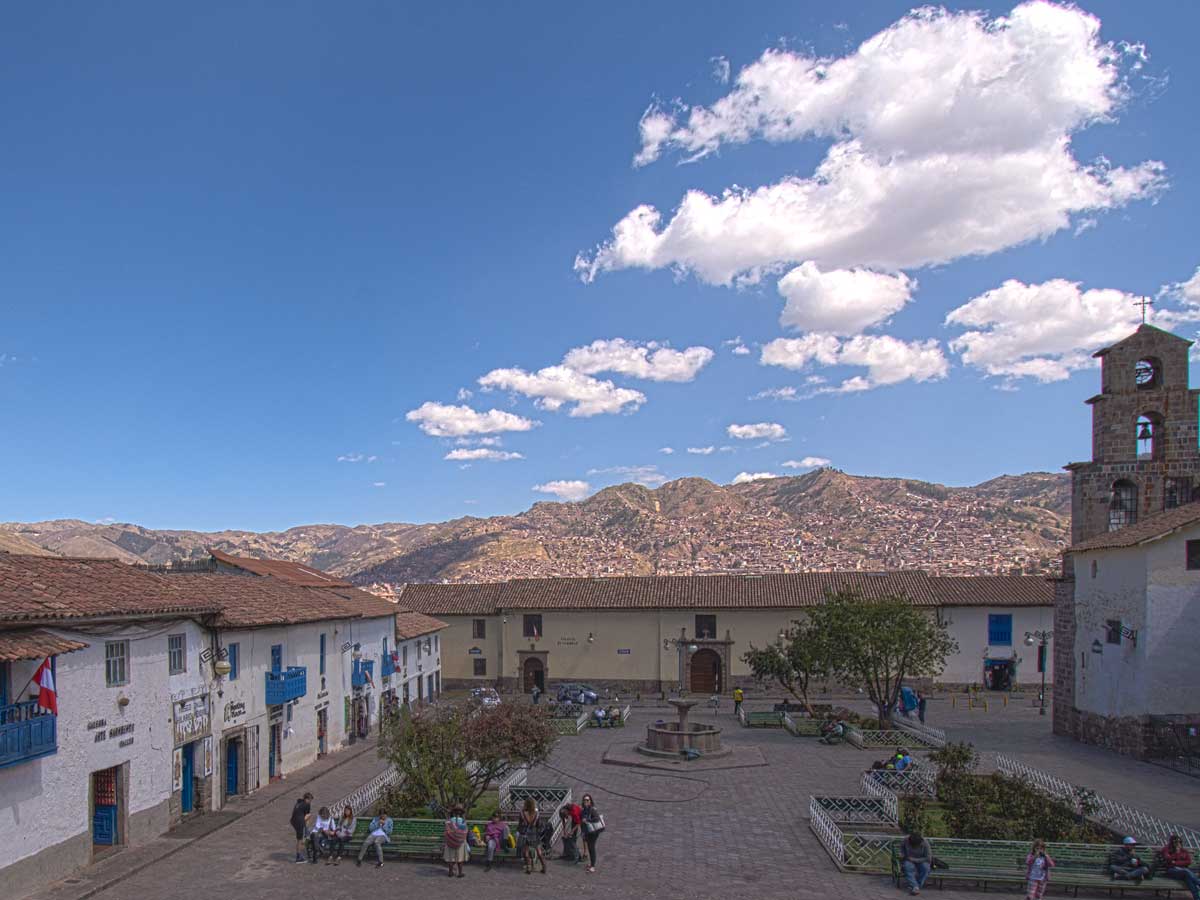 Cusco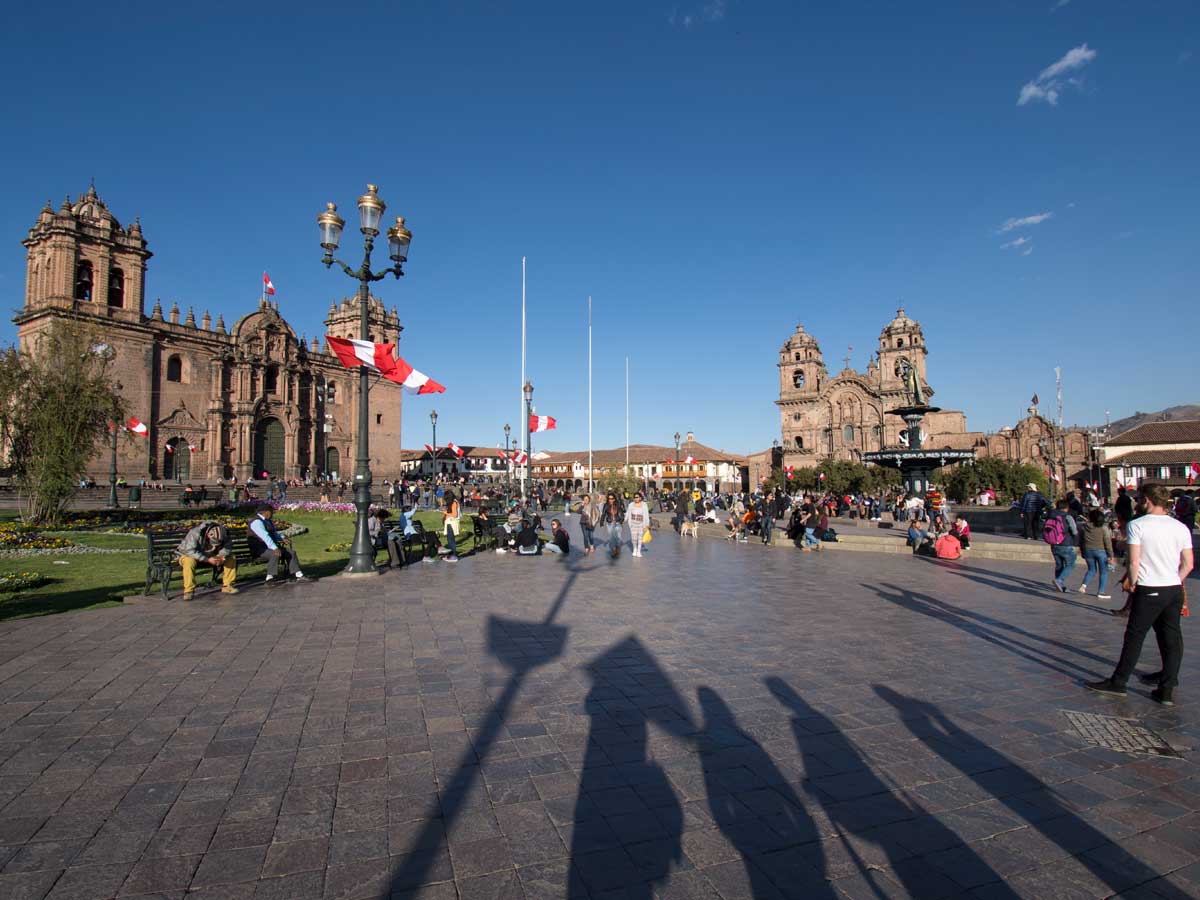 Plaza de Armas, Cusco
From Cusco to Puno & Lake Titicaca
The most cost effective way to reach Lake Titicaca from Cusco is by road, and this usually involves an overnight bus. A bus from Cusco to Puno takes around 8 hours on a direct bus. It is recommended to depart Cusco at around 10pm to arrive into Puno at around 6am, in time for any Lake Titicaca tours, which usually begin around 7am. There are 2 other options to get to Puno from Cusco, take a flight from Cusco to Juliaca or the PeruRail Titicaca train from Cusco to Puno.
We took the PeruRail Titicaca train and it was one of our highlights of our trip, a bucket list railway journey that you just have to do! Climbing high into the Andes the journey takes around 10 hours but there is plenty of entertainment; cocktails in the bar car, a three-course lunch, afternoon tea – it really is travelling in style. At a price of around £250 per person it isn't the cheapest way to get from Cusco to Puno, but (and this is a big but) it is by far the most comfortable and enjoyable. At a fraction of the price of the Belmond Andean Explorer train (the full on orient express version with a price tag to match) it's also pretty good value by comparison. Note however that the train only runs on Wednesday's, Friday's and Sunday's, so be sure to plan accordingly if you wish to include it in your plans.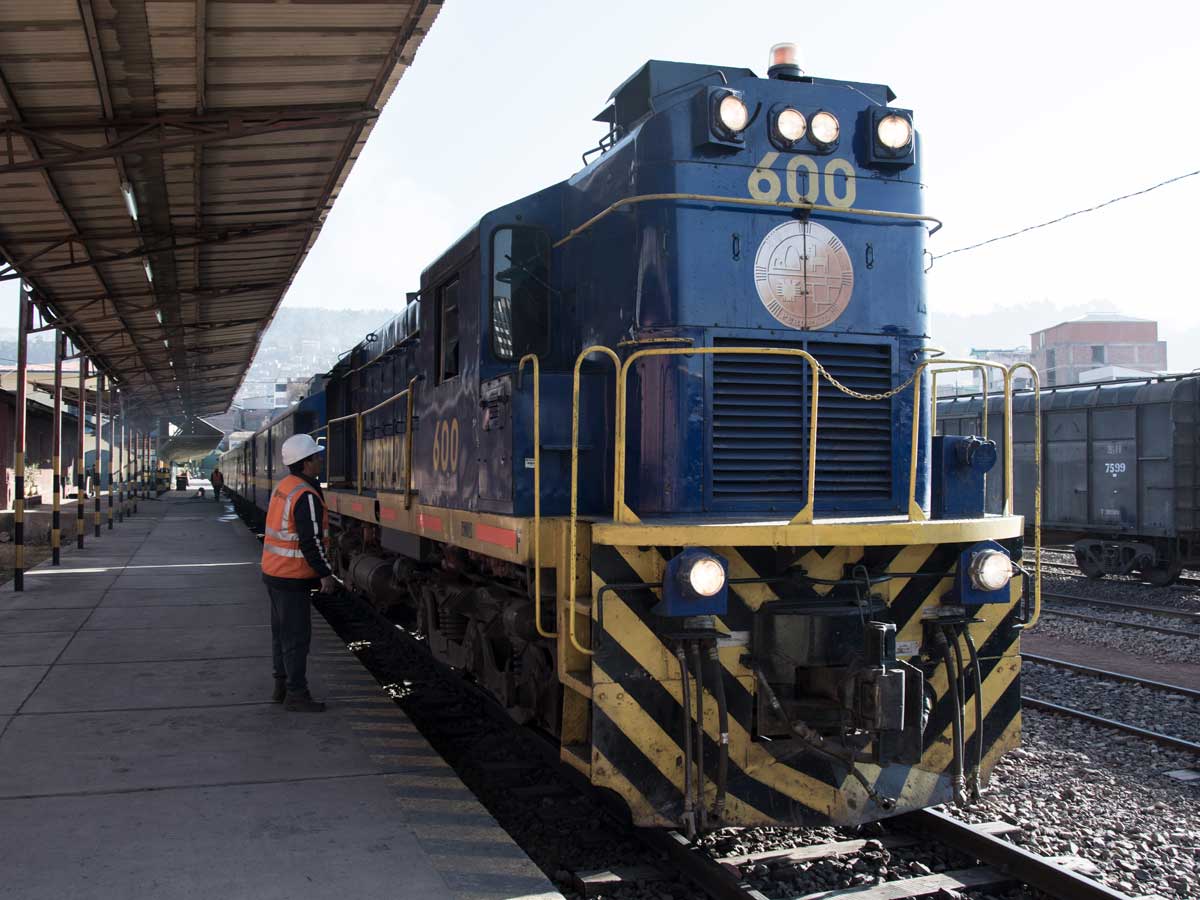 The Peru Rail Titicaca train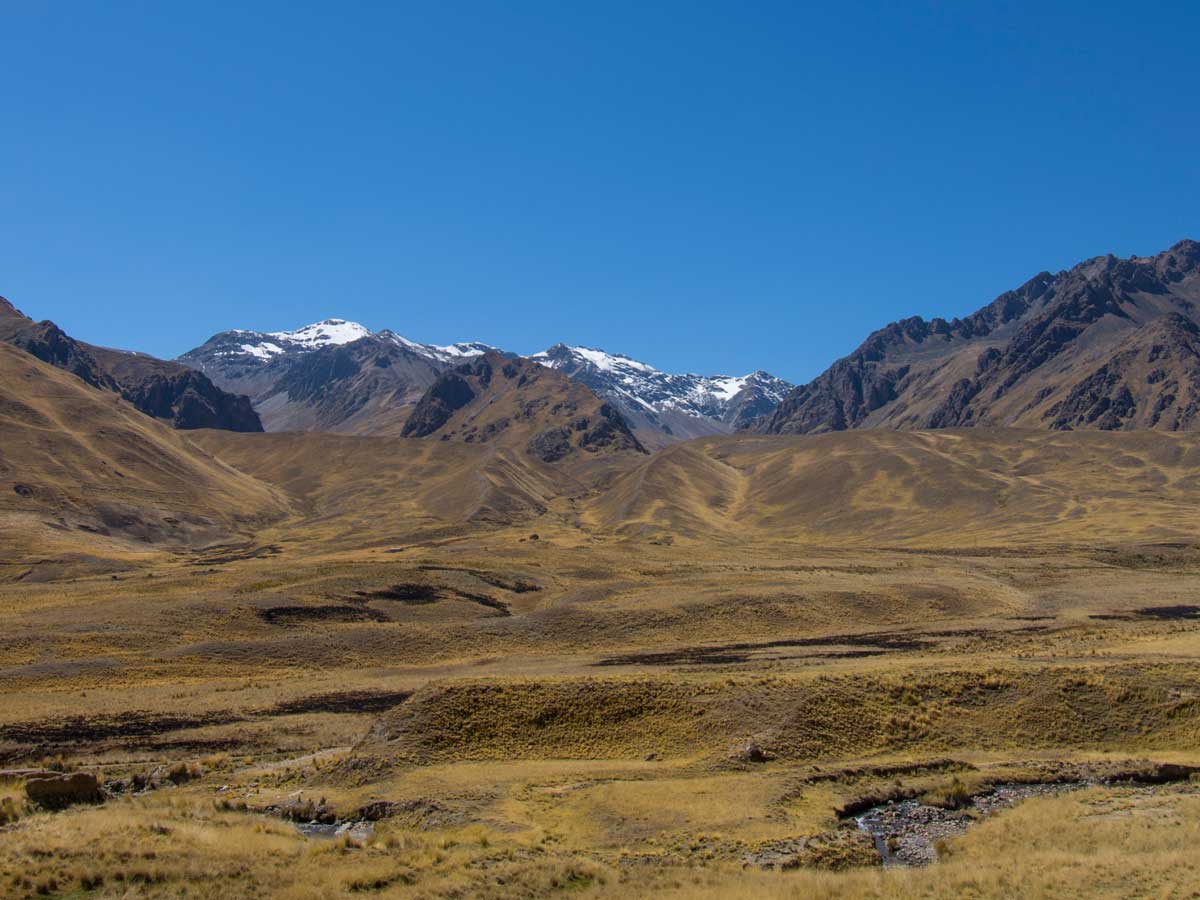 The high Andes as seen from the Titicaca train
The halfway point between Cusco and Puno
Lake Titicaca
A serene and majestic sight, Lake Titicaca situated at over 12000 ft (4000m) is the world's largest high-altitude lake. This area is a long time home of highland cultures and is steeped in tradition. In Andean belief the lake is said to be the birthplace of the sun. I don't know if it was effects of the altitude, but I can remember feeling like we were at the top of the world!
Most visitors to the area only stay for one or two nights. We recommend doing a full day tour of Lake Titicaca - booked in advance, this will ensure you get the most from your experience. There are many tour operators offering tours down by the harbour-front in Puno, but negotiating this on the day can be a hectic experience. We therefore suggest booking your Titicaca experience in advance, Edgar Tours' Titicaca Uncovered is a slick operation where you will see the highlights without the crowds and is highly recommended. All tour operators will offer a visit to one of the floating reed islands built by the Uros people - which is main draw of the lake, however it is worth trying to seek out a tour which includes a visit to one of the islands on the Peruvian side of the lake - Taquile and/or Amatani.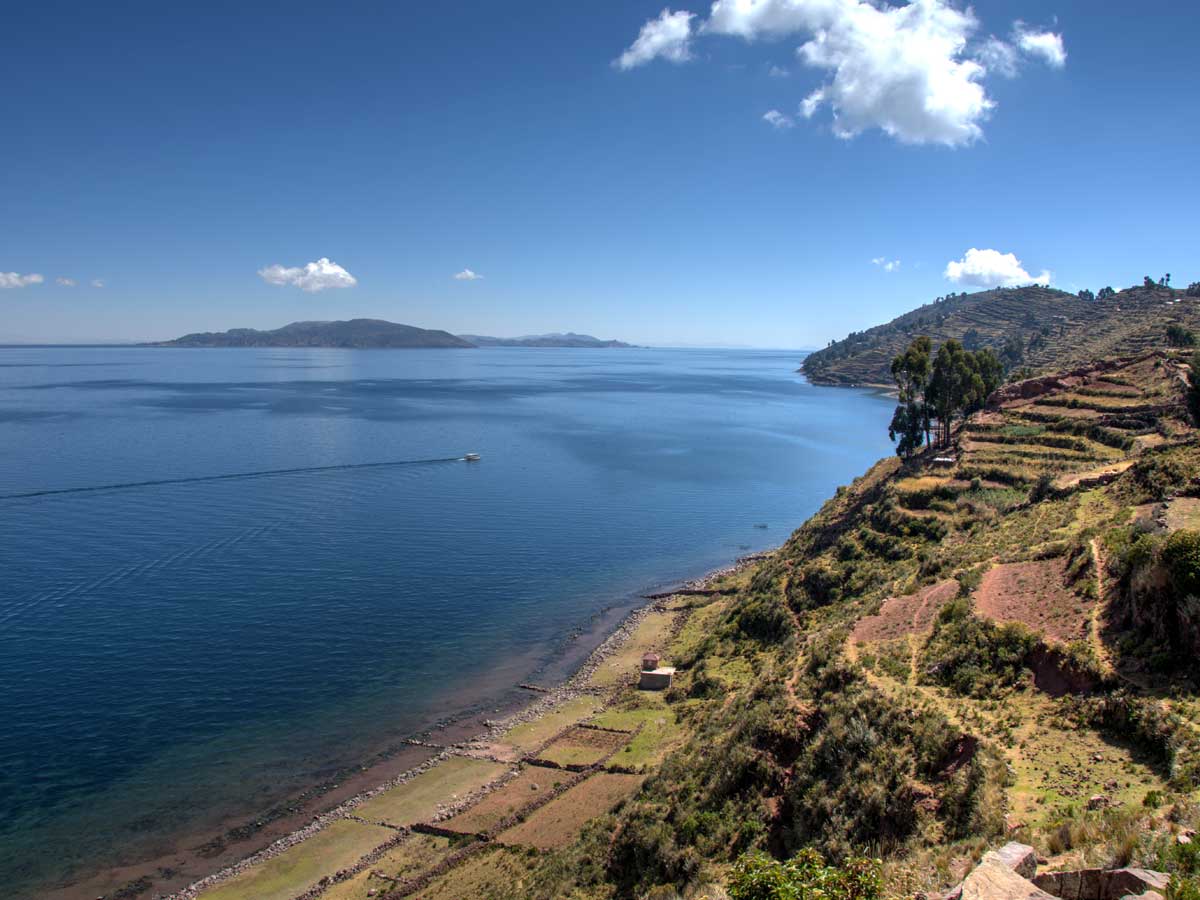 Taquile Island, Lake Titicaca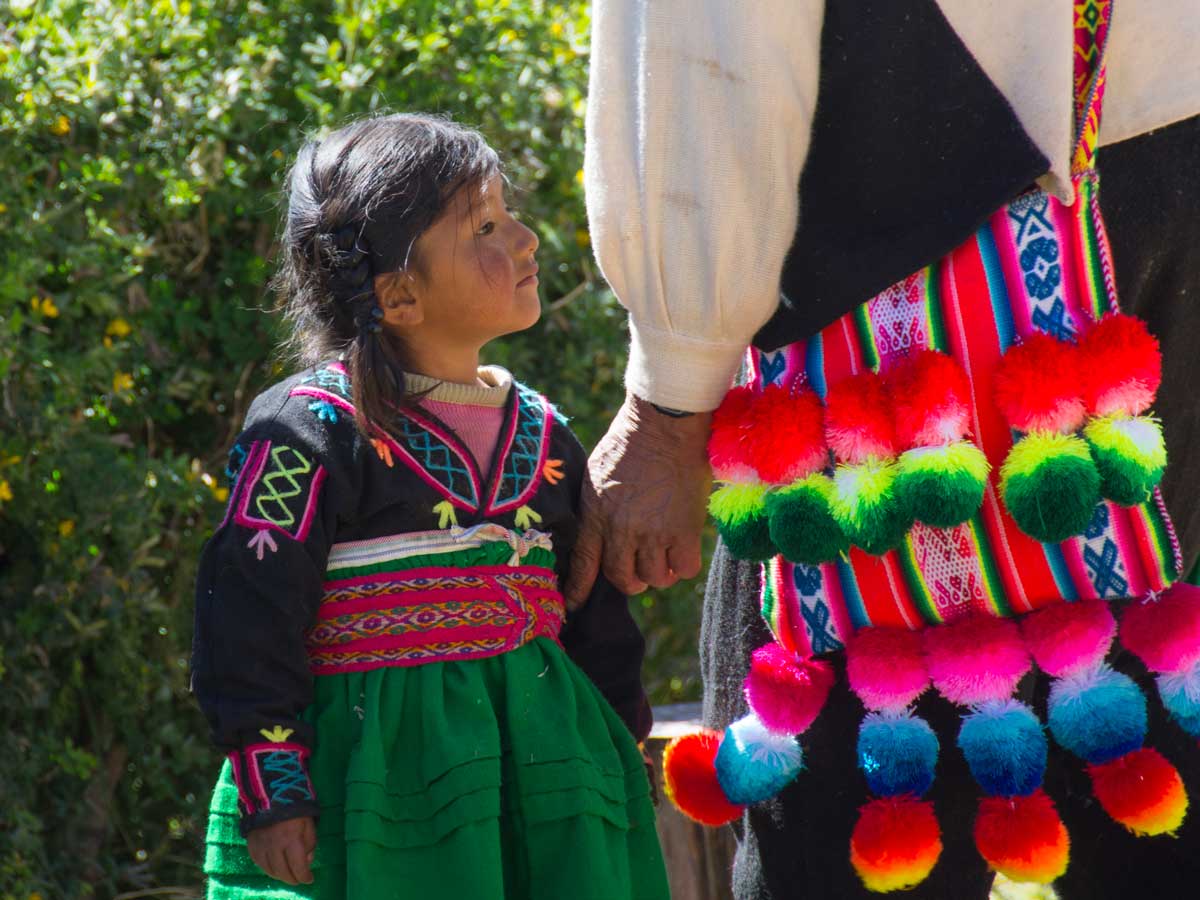 Traditional highland people in Santa Maria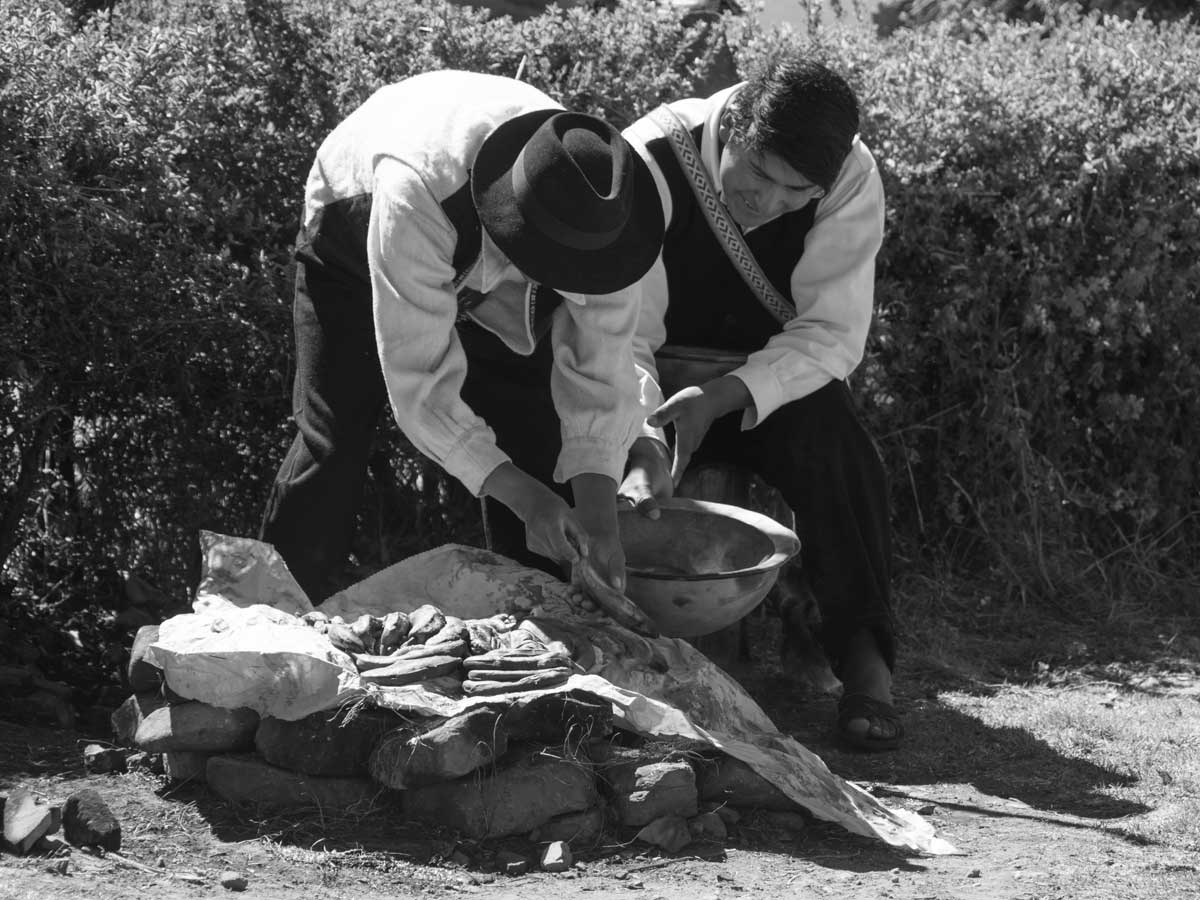 Locals preparing a "pachamama" meal in Santa Maria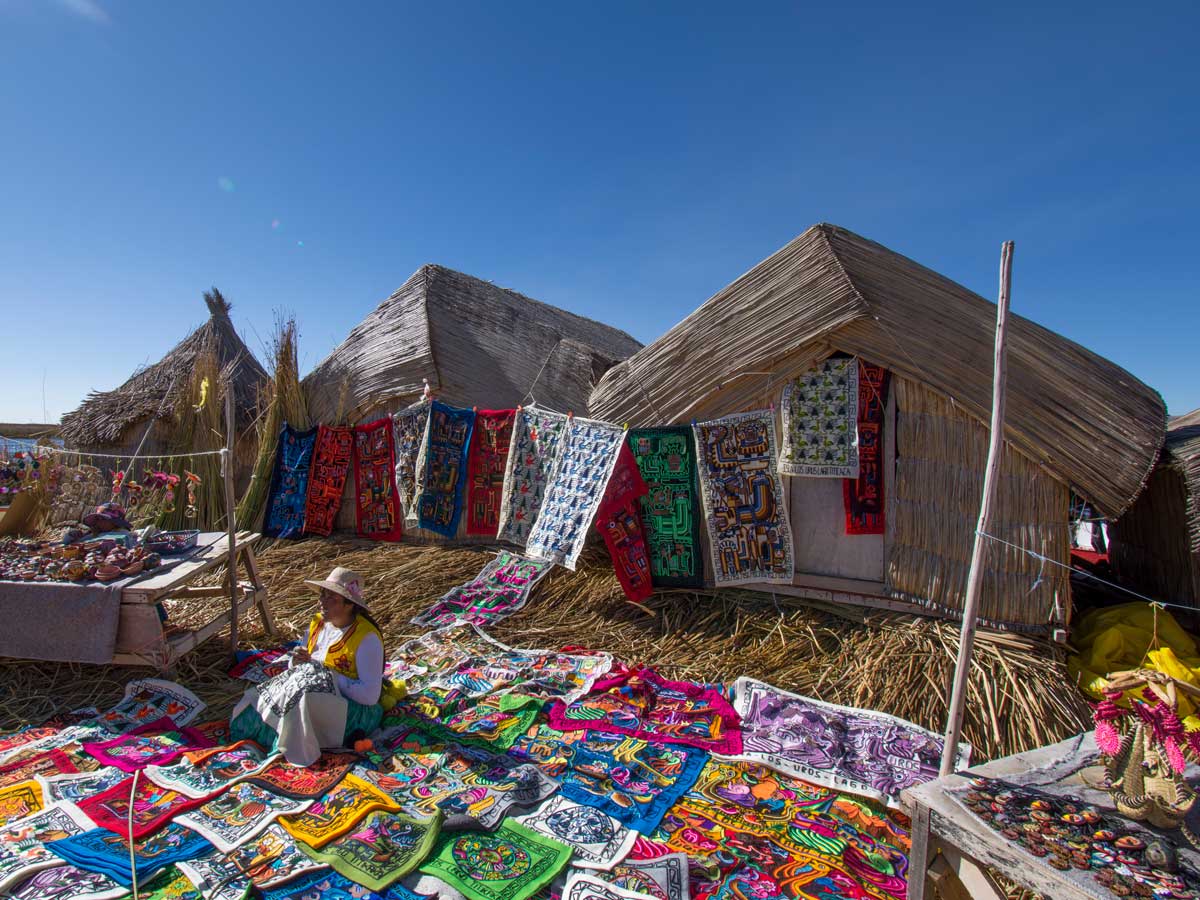 Uros Ccapi, on Lake Titicaca
The Titicaca Uncovered tour by Edgar Tours includes; a tour of Taquile Island, a "Pachamanca" lunch prepared by locals (a traditional way of cooking meat, fish and potatoes in underground ovens) at the scenic community of Santa Maria, and a visit to Uros Ccapi - considered the last authentic floating reed islands. The tour starts at 7am and includes transfers to and from the port, transfers by speedboat and lunch. It is a great way to experience Lake Titicaca.
Puno
Puno is quirky town with colonial heritage, regal plaza, and concrete block buildings blending into the hillside. It has a reputation as one of the happiest places in Peru, with a lively bar scene and legendary festivals. We visited Puno on independence day weekend which was an experience it it's own right - with the partying going on throughout the night! For food and drink you have some good options around Plaza de Armas in particular Mojsa restaurant where we enjoyed a very pleasant meal. The majority of nightlife is cantered the pedestrian mall, Jirón Lima where you'll find a handful of bars and nightclubs including Kamizaraky Rock Pub, the Reggae-themed Positive Vibrations and Apu Salkantay bar.
Puno to Colca Canyon
Getting to the Colca Canyon from Puno or Arequipa is relatively straight forward as there are a number of public transport operators and tourist coaches operating the routes. We did a fair amount of research on this before our trip to Peru and after much debating settled on using 4M Express (which is tourist coach operator) to get us from Puno to Chivay. The coach journey from Puno leaves around 6am and gets you into Chivay at around 1pm. The route takes you across the high Andean plateau, reaching a high point of 4900 meters (16,000 feet), so be aware of the altitude and cold! At the "Mirador de los Volcanes," you can enjoy fine views of several volcanoes that soar to more than 6,000 meters (20,600 feet). We have nothing but praise for 4M; the coach was very comfortable, we had an informative guide who gave us interesting information at the stops we made en-route and most importantly the driver was very safe.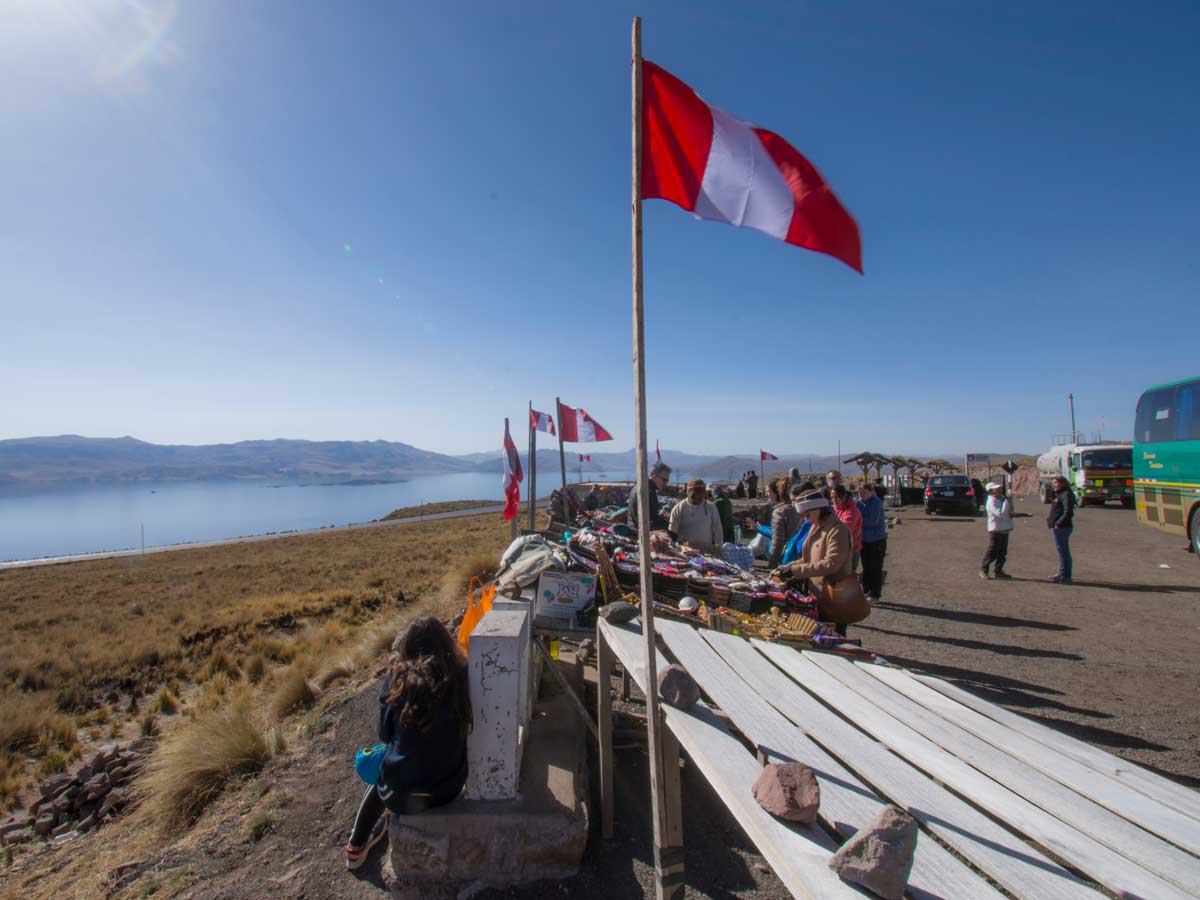 On the road from Puno to Chivay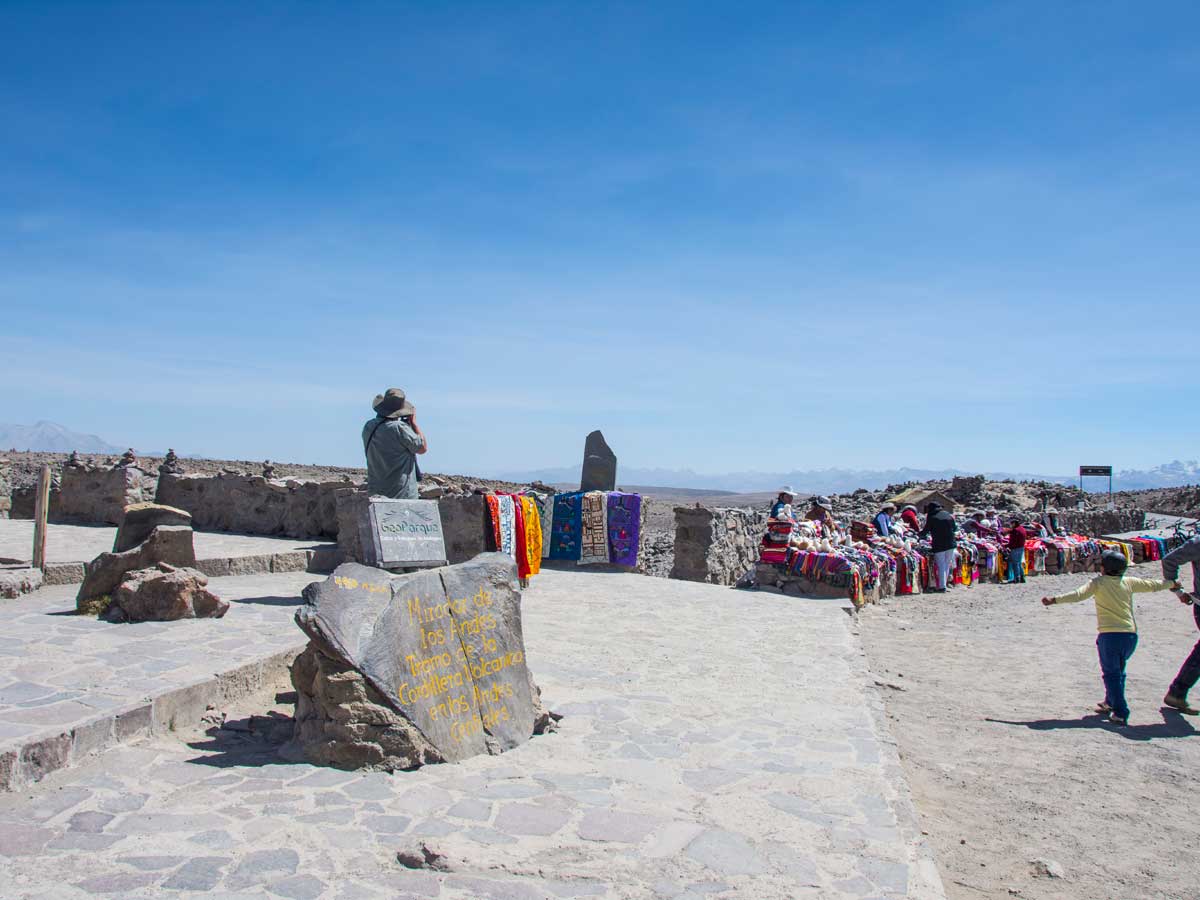 Mirador de los Volcanes, 4900m
Where to stay in the Colca Canyon
We stayed at Pachamama Hostel in Cabanaconde, a cosy establishment in the heart of the canyon. We spent some time in various spots from Chivay down to Cabanaconde and have to say this is the best location. Pachamama Hostel is a great place for a night or two, with comfy beds, excellent service, great Pizzas and easy access to good walks (which the guys here will recommend for you) look no further! Cruz de Condor, the viewing area for seeing the mighty Andean Condors is also around 10 minutes away by road. The main arrival point to Colca Canyon is Chivay, a nice and very friendly town at the beginning of the canyon, with plenty of hotels and hostels, and restaurants, as well as La Calera hot springs. Many tourists use Chivay as a base making day trips to areas of the Canyon, and whilst Chivay has more accommodation options we feel than Cabanaconde offers a better experience.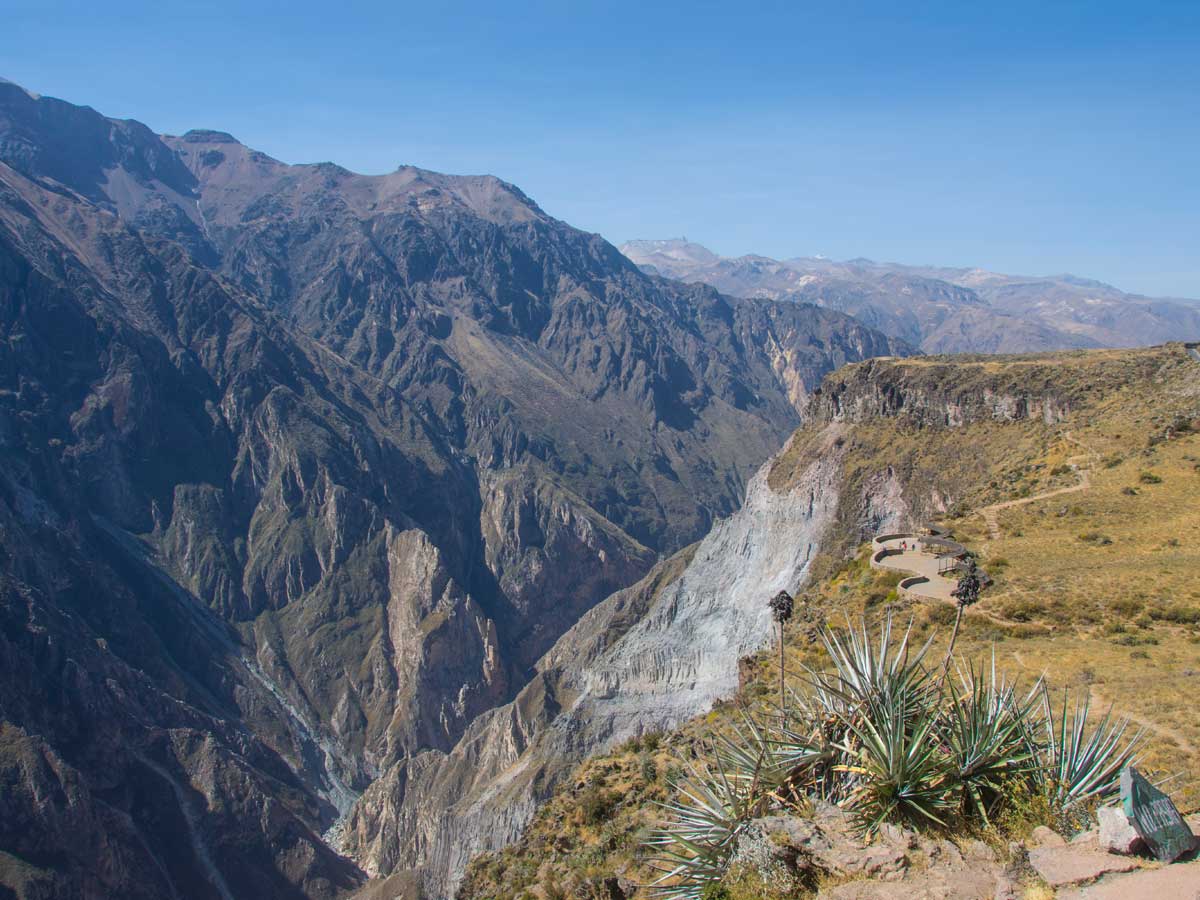 Colca Canyon near Cabanaconde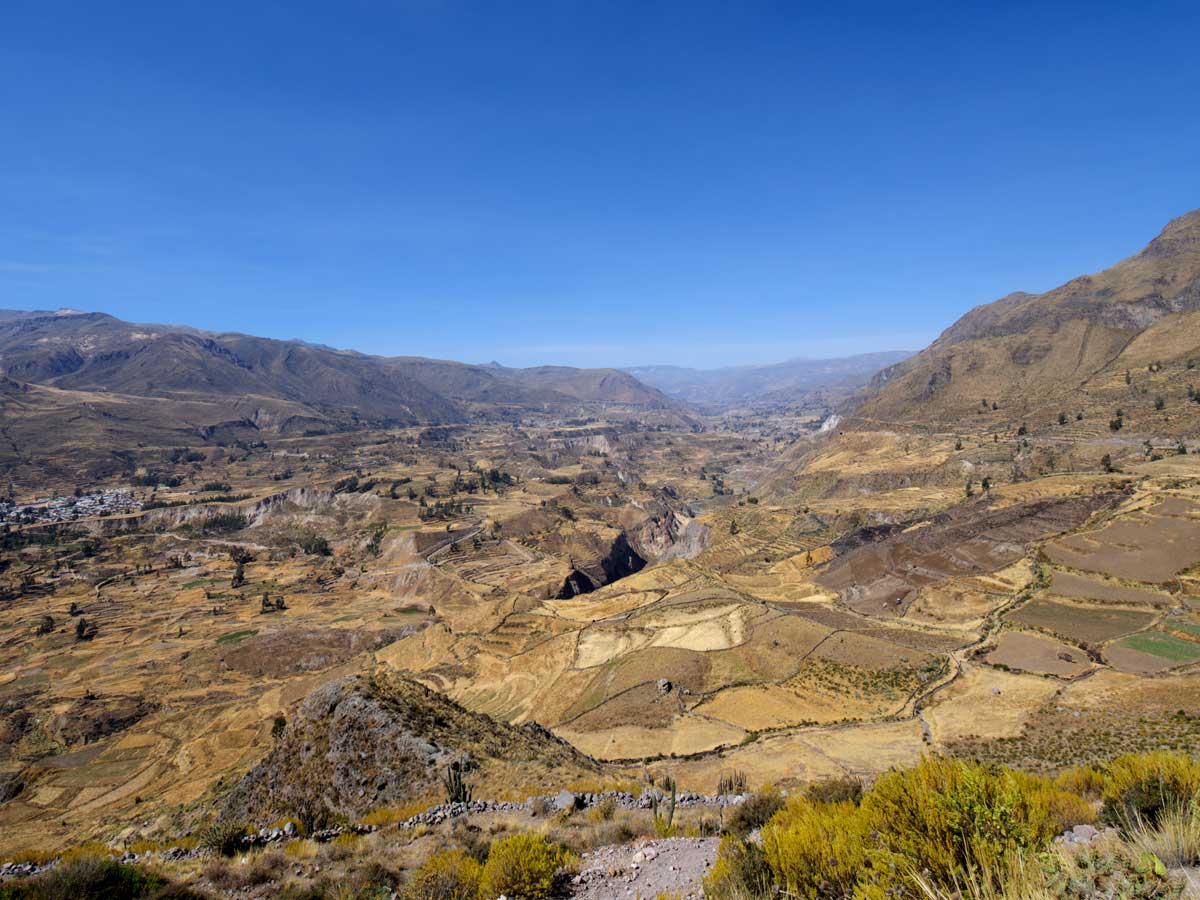 The Colca Canyon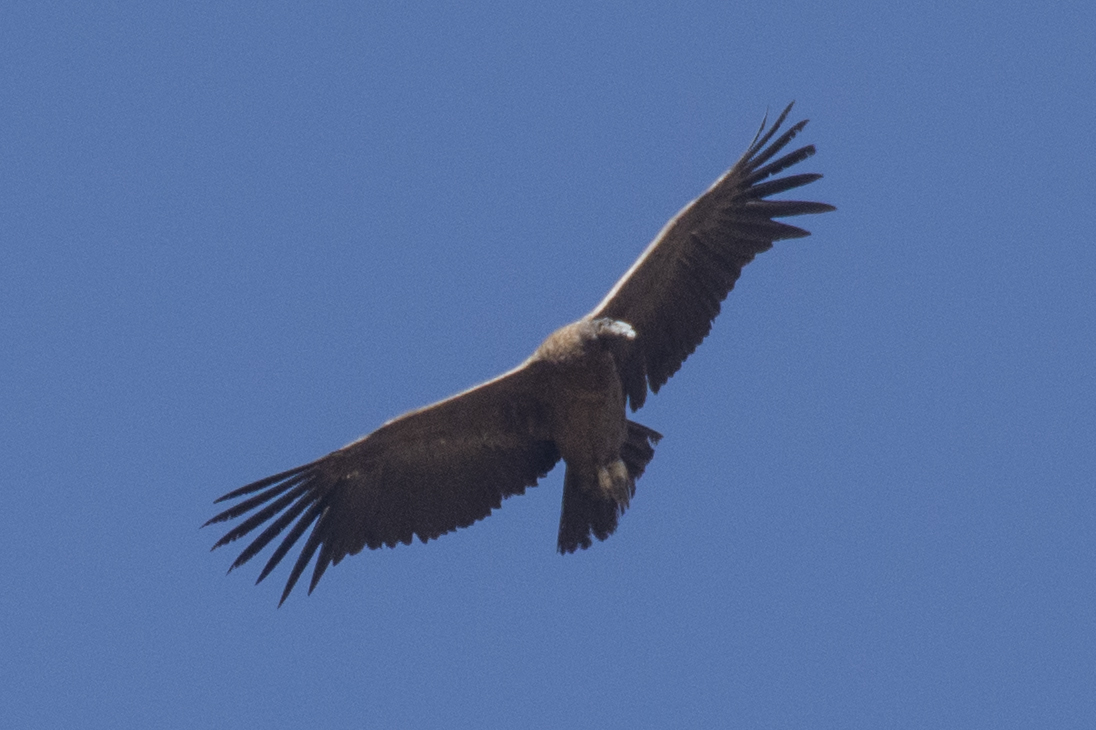 Andean Condor at Cruz del Condor
Arequipa – the final leg
If you've travelled to Arequipa from the highlands area (Colca Canyon or Lake Titicaca) then you'll be arriving in the late afternoon early evening after a tiring day on the road.
Arequipa is Peru's second city and is flanked by three dramatic volcanoes. The city enjoys a spectacular, if somewhat seismically active setting. Despite a number of earthquakes over the centuries (the most catastrophic being in 1687) it is blessed with some of the country's finest colonial churches and mansions, many of which were constructed from white volcanic rock, cut from the surrounding mountains. In 2000 the city's central area earned a Unesco World Heritage listing and the sight of the enormous cathedral, with the exquisite image of El Misti rising behind it, is worth a visit alone. Stunning vistas aside Arequipa has also played an essential role in Peru's culinary renaissance and there are many fine dining experiences to be enjoyed in the city.
At lower altitude, Arequipa is the perfect place to relax and enjoy the last few days of an epic Peruvian adventure. Read our two day guide to Arequipa to find out more about the "white city".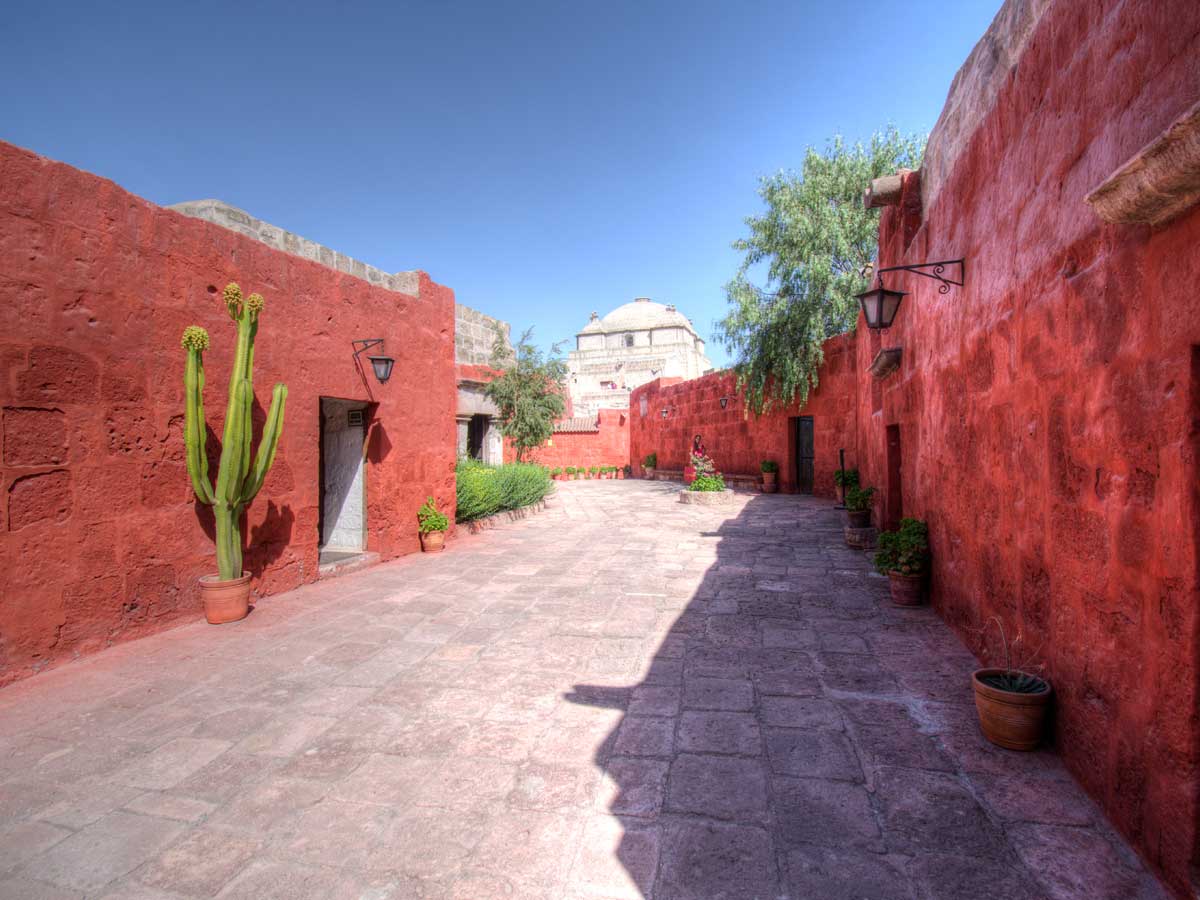 Santa Catalina Monastery, Arequipa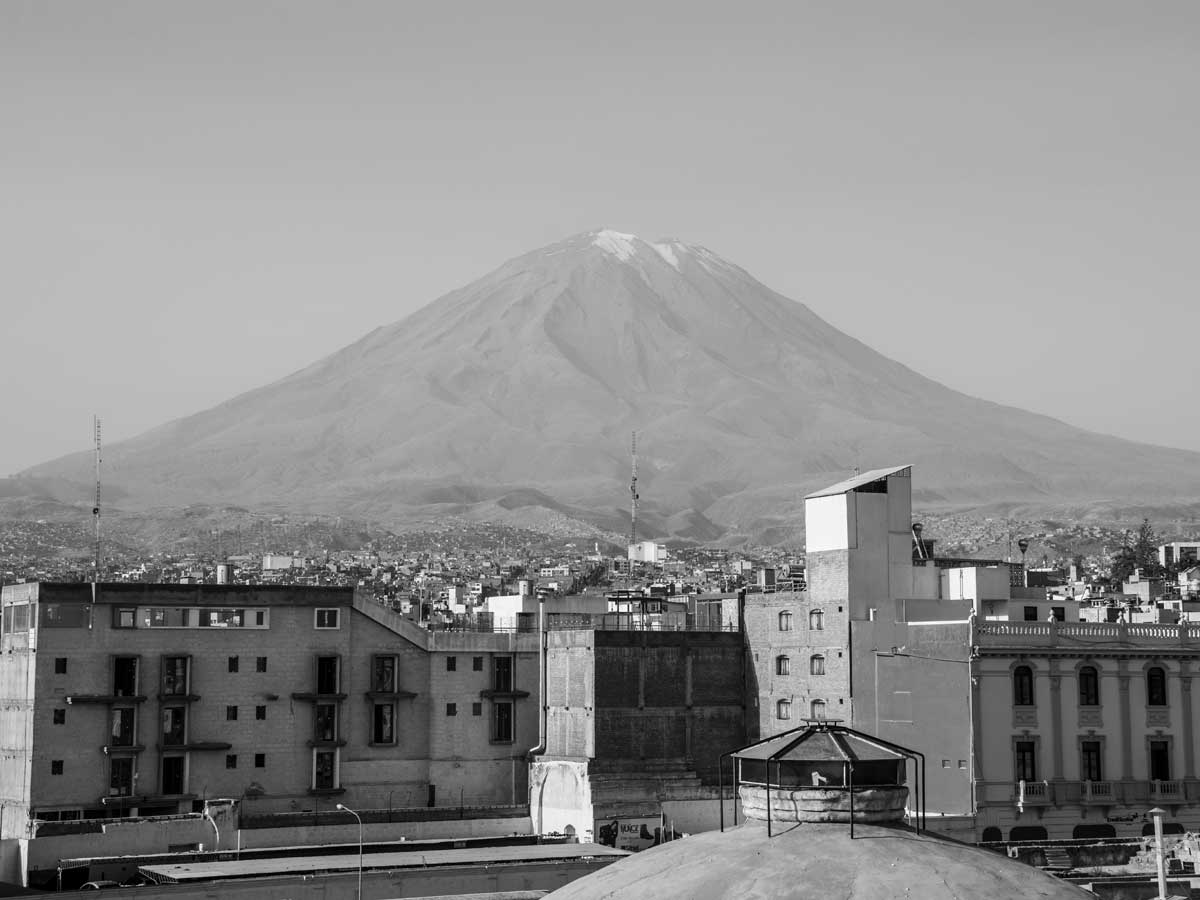 View of El Misti Volcano from Arequipa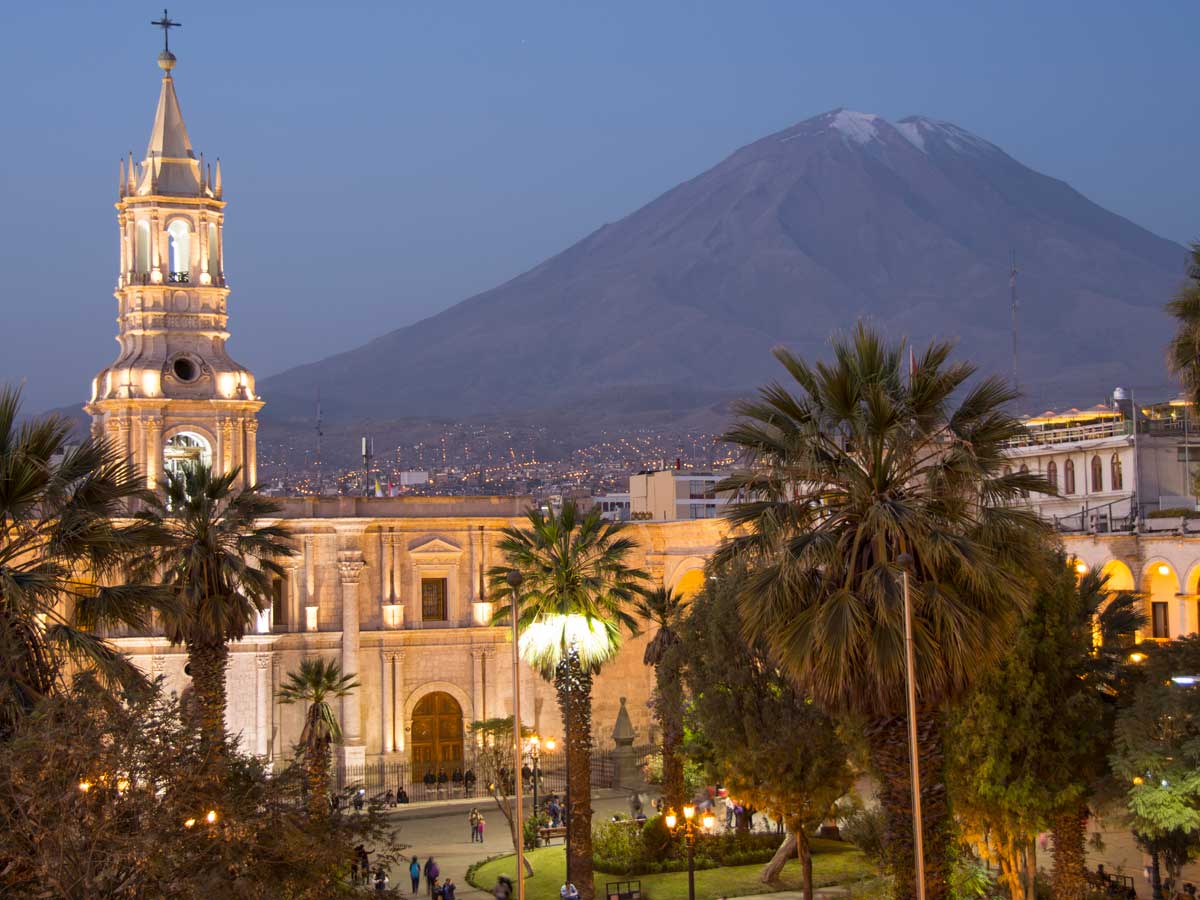 Iconic view of Arequipa Basilica and Misti Volcano after sunset