Sri Lanka
The best of Sri Lanka's South Coast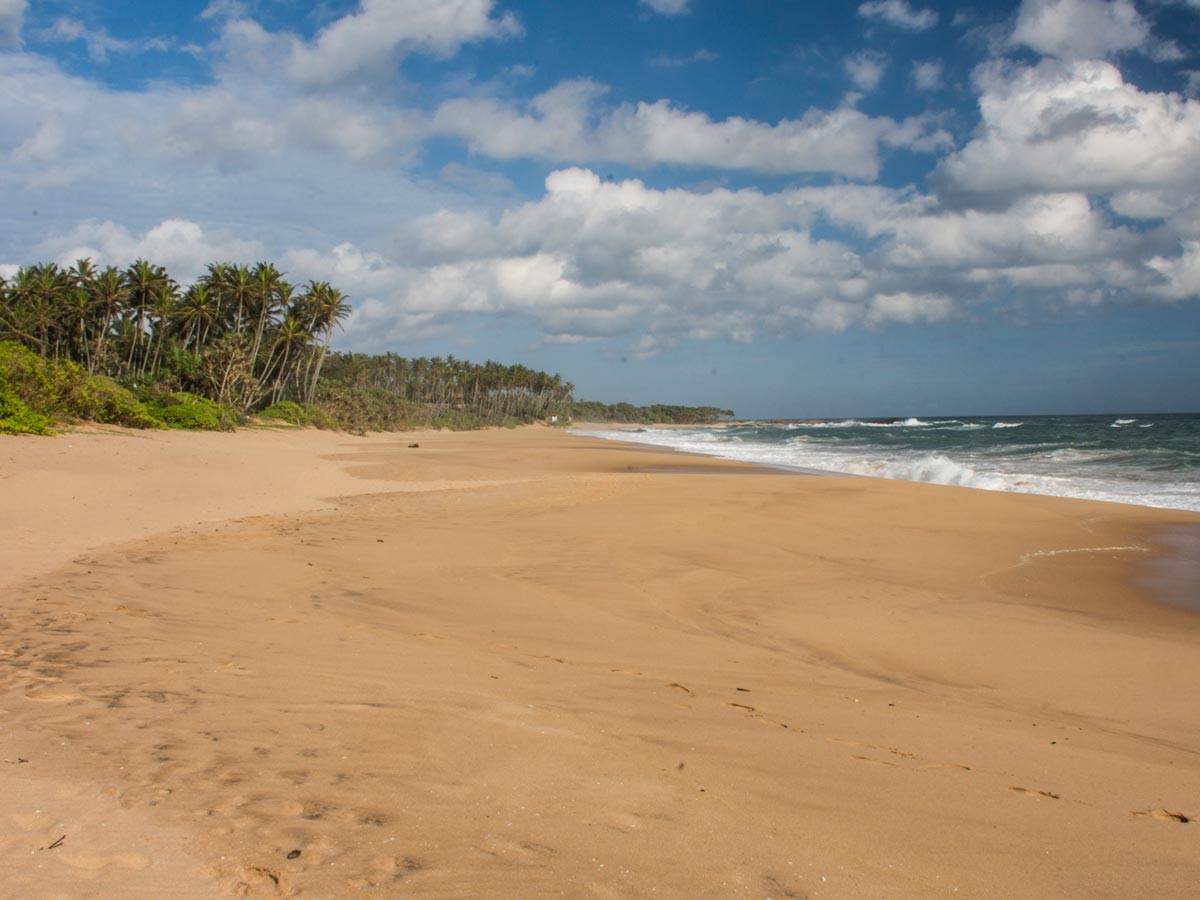 Stretched out along a vast sweeping arc of sun-drenched coastline, much of Sri Lanka's south coast feels authentically rural and remains a mainstay of Sinhalese tradition. The chilled out pace of life in the region is focussed mainly around coconut farming, rice cultivation and fishing which is still practised in some areas by the distinctively Sri Lankan stilt-fishing method.
Sri Lanka's south coast has much to offer visitors; from coconut fringed pristine beaches where you catch some of the best surf on the island and witness baby sea turtles hatching in the sand to wildlife based activities such as whale watching and leopard safaris, the area will not disappoint.
We recommend a stay of around four to five nights and the Tangalle / Rekawa area is ideally located for exploring the beaches and is an equal distance (around 90 minutes) to both Yala and Udawalawe National Parks. You can reach this part of the south coast in around an hour of two's drive along the coast road from Galle. Leaving Galle at around 2pm will allow you time to visit the sea turtle hatchery near Koggala beach and see the stilt-fishermen in the area around Weligama before sunset. A good itinerary for this part of your Sri Lanka trip would be to spending a couple of days relaxing on the beach / at the resort and two days sightseeing, you could choose to do either a safari at both national parks (on separate days) or one safari plus a day trip visiting local villages and beaches.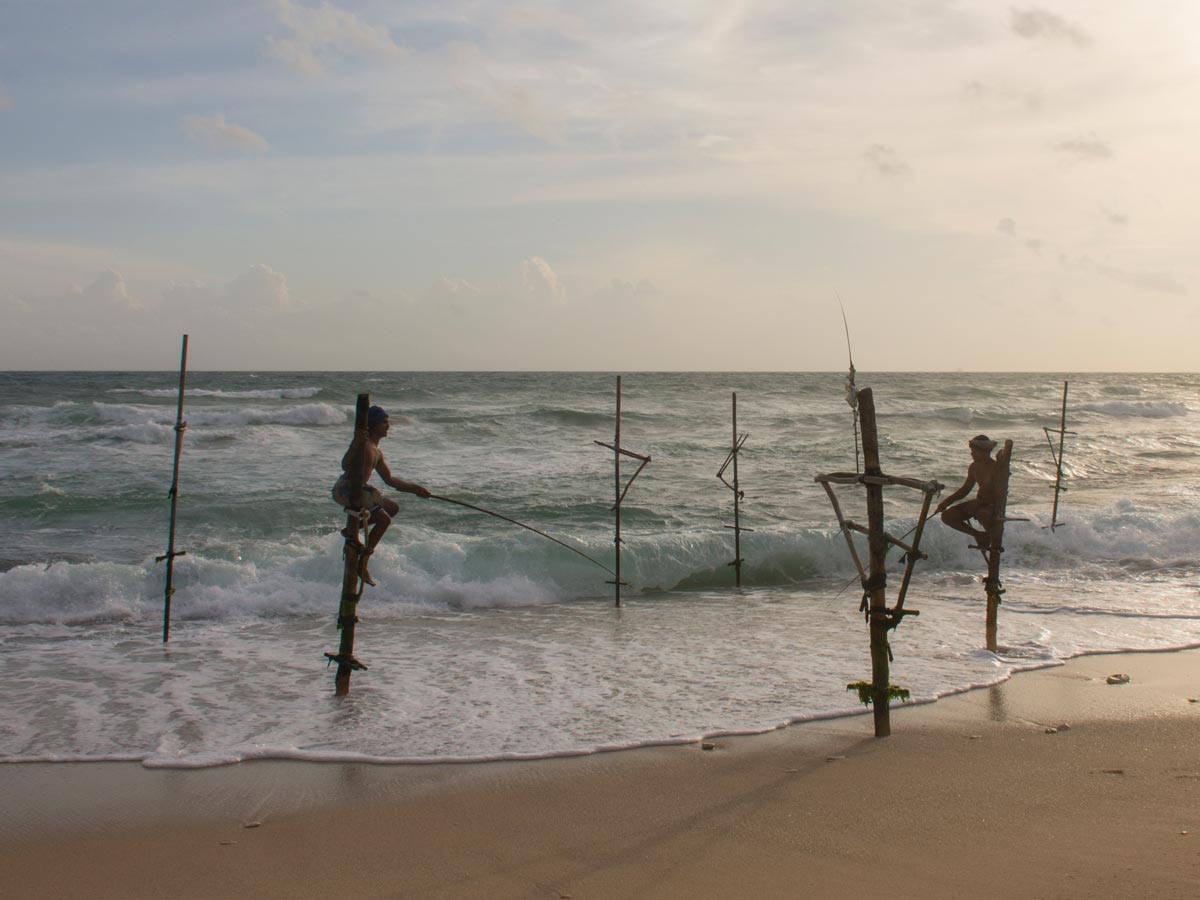 Stilt Fisherman at Koggala beach
Where to stay
There are several upmarket hotels around Tangalle, which offer superb accommodation at reasonable prices. We stayed four nights at Buckingham Place Hotel and found both the service and quality of the accommodation exceptional. With a stunning infinity pool, swim up bar and unique views over the Indian Ocean, it really doesn't get much better. The food on offer in the restaurant at Buckingham Place was also the best we experienced anywhere in Sri Lanka (in particular the traditional Kotthu Roti and Egg Hoppers).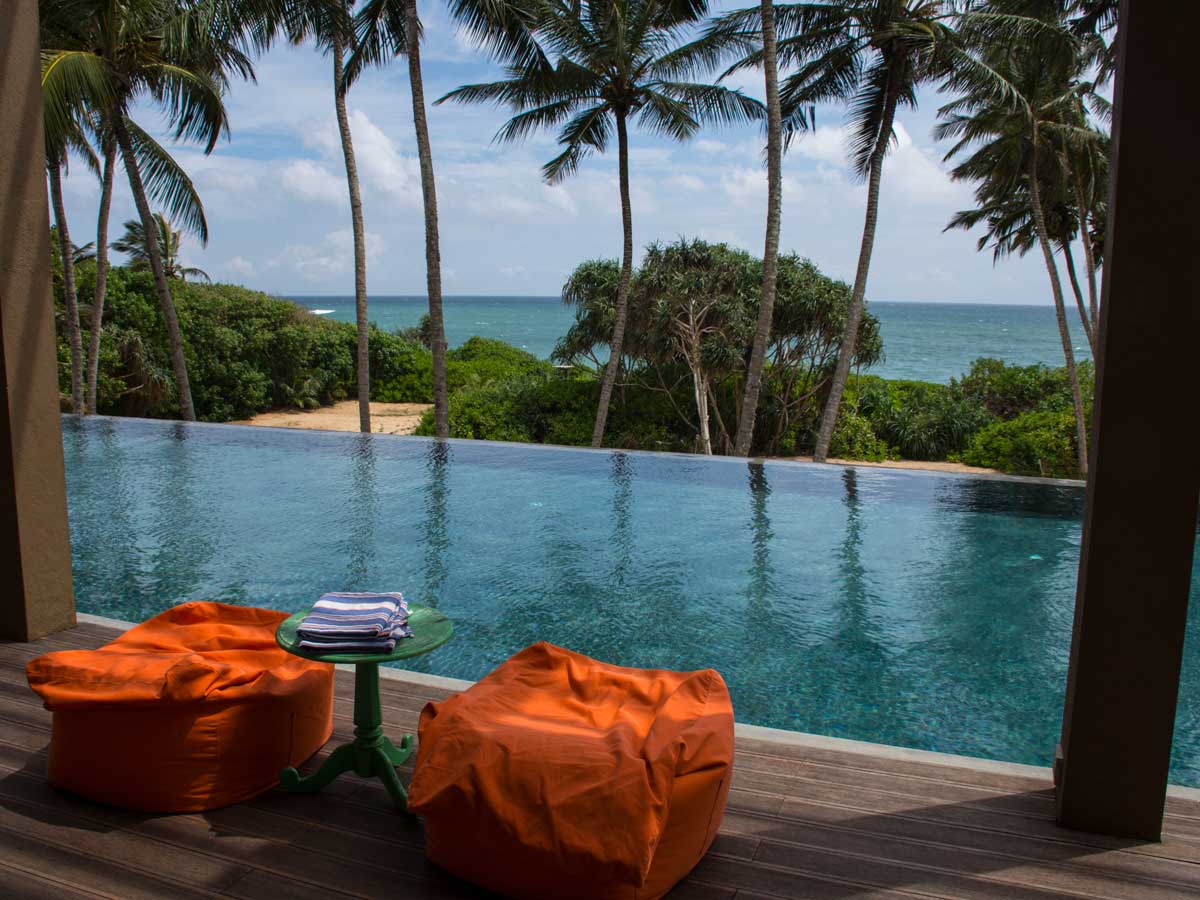 Infinity pool overlooking the ocean at Buckingham Place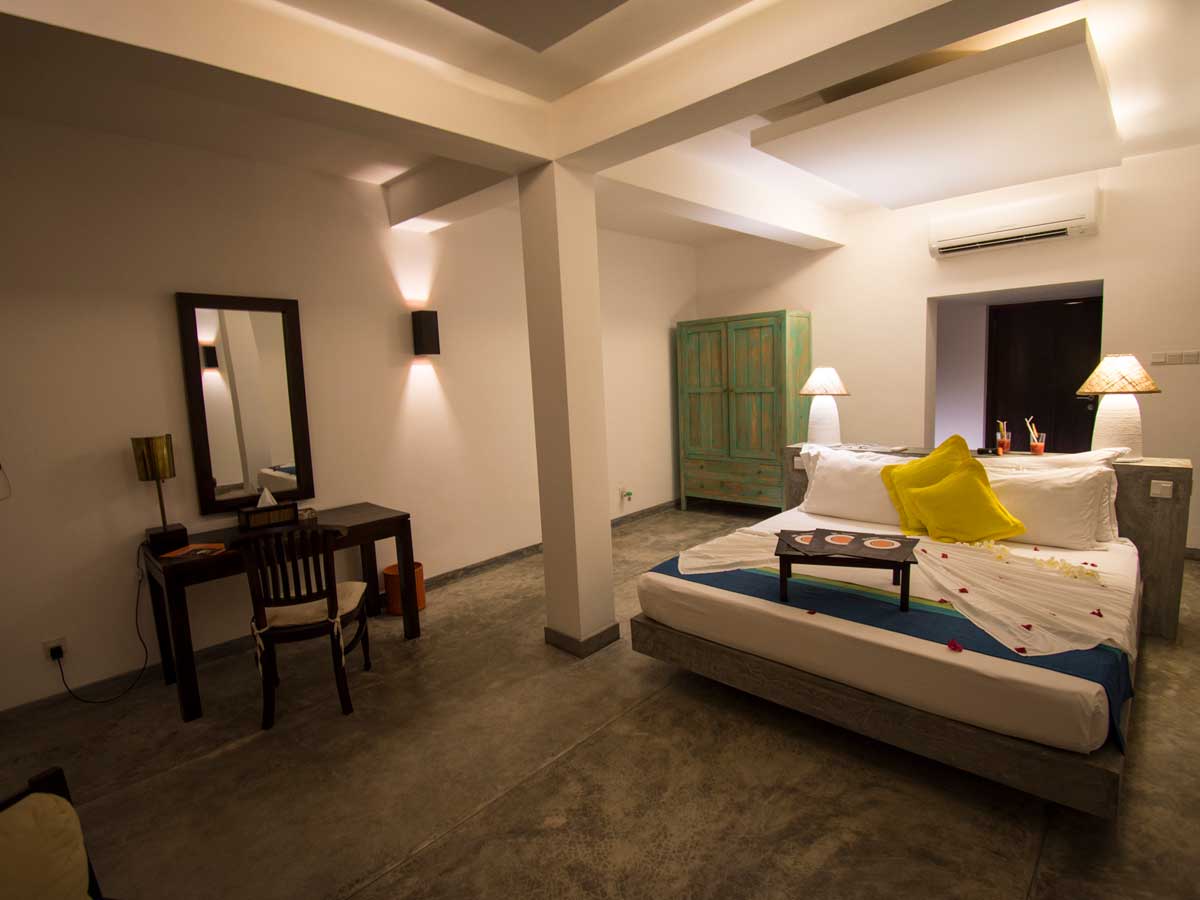 Our room at Buckingham Place Hotel
Udawalawe
Framed by the Sri Lankan highlands to the north, Udawalawe is an important habitat for Sri Lankan elephants and is one of the best places in world to see these animals in the wild. Many elephants are attracted to the park because of the Udawalawe reservoir and they remain the park's key attraction, with a population of around 600 in herds of up to 50. Mainly comprised of grasslands and bush forest, it's also one of the best national parks in Sri Lanka for bird and game spotting. Safaris should be organised by your hotel or driver, alternatively book directly with a reputable operator (such as Udawalawa Safari).
Yala
Yala National Park is the most visited and second largest national park in Sri Lanka, bordering the Indian Ocean to the south. The park consists of five blocks, two of which are now open to the public. Including Sri Lankan elephant, 44 species of mammals are resident in Yala National Park, and it has the highest leopard density of any national park in the world. It is estimated that 35-40 individual leopards roam in block 1 and around 15 in block 5 of the park. The elephant herd of Yala contains 300–350 individuals. The sloth bear, leopard, elephant, and wild water buffalo are all threatened species that Yala is harbouring. Toque macaque, golden palm civet, red slender loris, fishing cat, various species of deer, crocodiles and mongoose are among the other animals that can be seen in Yala.
After many hours spent trawling through TripAdvisor reviews and guide books trying to find a reputable safari jeep tour for our trip to Yala National Park we eventually settled on Daya Safari Jeep Service and it was totally the right choice. The company offers a selection of safari packages:
Morning Safari - 5.00 AM – 10.00 AM (US $42 per person)
Evening Safari - 2.30 PM - 06.00 PM (US $42 per person)
Half Day Safari - 5.00 AM - 12.30PM (US $49 per person)
Full Day Safari - 5.00 AM - 6.00 PM (US $70 per person)
We decided to take the full day safari as we were keen to spend as much time in the park as possible in order to maximise our chances of seeing all the species of wildlife we had on our list! The pricing was very reasonable at $140 for the two of us which included the all important park entrance fee, soft drinks, fruit, snacks and a deliciously authentic Sri Lankan curry and rice lunch. Communication via email during the booking process was pretty easy and we didn't have to pay anything up front, all we had to do was give the guys our drivers phone number and they organised a meeting point on the morning of our safari. One thing to note is that during September and October blocks 1 and 2 of Yala national park are closed to visitors but the less visited block 5 is still open. We visited in late October so we were limited to block 5, even though there is a much smaller Leopard population in this area it is still a beautiful park with stacks of wildlife and we did manage to see a Leopard.
Our driver for the day was Chanake, he met us promptly at about 5.15am in Tissamaharama so we could be at the entrance to block 5 of Yala National Park before the gates opened at 6am. Getting to the park early means that you are there before most of the jeeps have turned up and disturbed the animals and you also have a good chance of getting an official park guide for the day as well.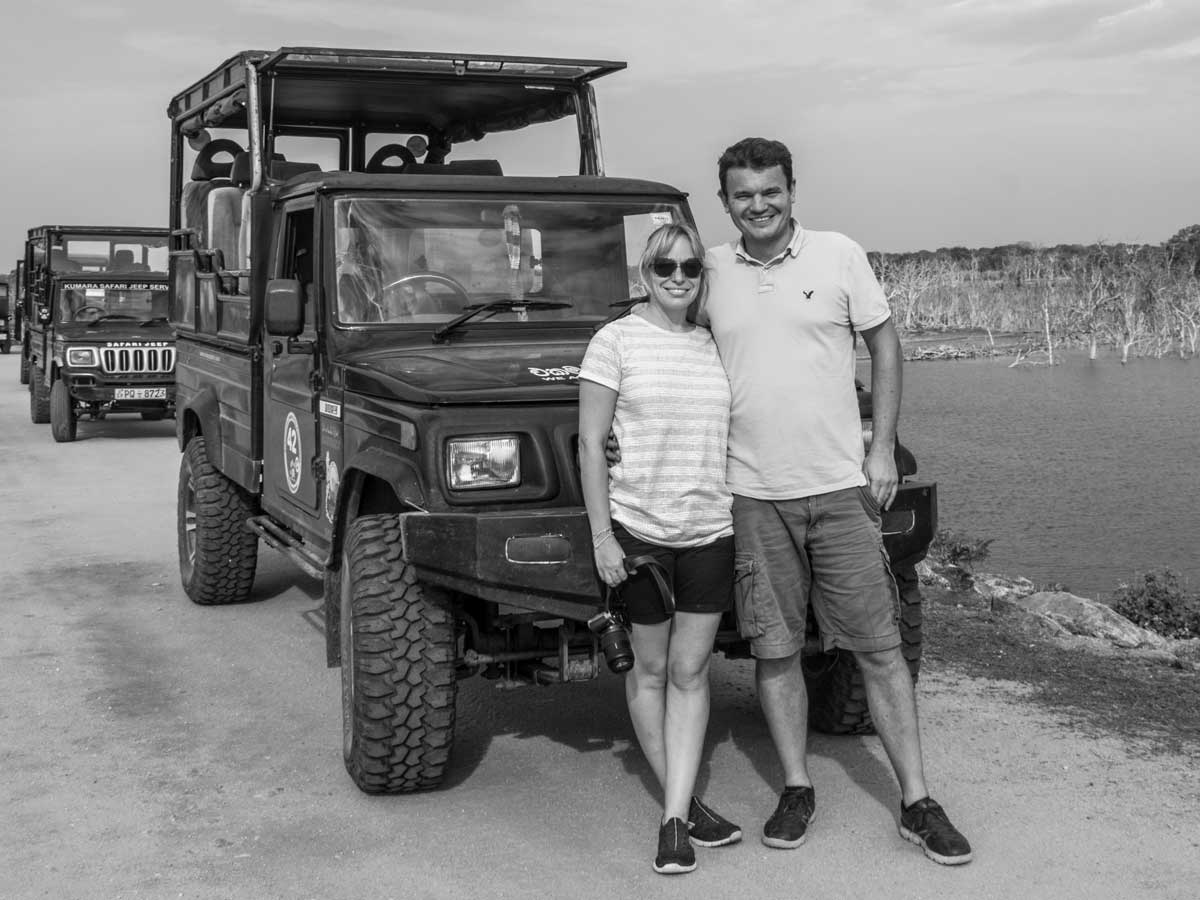 By our jeep in Yala National Park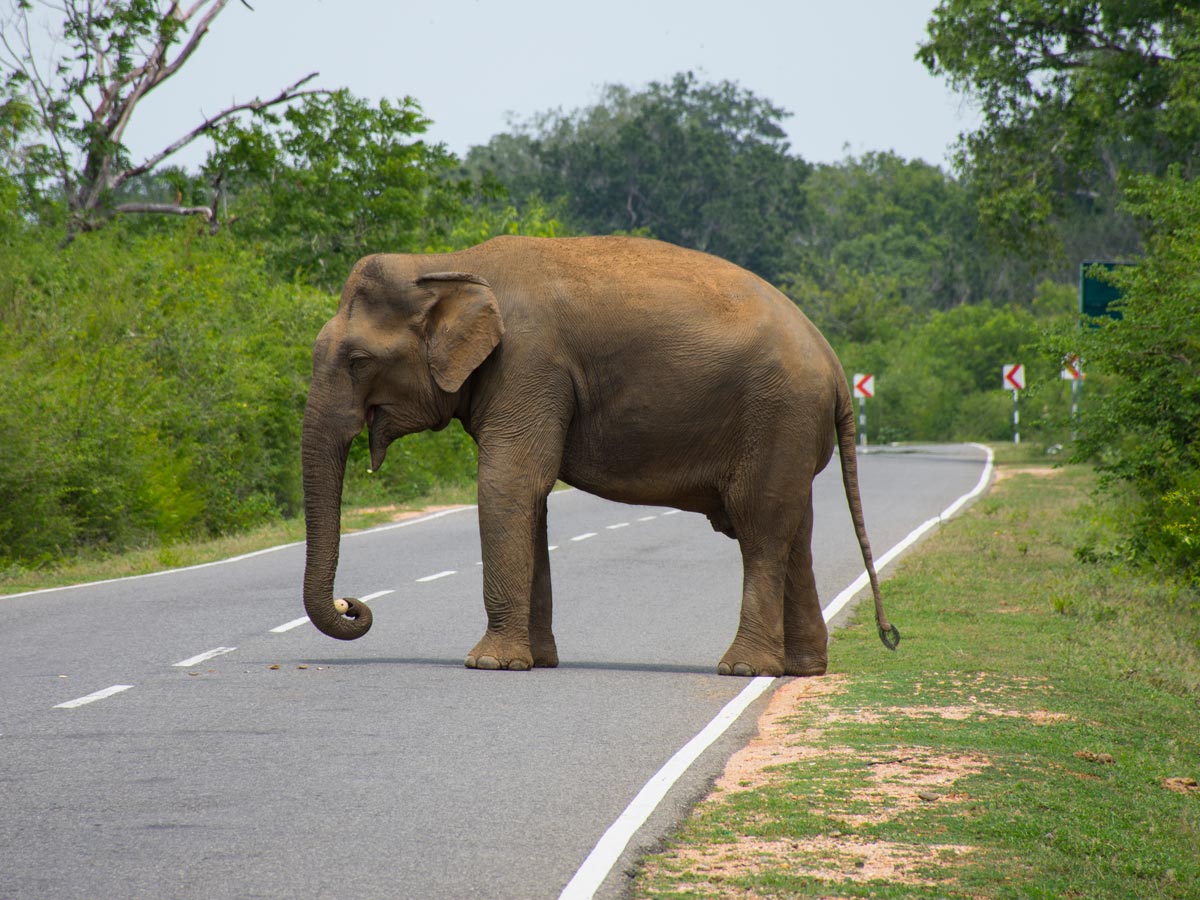 Elephant on the road at Yala National Park
We had an excellent day spotting the various flora and fauna in Yala National Park, both Chanake our driver and the guide had great ears and eyes for tracking down many animals and birds that we would have easily missed, they also had a couple of pairs of binoculars for us to use which came in very handy! During the morning we tried to track down some Leopards which we picked up some fresh tracks for but they proved too elusive, we did however see some Water Buffalo, two Elephants, some Gray Langurs and plenty of different types of Deer. Before lunch we headed to a quite corner of the park with a beautiful lake where we saw lots of bird species including a Painted Stalk and an Eagle, more Water Buffalo bathing in the water and about half a dozen large Crocodiles.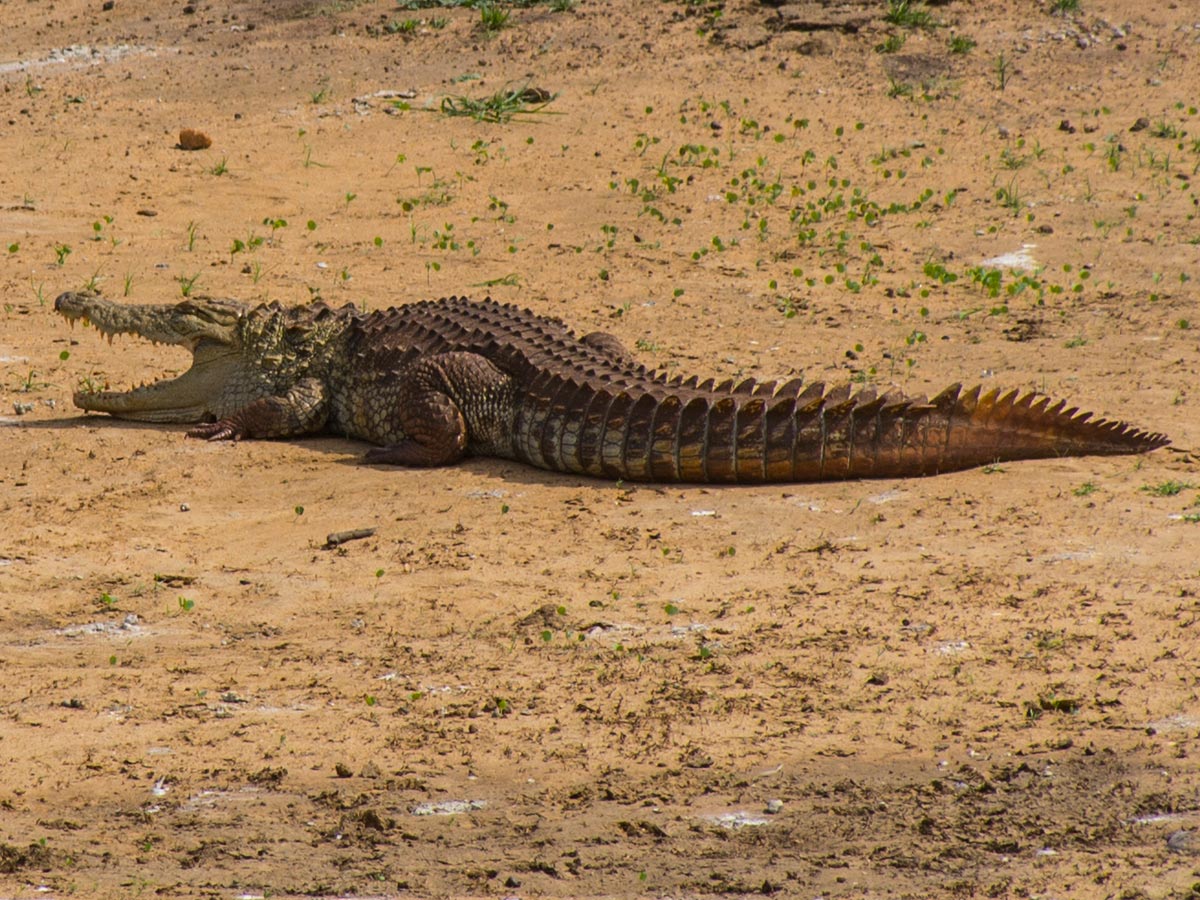 Crocodile at Yala National Park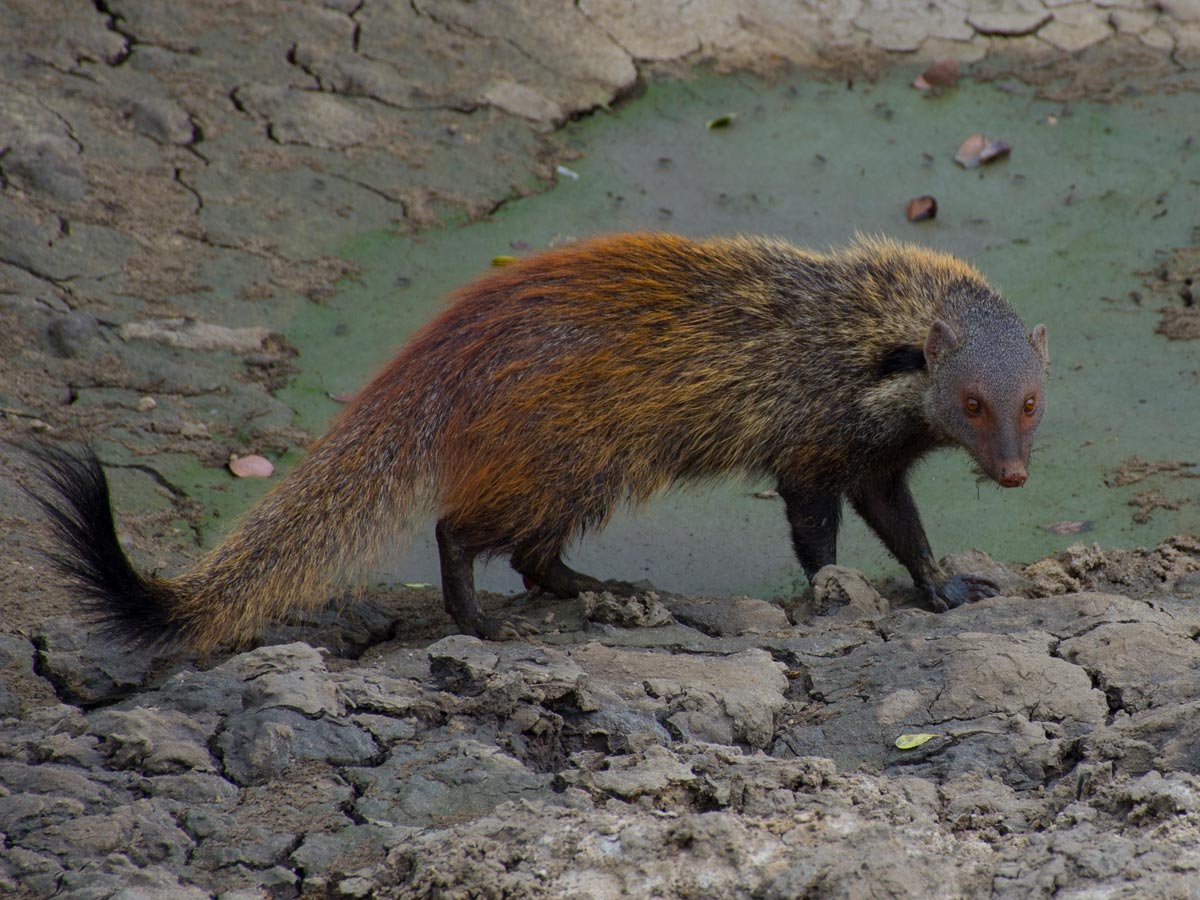 The mongoose that came right up to us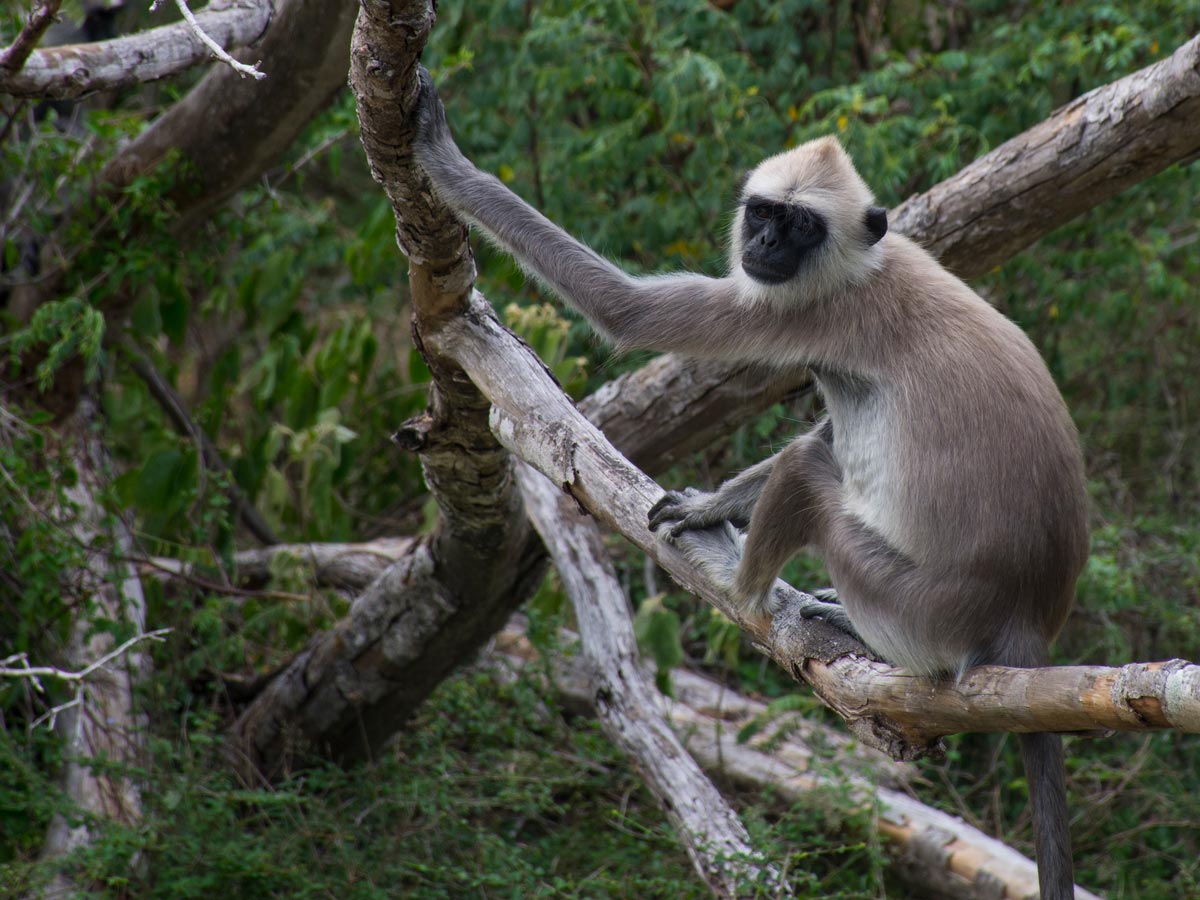 A grey Langur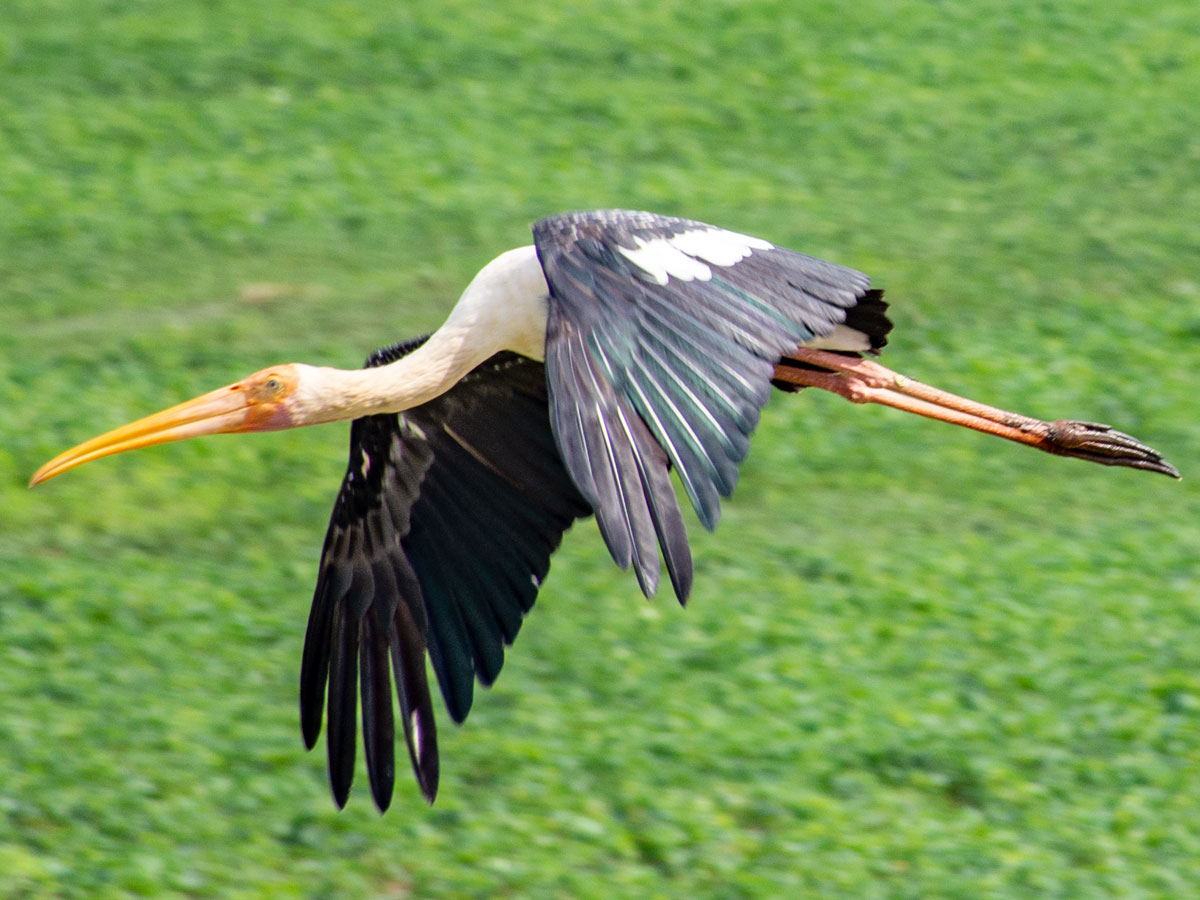 Painted Stalk
After lunch we came across a Mongoose really close to the jeep trails, we sat and watched it for about 10 minutes before continuing our search for the elusive Leopard. The afternoon was a bit tiring as the weather was searingly hot but Chanake didn't give up the hunt and eventually we spotted a Leopard hiding in some bushes in thick undergrowth close to the jeep tracks. After about 20 minutes or so of watching and waiting the Leopard crossed the tracks right in front of us.