Costa Rica
Tortuguero, Costa Rica: Where to stay and what to do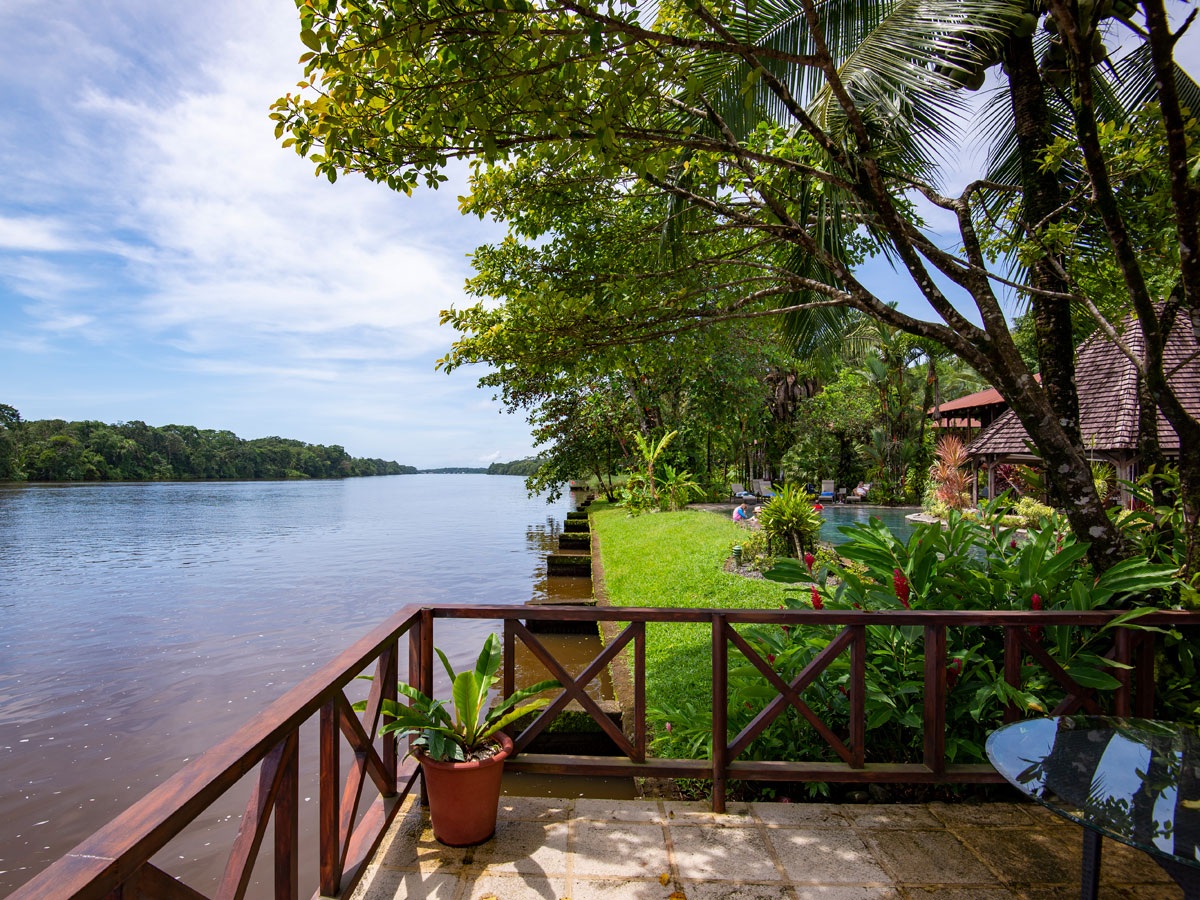 Located on the northern Caribbean coast, Tortuguero National Park is one of Costa Rica's top destinations for experiencing the country's incredible wildlife.
The national park was created in 1970 to protect endangered nesting sea turtles – the name Tortuguero translates to "Turtle Catcher" and you can experience the magic of watching green sea turtles nesting on the beaches from July to October.
Why Visit Tortuguero?
Tortuguero is not just for turtles, the park has a staggering variety of biological diversity due to the existence within the reserve of eleven different habitats, including rainforest, mangrove forests, swamps, beaches, and lagoons. Over sixty species of mammals inhabit the park, including spider monkeys, capuchin monkeys, howler monkeys, jaguar, ocelots, sloths, river otters, and manatees.
Over 300 species of birds can be observed within the park including various species of parrots and parakeets, kingfisher, toucans, spoonbills, and more. There are 111 species of reptiles within the park including green sea turtles, leatherback sea turtles, caiman, crocodiles, and boa constrictors. Of the 57 amphibian species, red-eyed tree frogs and strawberry poison dart frogs are most commonly seen.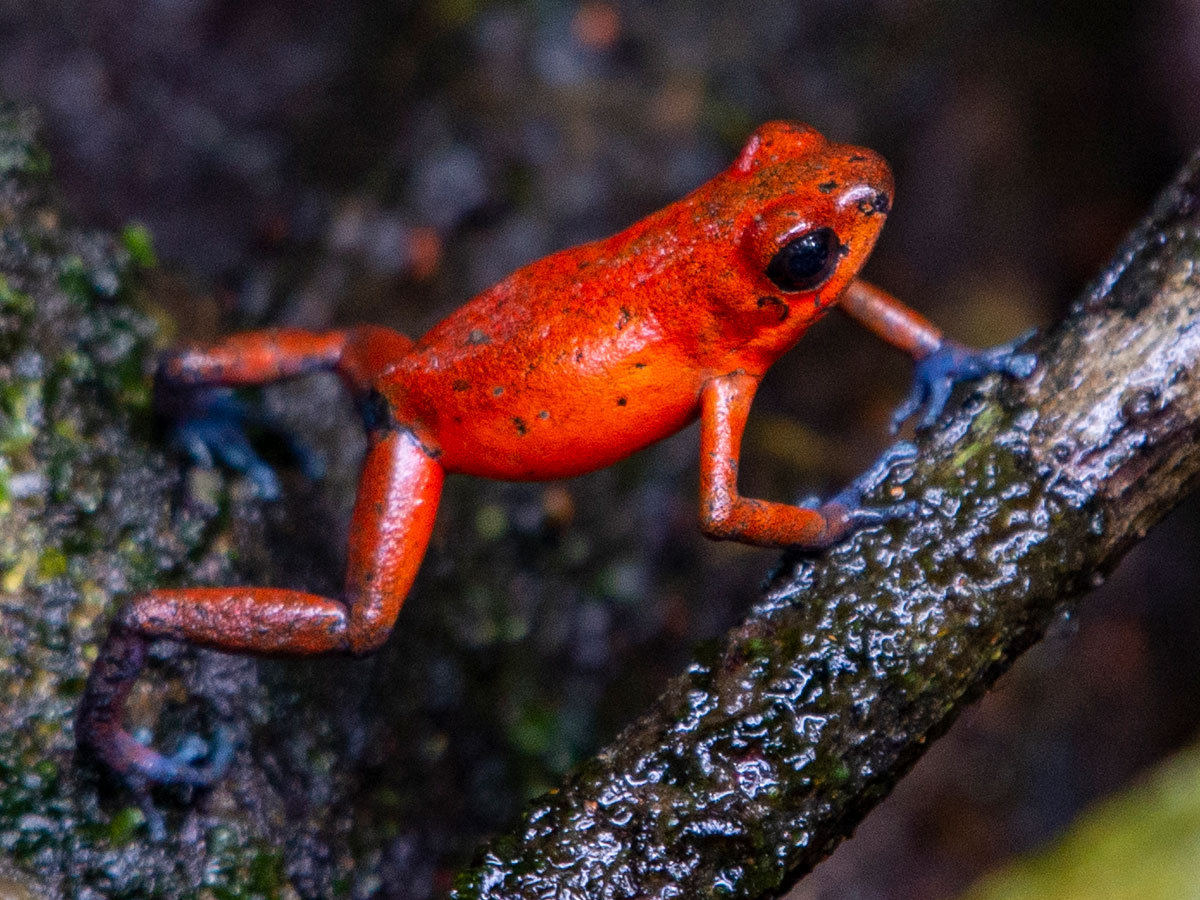 A Strawberry Poison Dart Frog in the grounds of Tortuga Lodge & Gardens
Our view is that a visit to Tortuguero is an absolute must for a first time Costa Rica itinerary. Due to the remote location most visitors opt to spend at least two nights here, we suggest three, which worked perfectly for us. The main benefit of staying a little longer is having a bit of flexibility for tours if the weather hinders your plans!
How to get there
Despite its remote location, accessible only by air or boat, Tortuguero is the third-most visited park in Costa Rica. Getting there is actually easier than you might think; the two best options are as follows:
Fly (with SANSA Aeorbell or Nature Air) most of the flights are return from San Jose but you can also fly in/out of La Fortuna and Limon if that suits you plans better.
Drive + Boat. This appears to be the most common way to arrive in Tortuguero. We drove to the dock at La Pavona where there is a secure parking area (US$10 per day); from there you can take a public boat or a shuttle boat from your lodge accommodation (normally US$10-20 per person). The boat journey takes roughly one hour. Driving times can vary in Costa Rica but it takes approx. 3 hours from San Jose to La Pavona, we drove from La Fortuna and the journey took just over 3 hours.
Where to stay in Tortuguero
During our visit to Tortuguero we were fortunate to be hosted by Costa Rica Expeditions at their superb property Tortuga Lodge & Gardens. Like the majority of lodges in the area Tortuga Lodge and Gardens offers guests a 3-day package which includes transfers and a boat tour in the national park.
Our Tortuguero adventure began as soon as we climbed on board our boat transfer at La Pavona and headed down river. Shortly after we had been given life jackets and a safety briefing we departed, within minutes our guide had spotted some spider monkeys in the trees alongside the river and soon after a crocodile basking in the mid-morning sun! We also saw a Common Basilisk (Jesus Christ) lizard on the riverbank, but unfortunately, it didn't feel like putting on a show for us – these guys are notorious for their amazing ability to run on water!
The boat journey to Tortuga Lodge took around an hour and it is a very pleasant trip where you can really appreciate the difference in landscape once you get inside the national park boundary. After around 45 minutes or so on board we passed by Tortuguero village before arriving at Tortuga Lodge & Gardens. Upon disembarking the boat, we were greeted by several massive Iguanas roaming around on the front lawn!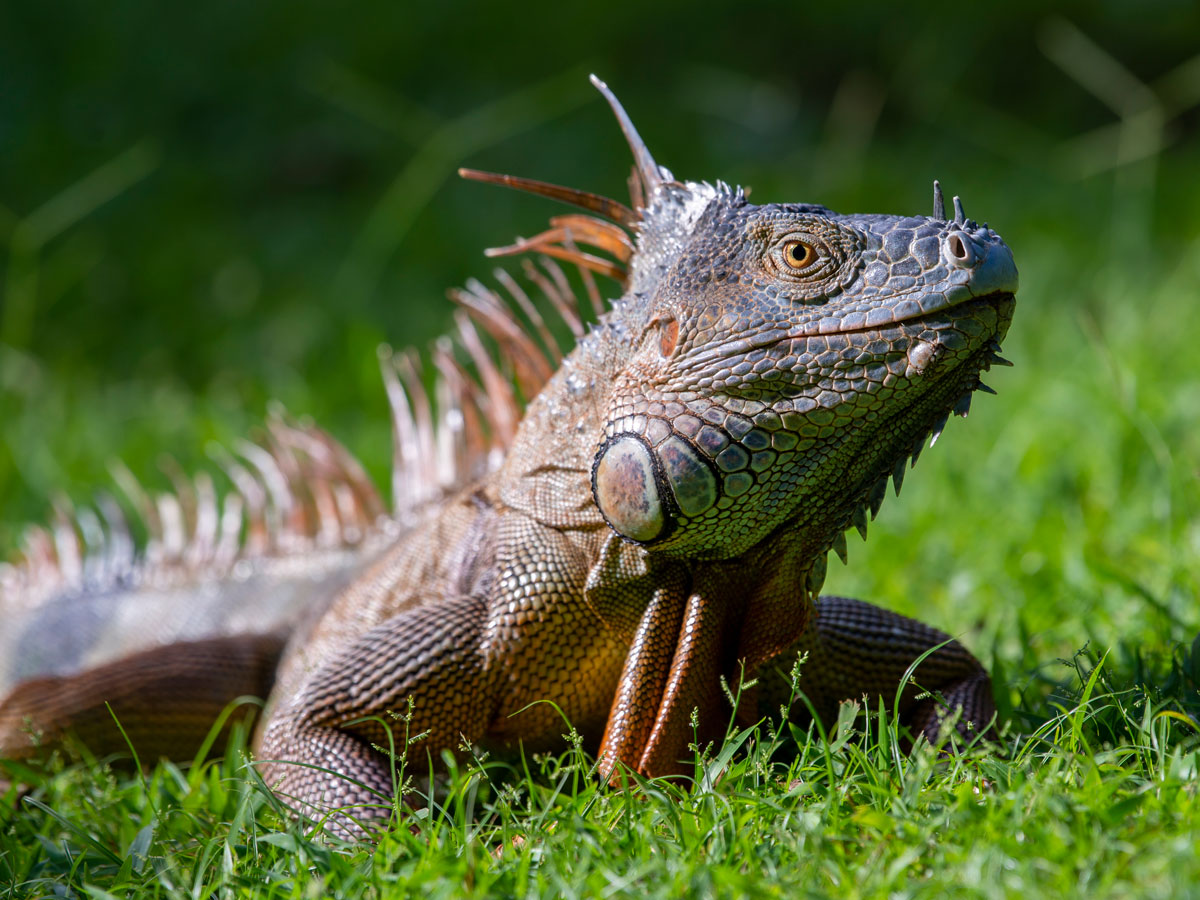 Iguana on the grass outside reception at Tortuga Lodge & Gardens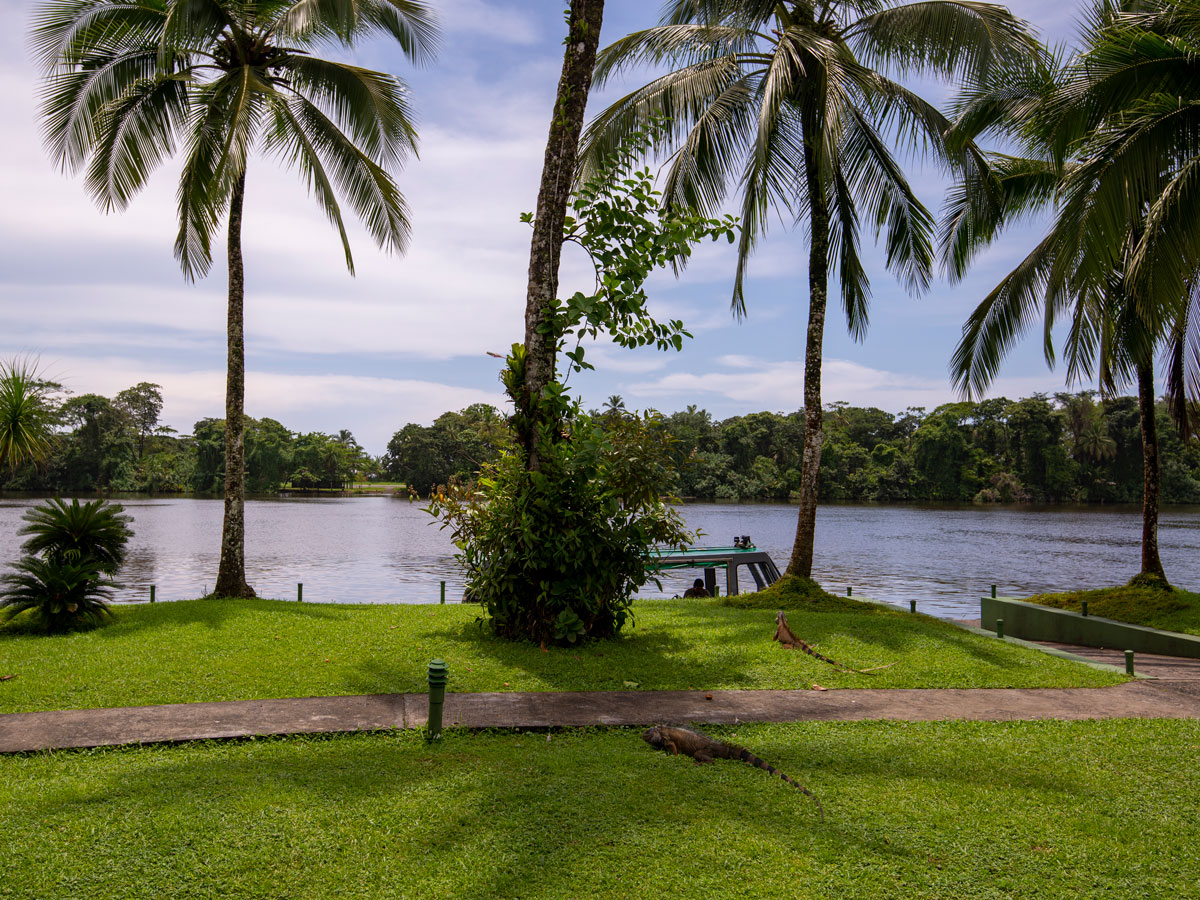 Beautiful lawns at Tortuga Lodge & Gardens
We were given an introduction to the lodge by the friendly reception staff followed by a run down on what activities / excursions would be available during our stay. After booking our excursions and enjoying some lunch at the beautiful open-air restaurant we spent the rest of the day enjoying the sun and relaxing by the pool.
Tortuga Lodge & Gardens has 27 rooms in total, 11 Downstairs Terrace Rooms, 12 Upstairs Balcony View Rooms, 2 Downstairs Suites and 1 Penthouse, all with river views. We stayed in room 17 which is an upstairs balcony room in the block next to the reception building. Although rustic in style, the rooms are very comfortable and well equipped and the lack of air conditioning isn't an issue at all. The rooms have a mesh netting over the windows so that you can hear the sounds of the rainforest at night whilst being protected from insects and enjoy the cool night-time breeze. Our room had a ceiling fan and a pedestal fan as well, so we had plenty of air circulating! One of the things we liked best was that we had our own hammock out on the balcony. All rooms have free wireless internet, which is surprisingly fast given the remote location!
The "Green Turtle" waterfront restaurant and bar at Tortuga is a beautiful setting and offers a mix of traditional Costa Rican dishes and some western style cuisine. The menu isn't overly extensive as transporting ingredients to such a remote area isn't easy and being an eco-lodge they also focus on using locally available / sustainable produce. The menu states "The food here is what a Costa Rican grandmother would cook if she was also a creative and contemporary professional chef". We found the food to be excellent quality and really appreciated that the staff were more than happy to accommodate requests as well, an example would be the delicious Patacones I had for lunch, served with salsa, guacamole and beans. The vegetarian options on the dinner menu and the breakfasts were particularly delicious.
Balcony area outside our room at Tortuga Lodge & Gardens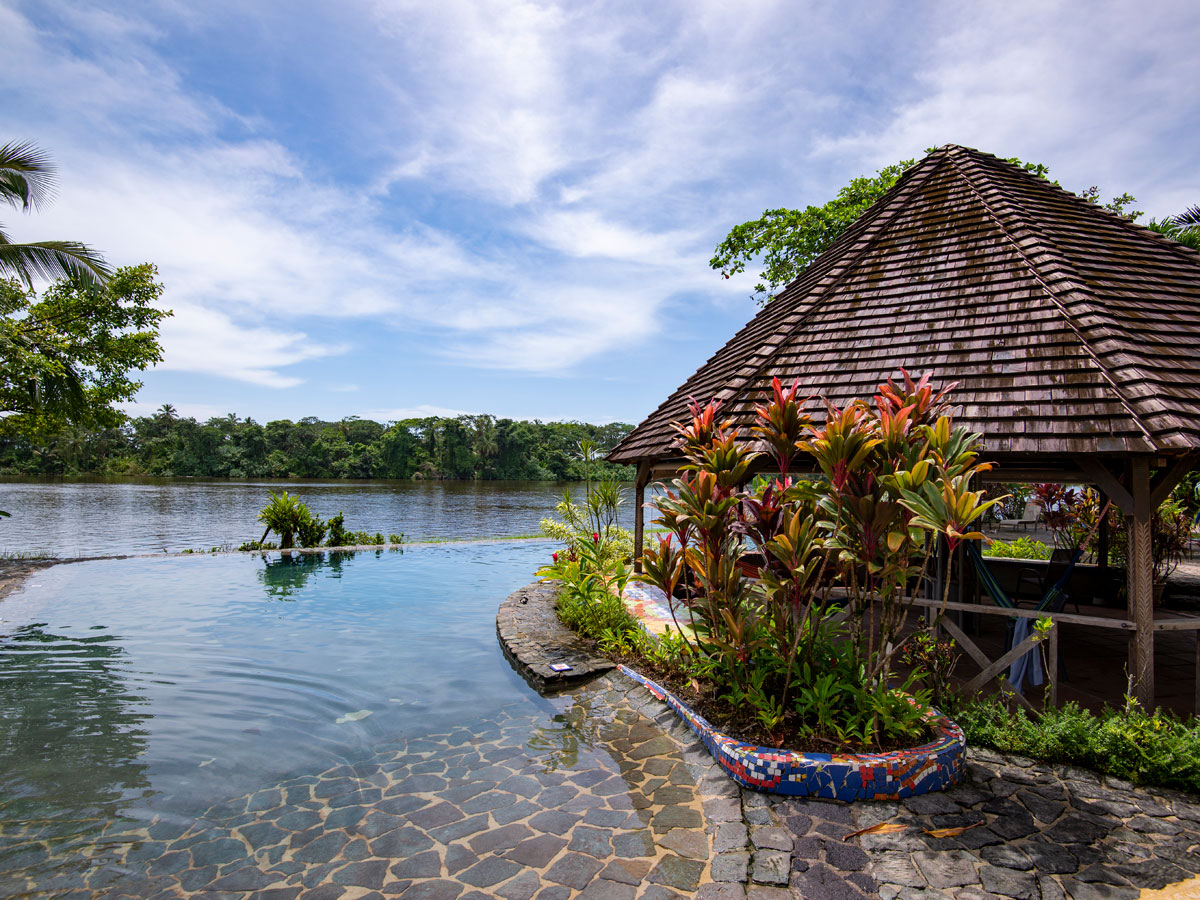 The gorgeous infinity pool at Tortuga Lodge & Gardens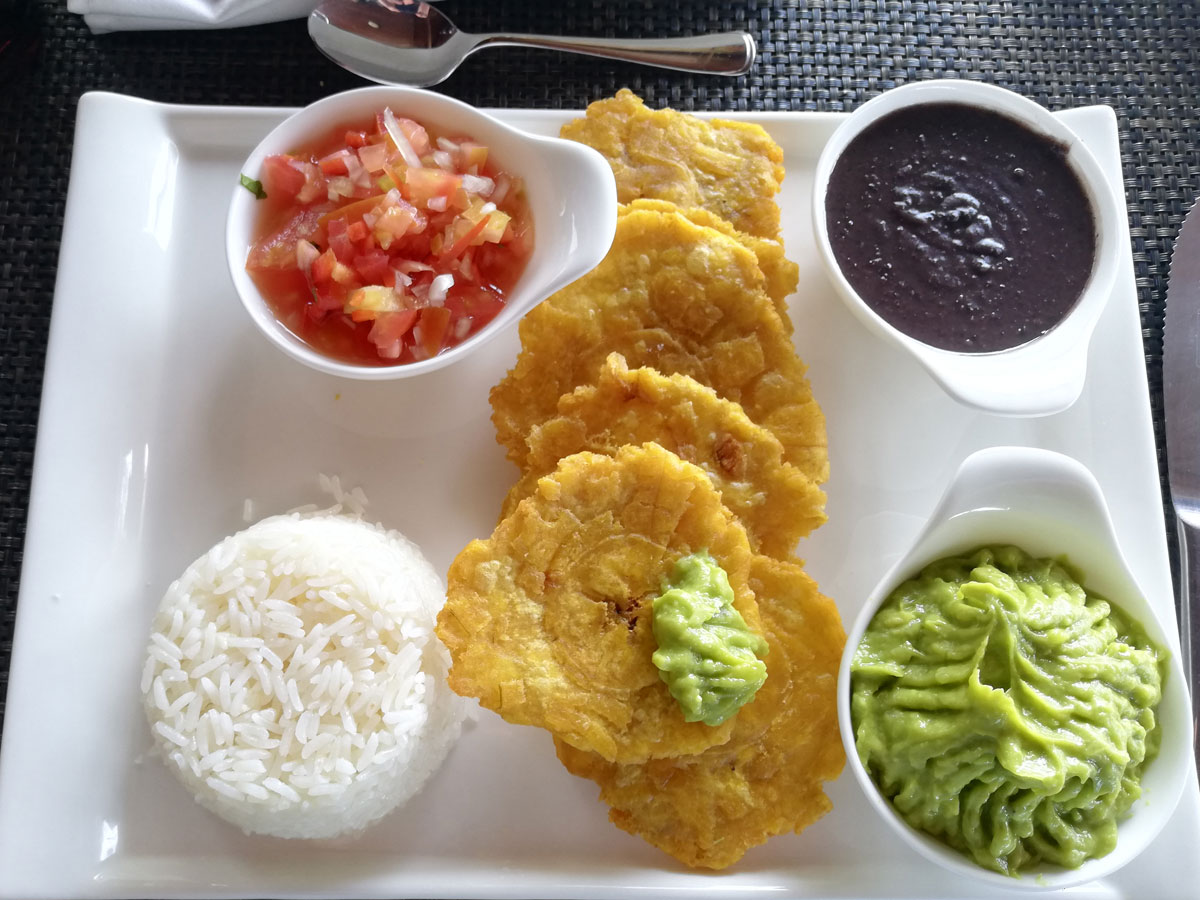 Delicious Patacones for lunch
Tortuguero Tours & Activities
Tortuga Lodge & Gardens run a variety of tours and activities both within the lodge grounds and inside the national park. Two free guided walks (approx. one hour long) are offered every day at 6am and 3pm where you are taken around the lodge grounds to look for wildlife – this is a great introduction and helps improve your spotting ability! This was the first activity we did after we arrived and we saw a number of toucans, a caiman, some lizards, a hawk and many strawberry poison dart frogs.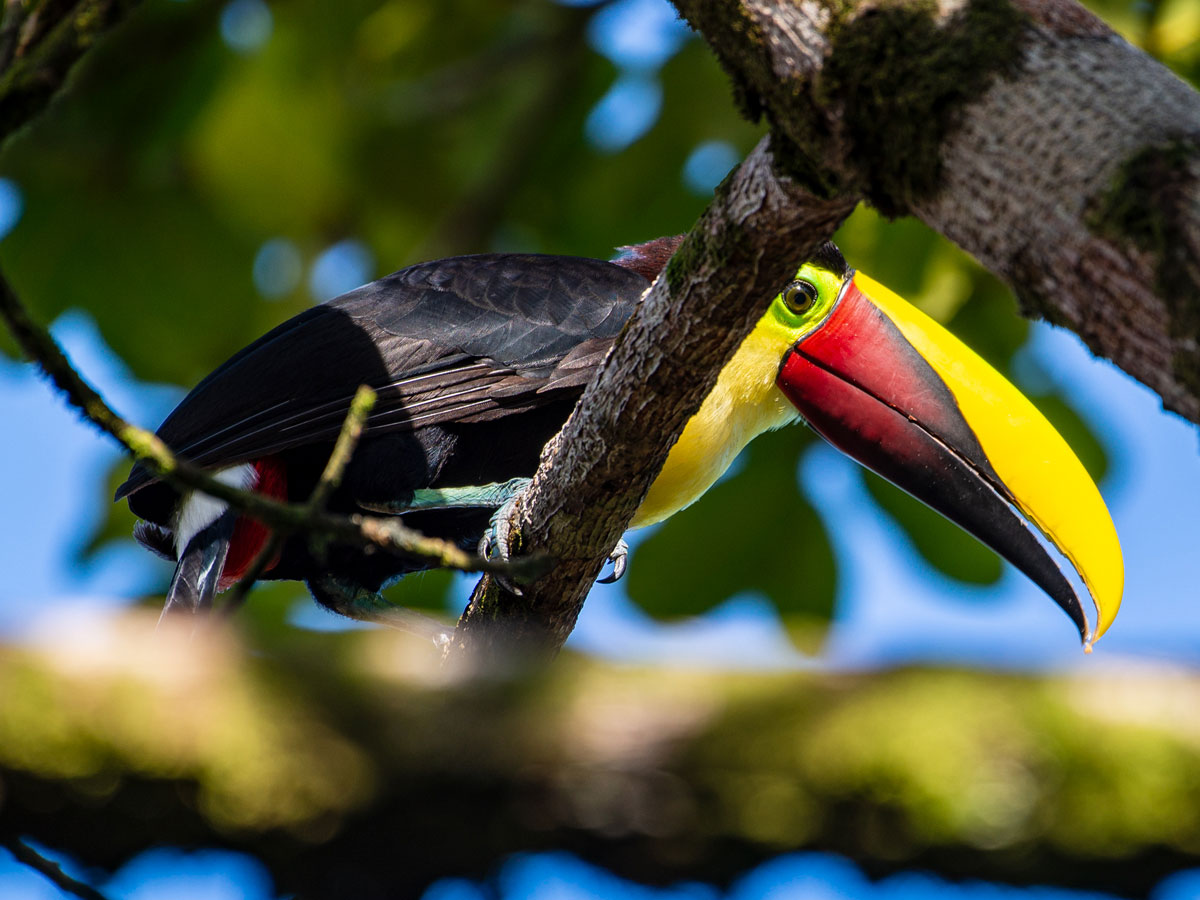 Yellow Throated Toucan, in the grounds of Tortuga Lodge & Gardens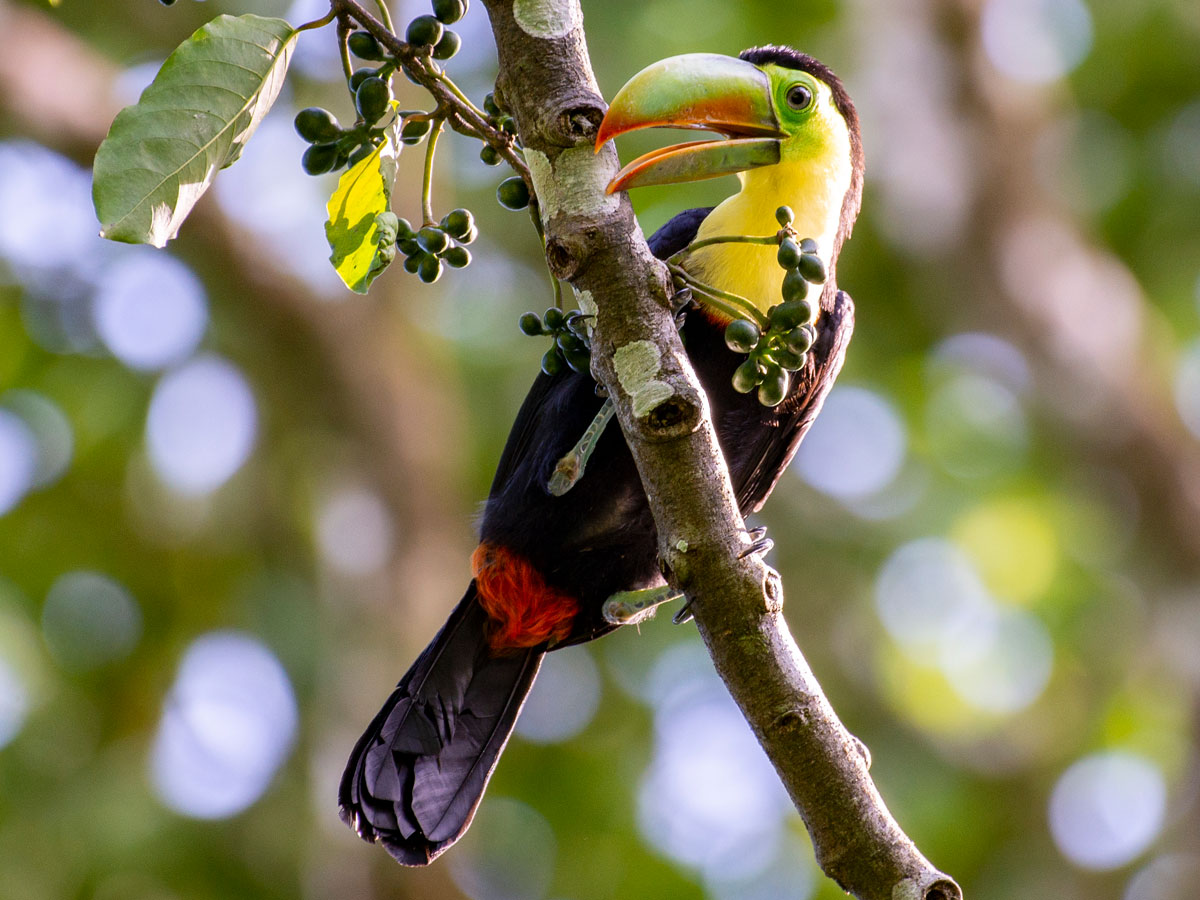 Keel-billed Toucan, in the grounds of Tortuga Lodge & Gardens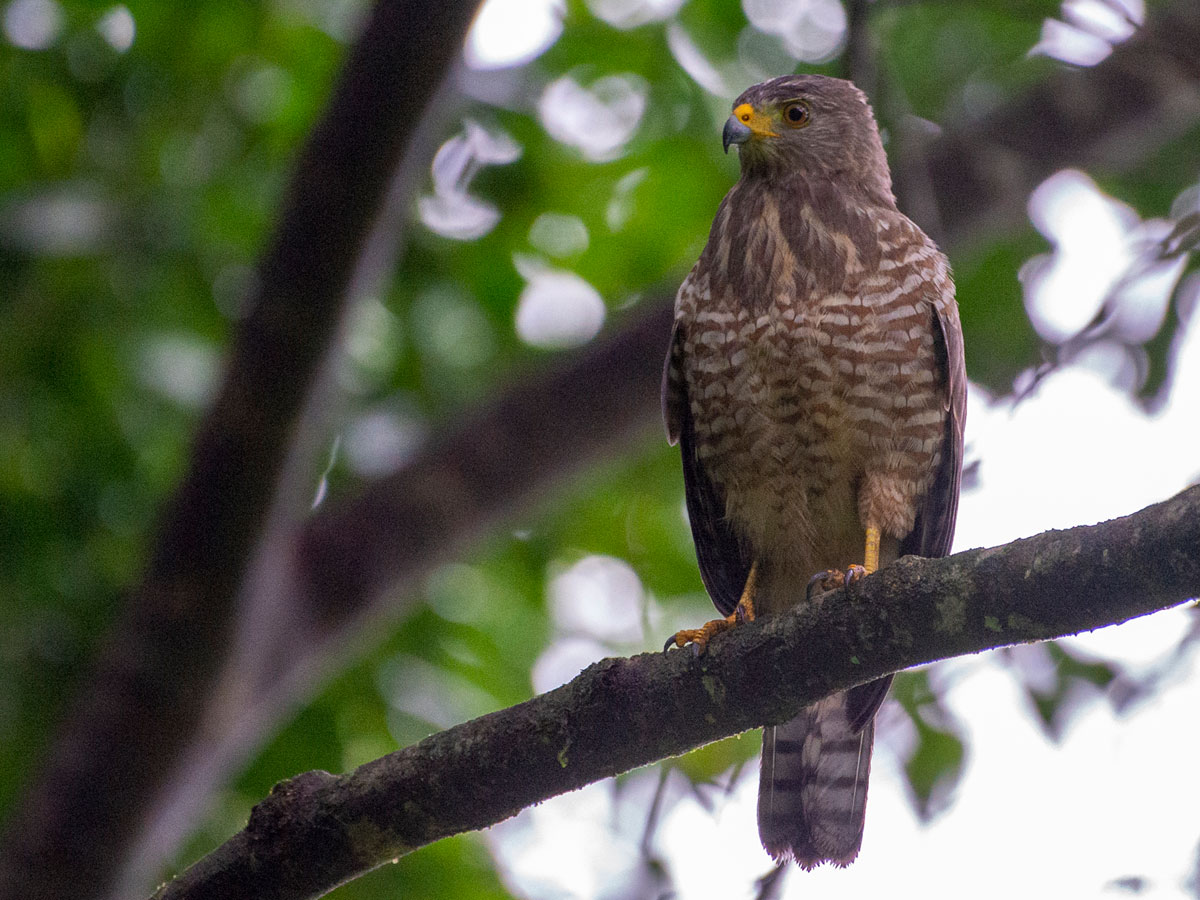 Roadside Hawk, in the grounds of Tortuga Lodge & Gardens
If you are lucky enough to visit Tortuguero from July to October then you can whiteness the magnificent green sea turtles hauling themselves up onto the beaches where they dig their nests and lay their eggs, a process which can take hours! During the nesting season the beaches at Tortuguero are heavily patrolled during the hours of darkness to protect the turtles from human activity and poachers, it is actually illegal to enter the beaches at night unless you are on an organised tour.
On our first evening we went on the Turtle Nesting tour organised by the lodge. We watched an introductory video explaining how turtle conservation began on Tortuguero, which was followed by a full briefing on how the tour would be conducted. After making the short boat journey over to the beach area we set off with our guide Angelo in the darkness of the night – only low wattage red flash lights are allowed to be used on the beach and it's important to walk slowly and be as quiet as possible so the turtles are not disturbed. The way the tour works is that the park rangers patrol sections of the beach looking out for turtles coming ashore to nest, once they spot a turtle digging her nest they radio the guides so that small groups can come over and watch. Despite the attempts of a thunderstorm to thwart or turtle nesting tour we did manage to see two turtles. The first one started to dig her nest but was then frightened away by the lightning and we watched her haul herself back to the ocean, which was quite a sight in itself. After waiting for the storm to pass, we were lucky to find another who had just finished digging the nest, we watched her laying eggs for about 20 to 30 minutes and in that time she laid around 100 eggs! We watched her cover the nest with sand after she had finished before heading back to the lodge. This was a truly magical experience, and is an absolute must if you are visiting the region during the nesting season.
Our second day at Tortuguero was, unfortunately a complete wash out! One thing to remember when visiting this region is that it is fairly wet all year round and thunderstorms can roll in quickly! Although we had to cancel our night walk due to the paths being flooded, we were able to take the shuttle boat over to Tortuguero village in the morning and spend some time looking around the local craft and gift shops and sample some local coffee and chocolate.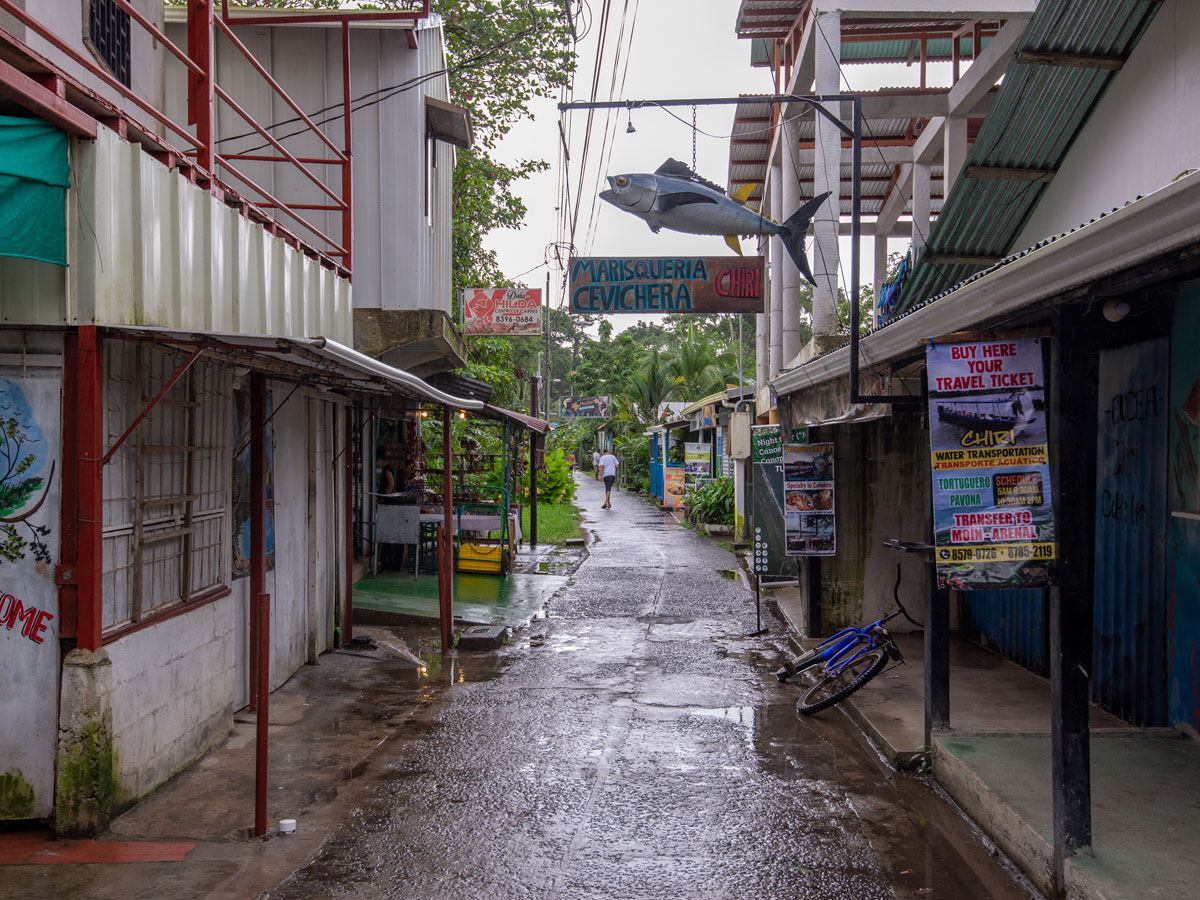 Tortuguero Village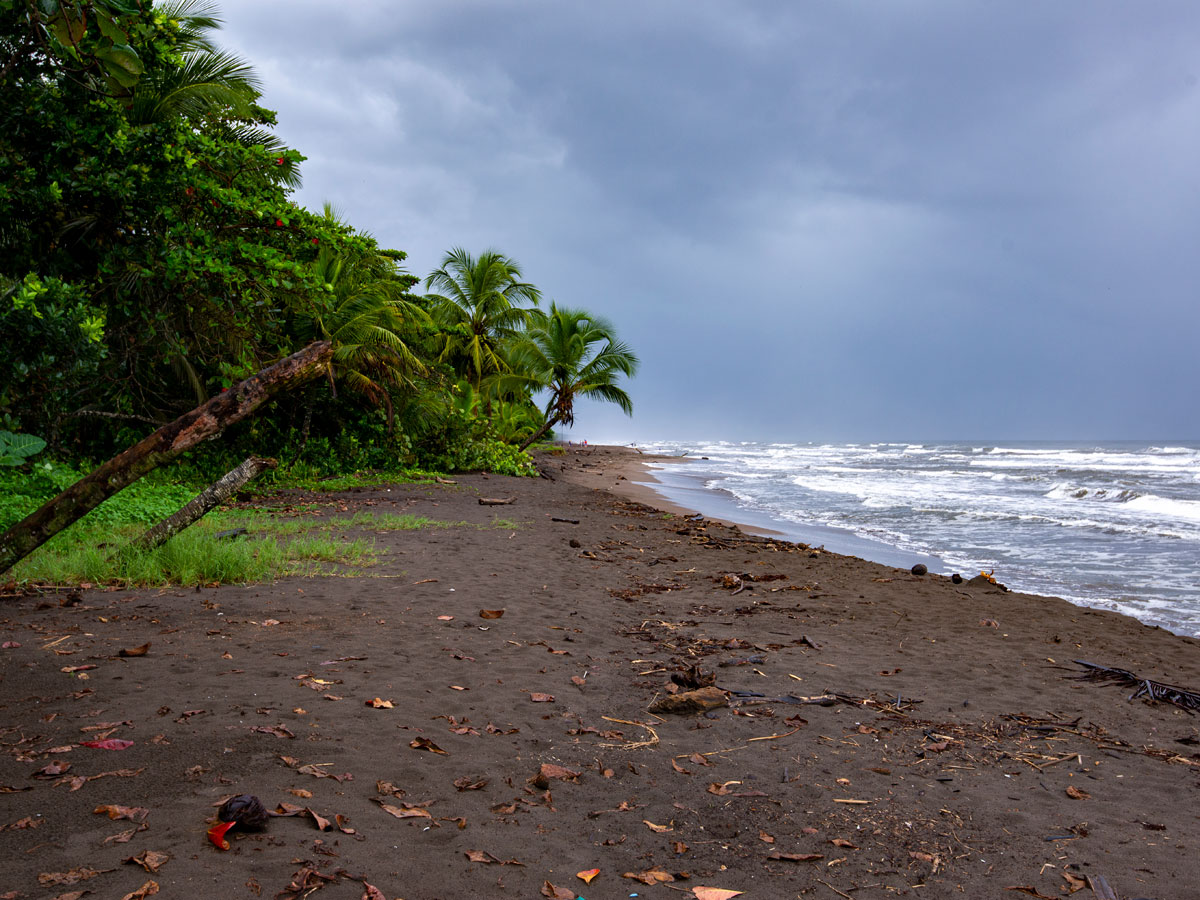 The beach at Tortuguero village, this is where the turtles come ashore to nest.
Luckily the weather cleared up for our third and final full day at Tortuguero, we spent the morning relaxing by the pool and then went for a tour of the national park by boat in the afternoon. The wildlife tours at Tortuguero National Park are unique as they take place on the water; we had a 3-hour private tour courtesy of Tortuga Lodge with our excellent guide Angelo. The action began almost in the instant we departed from the lodge as we spotted both a male and female Common Basilik Lizard on the riverbank and then a large Green Iguana on a tree branch next to the river. Within a few more minutes Angelo spotted a three-toed sloth on another branch overhanging the water, she was literally close enough to touch!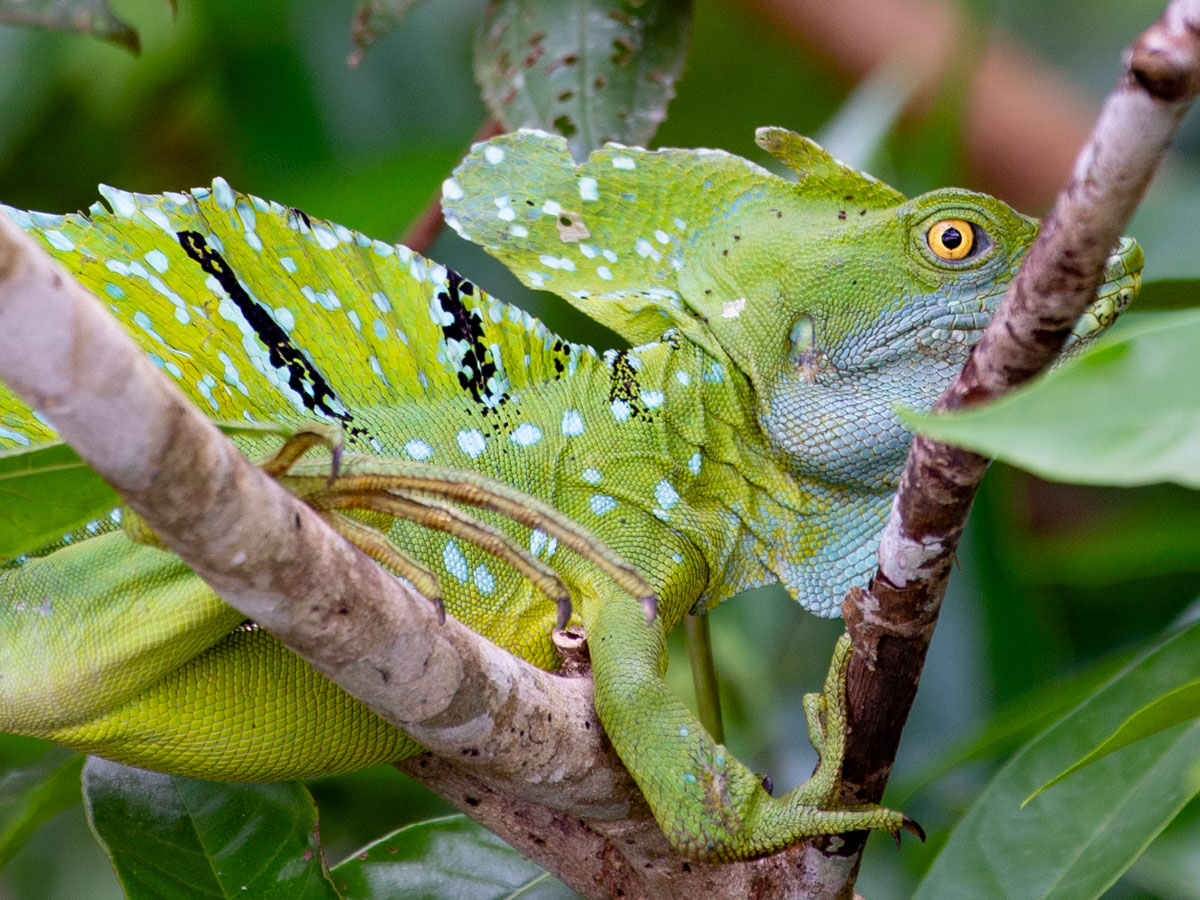 Male Common Basilisk Lizard, Tortuguero National Park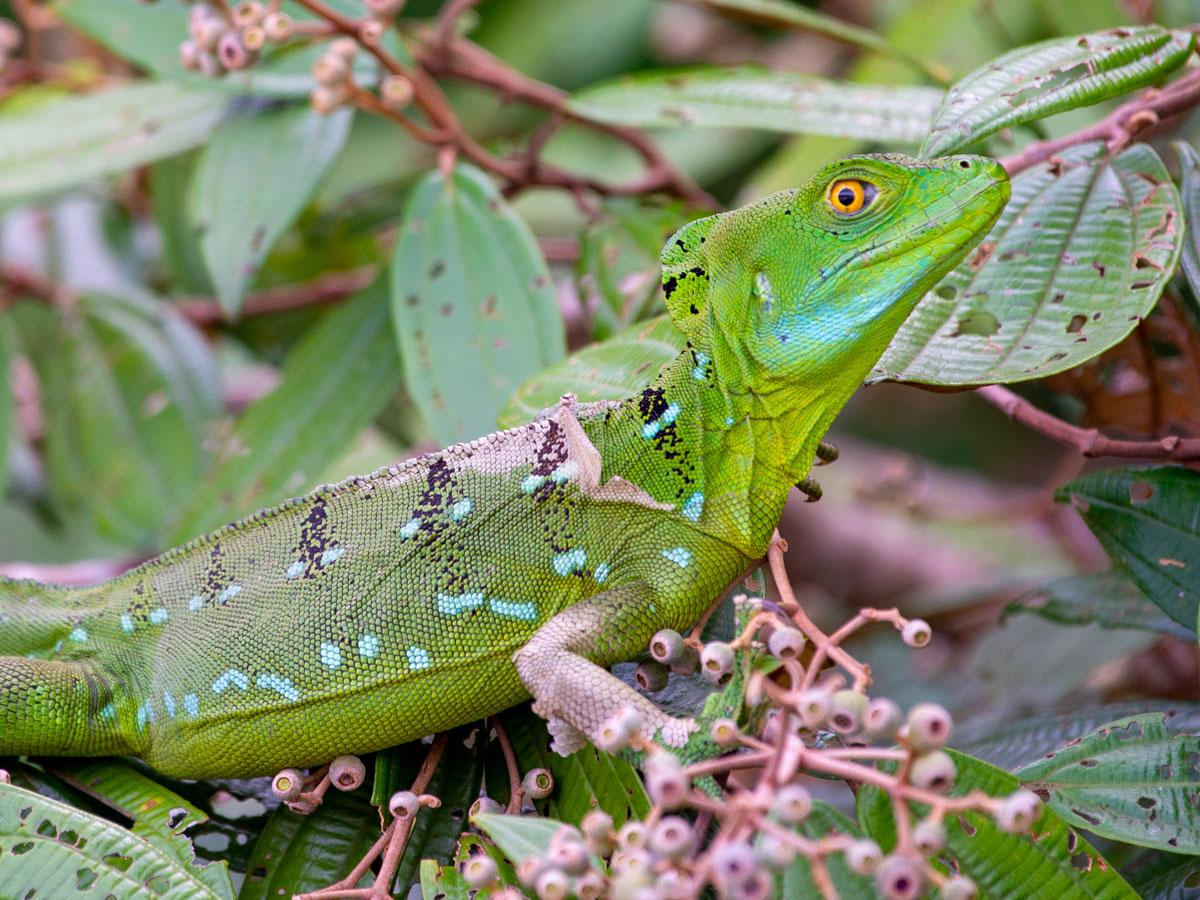 Female Common Basilisk Lizard, Tortuguero National Park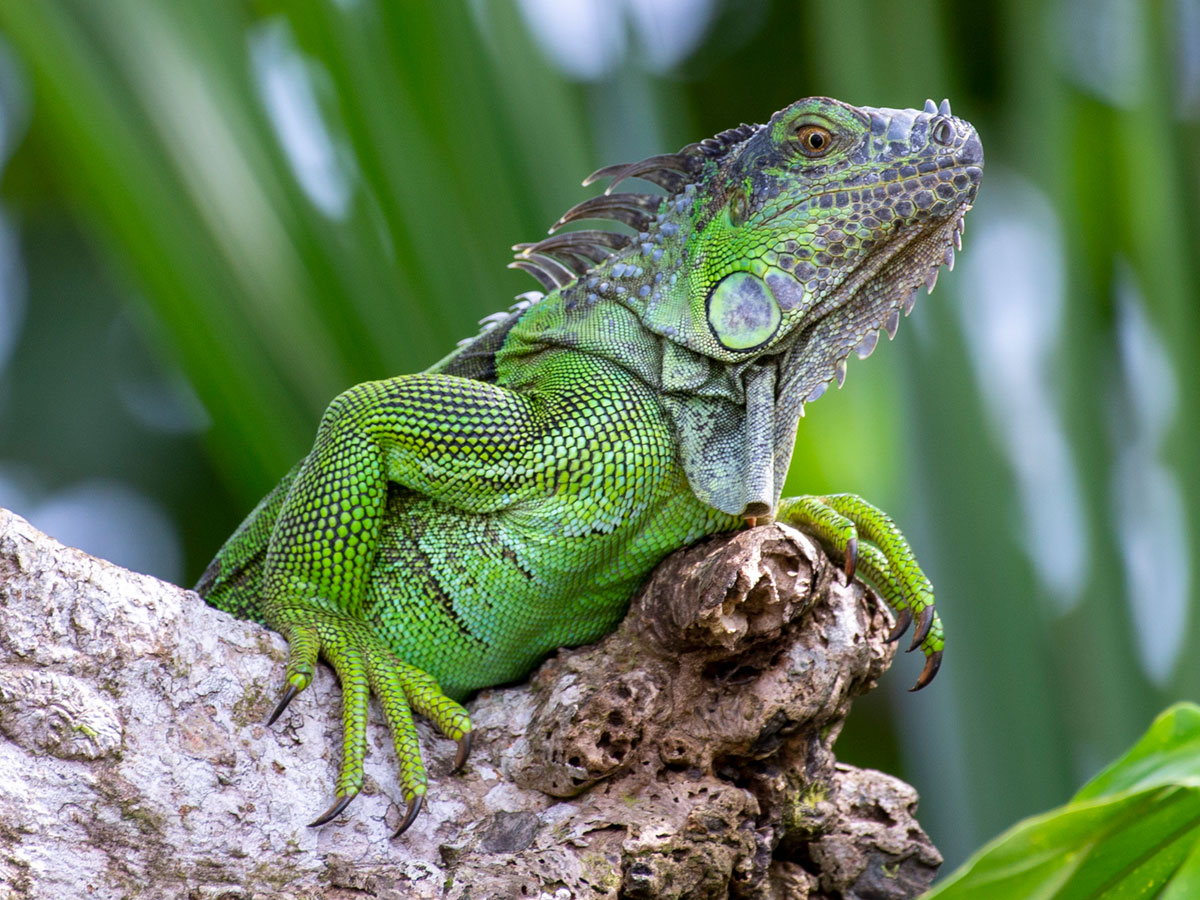 Green Iguana, Tortuguero National Park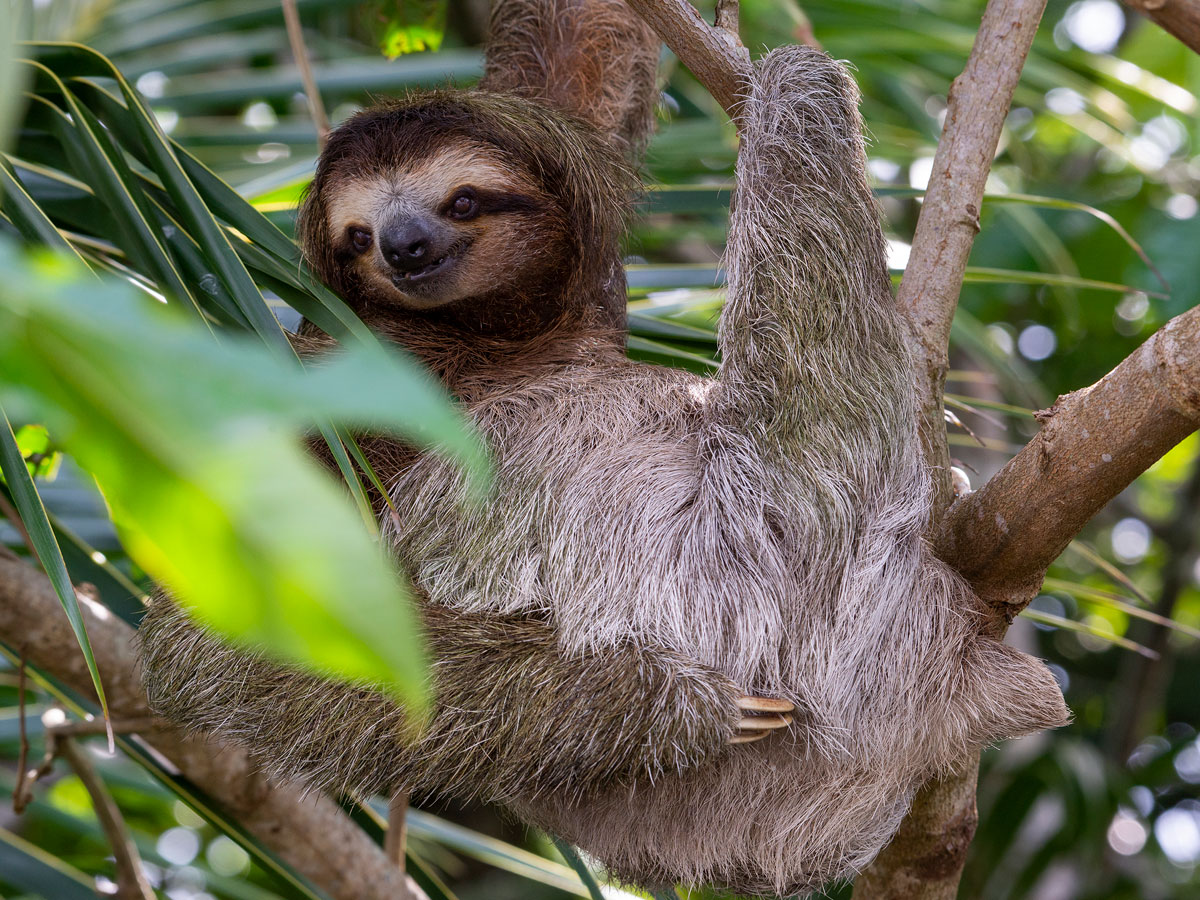 Female Three-toed Sloth, Tortuguero National Park
As the tour continued deeper into the narrower canals and waterways of the national park we encountered a crocodile, a caiman, more common basilisk lizards, spider monkeys, howler monkeys and many species of birds including Anhinga's and some different species of heron. This tour was definitely one of the highlights of our entire trip to Costa Rica!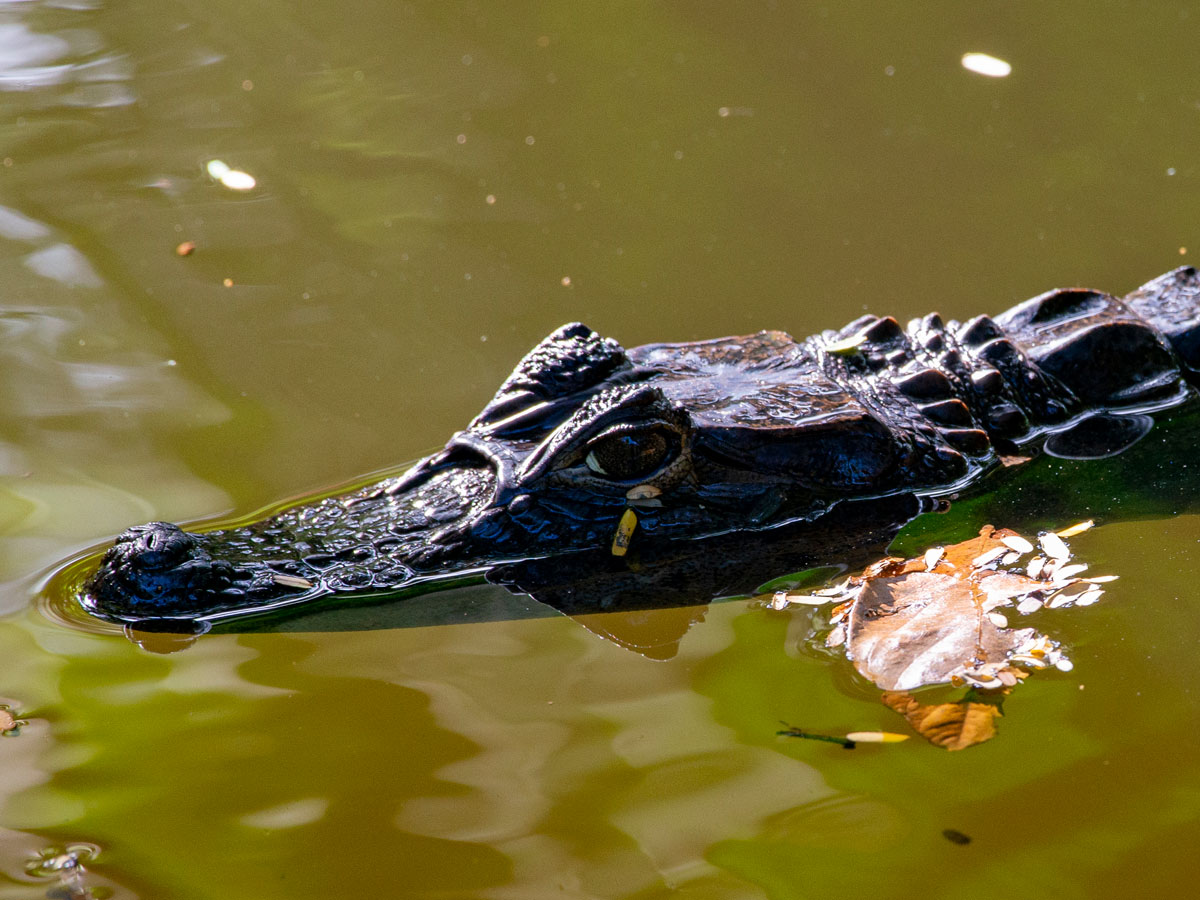 Spectacled Caiman, Tortuguero National Park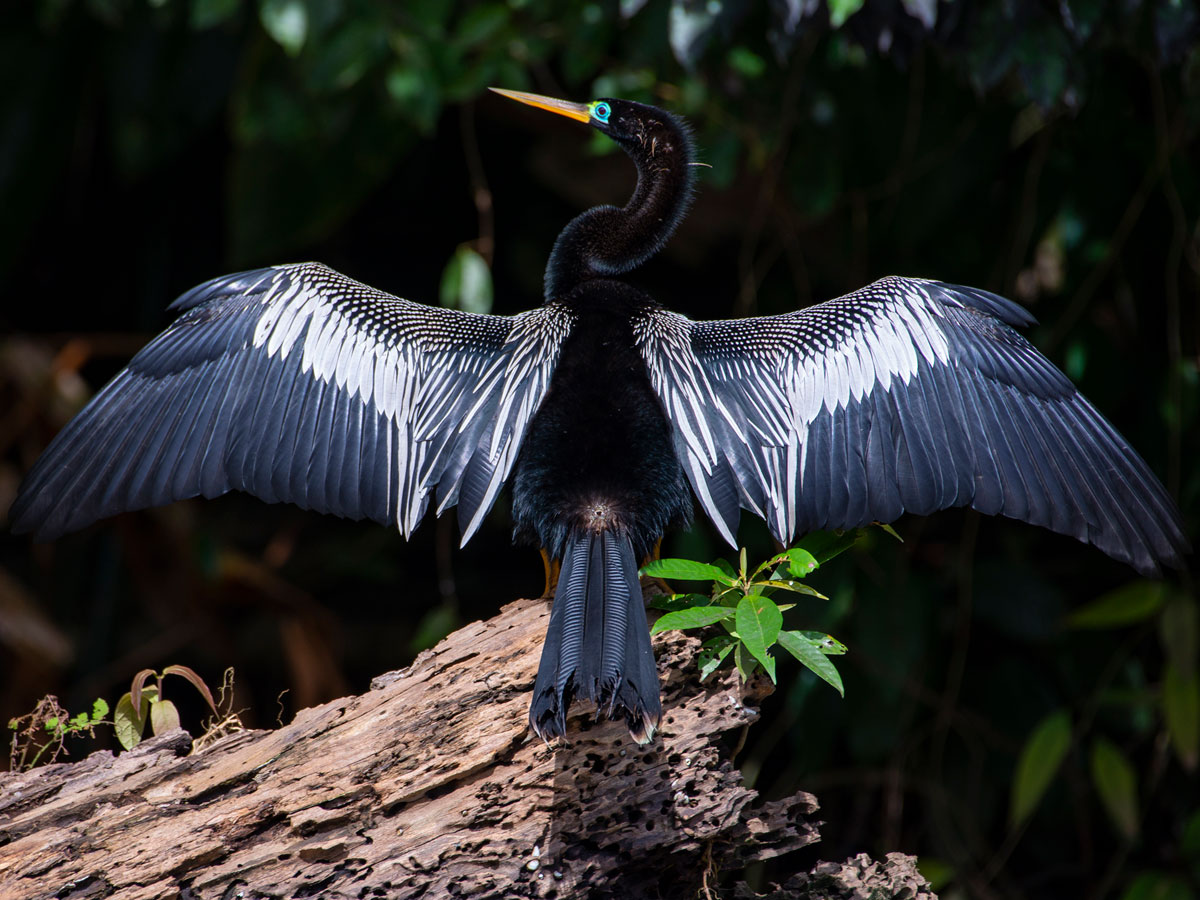 Anhinga, , Tortuguero National Park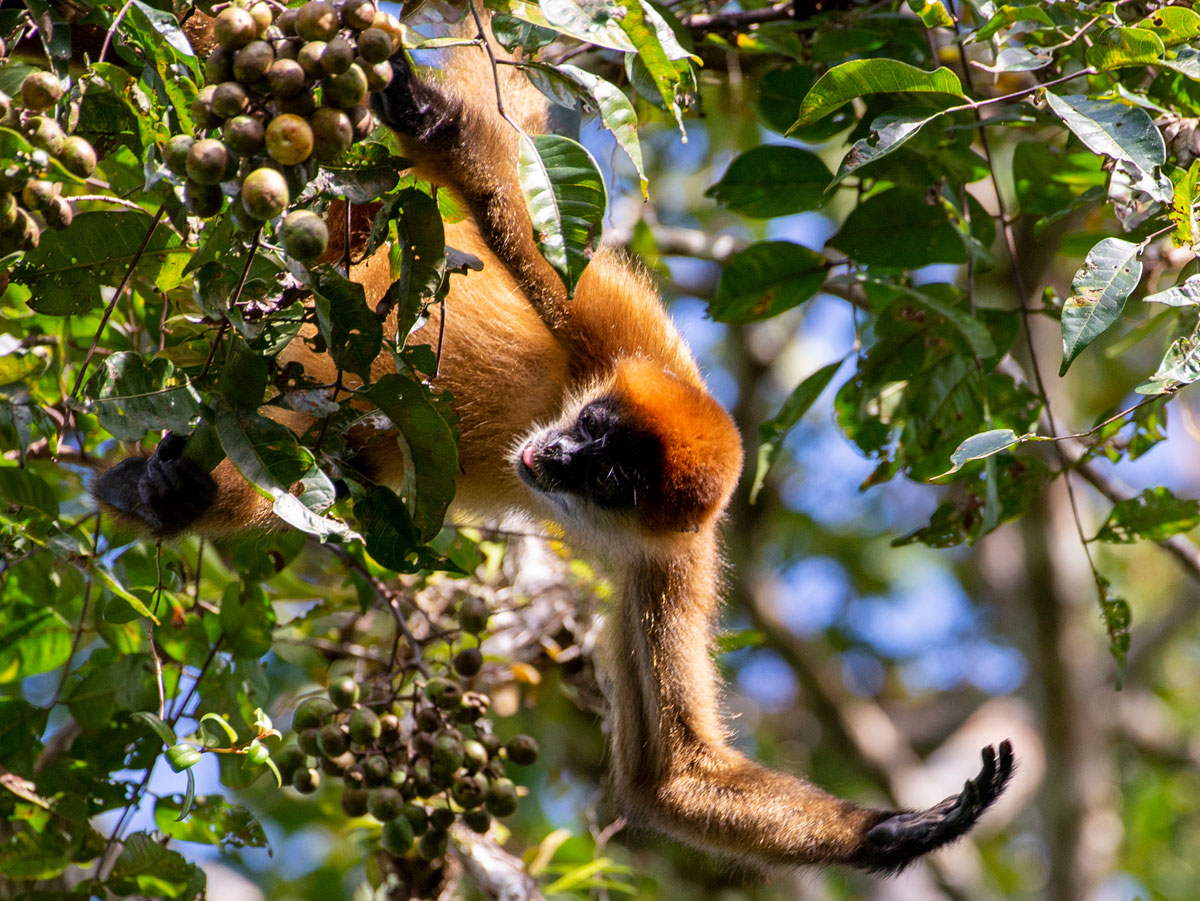 Spider Monkey, Tortuguero National Park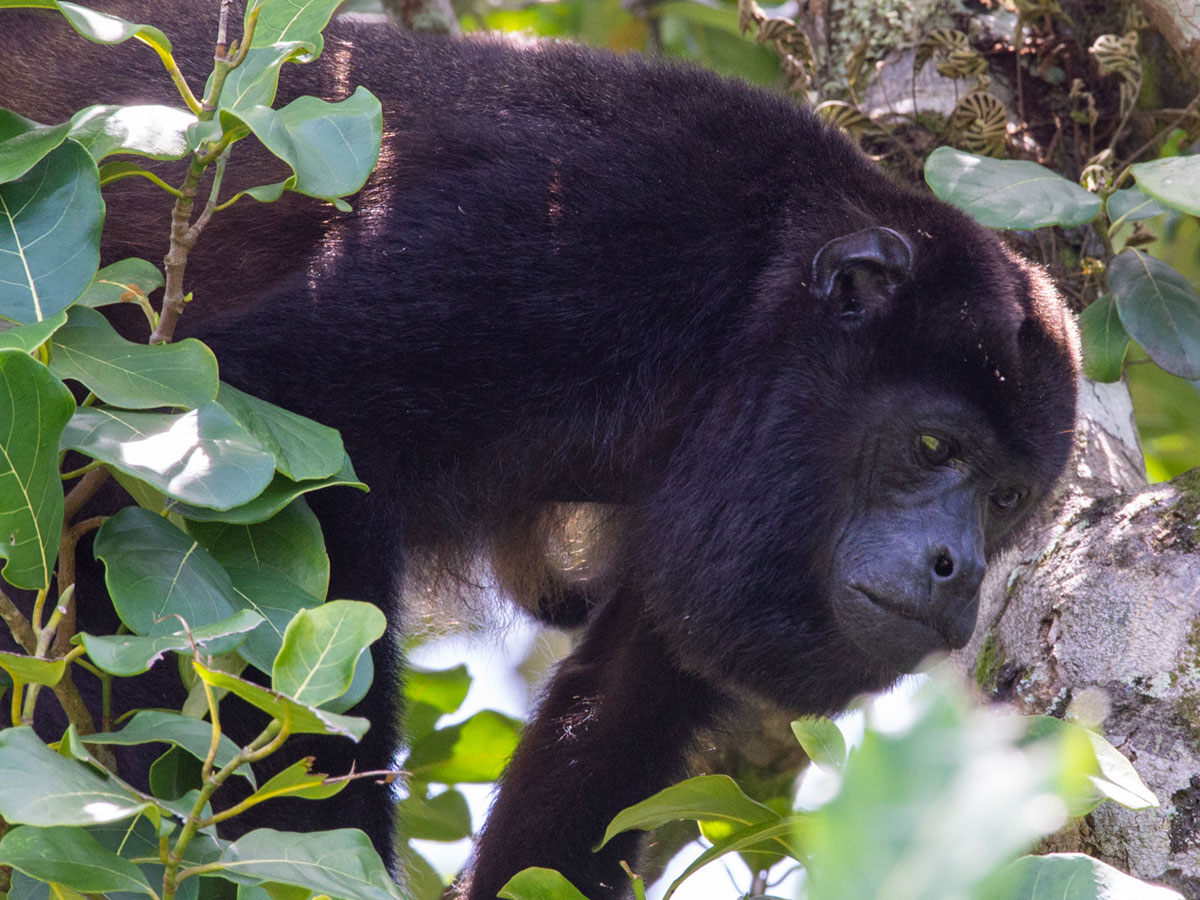 Howler Monkey, Tortuguero National Park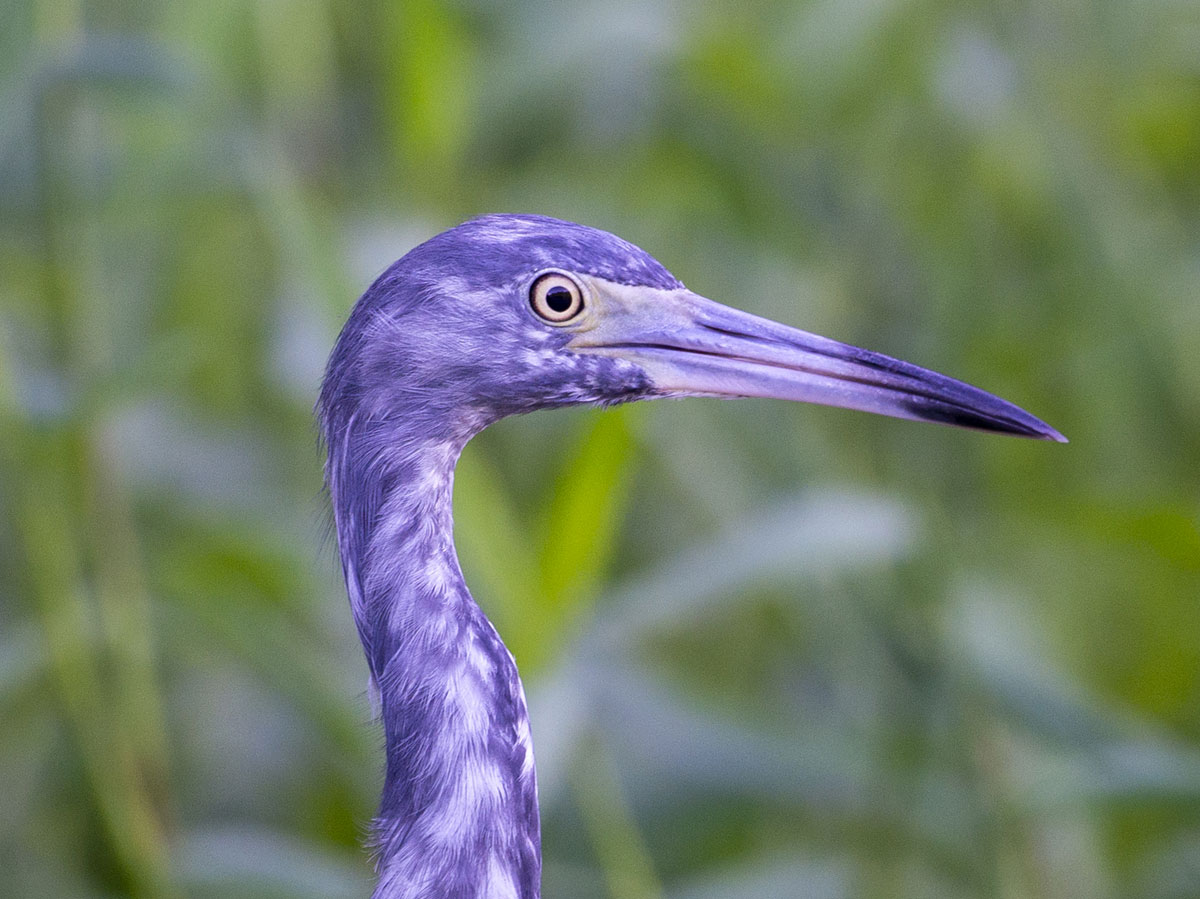 Little Blue Heron, Tortuguero National Park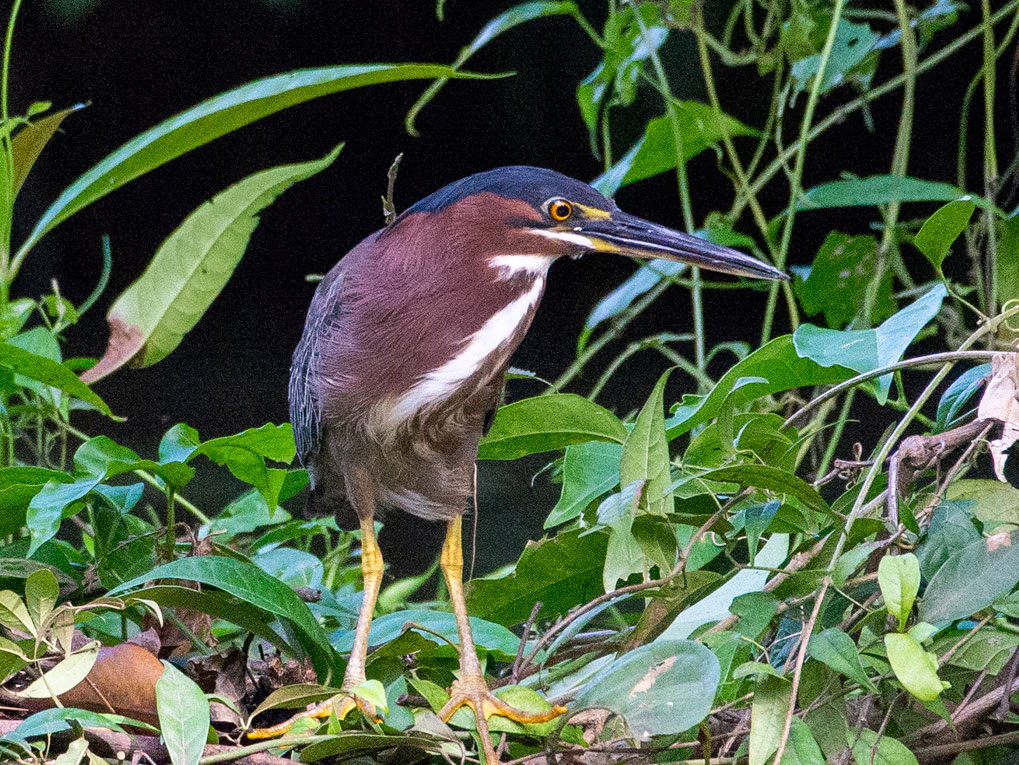 Green Heron, Tortuguero National Park
On our final morning we got up early to take part in the 6am guided walk around the lodge grounds, in the hope of spotting some more exotic wildlife, I had been hoping to see a Collared Aracari during our visit but they eluded me again! However, just as we were about to leave our room to check out, our friendly guide Angelo called me to say he had spotted some Aracari's in the trees and pointed me in the right direction, mission accomplished – we had seen all three of the different toucan species in Tortuguero!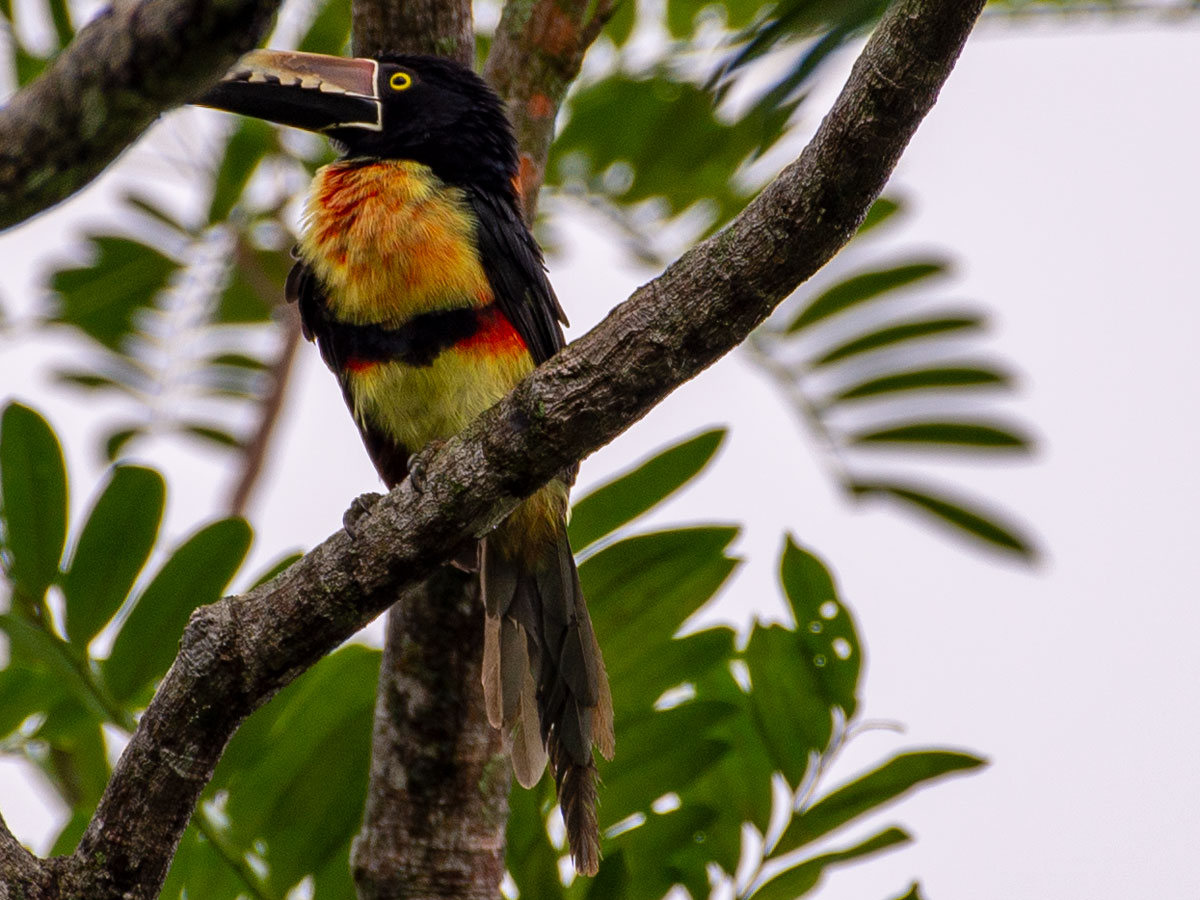 Collared Aracari at Tortuga Lodge & Gardens
Collared Aracari at Tortuga Lodge & Gardens
We loved our three-day trip to Tortuguero which was made especially memorable by Tortuga Lodge & Gardens and we would be thrilled to return one day.
As always, all opinions are our own.