Thailand
Undiscovered Thailand - Finding sanctuary on Koh Jum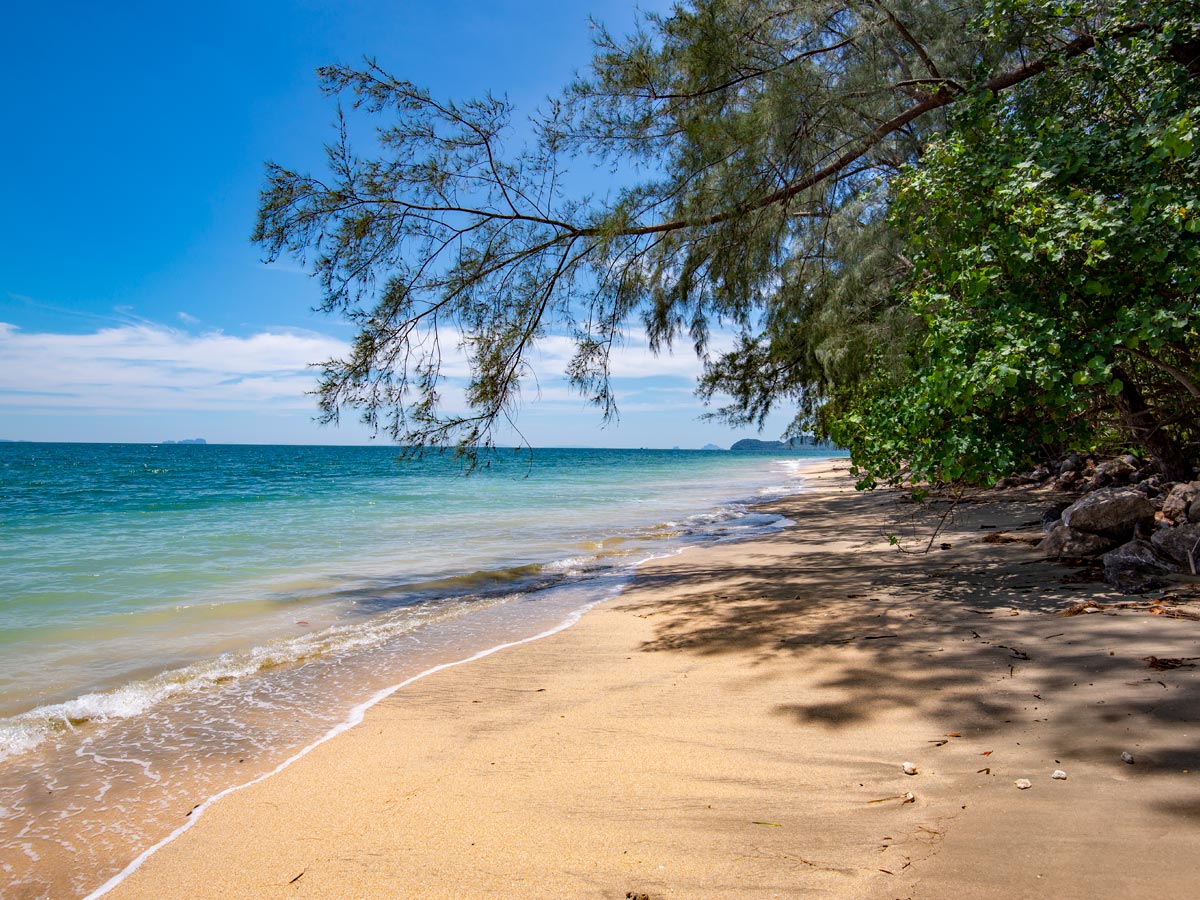 I can't remember where I first read about Koh Jum (or Koh Pu as the mountainous northern half is known), but to quote from the Rough Guide: "It's the kind of laid back spot that people come to for a couple of days and then can't bring themselves to leave, the beaches are mostly long and wild and all but empty of people". We were on a quest to find a Thailand, which we feared, had become a bygone era, possibly now extinct. This year we returned to the land of smiles for the third time. After two previous visits to other Thai islands had left us feeling underwhelmed we were determined to make it third time lucky.
Previous trips had taken us to Koh Lipe, Koh Samui and Koh Phangan. Koh Lipe was first, back in 2016. The island is very beautiful with powder white beaches and crystal clear waters are idyllic. However, we were stunned at how bad the rubbish problem was there – a good portion of the main beach was full of litter. Stray dogs were another big turn off, there were literally hundreds of them on both of the main beaches and being animal lovers we found it very sad more than a genuine annoyance. The island was also fast becoming over-run with tourists. Last summer we tagged some beach time at Koh Samui and Koh Phangan on to the end of a trip to Cambodia – unfortunately the beaches and islands off Cambodia are a wash out in July/August. Without going into the details Koh Samui was just far too developed for our liking, we felt at times like we could have been in the south of Spain. Koh Phangan on the other hand had many positives; Thang Noi Pan where we stayed was a tropical paradise and haven of tranquillity, but it felt a bit like a tourist village and somewhat detached from normal everyday life.
This time we planned to spend 10 days exploring some of Thailand's more "off the beaten track" islands, with limited time and not wanting to spend a lot of it on buses or long ferry journeys we decided to focus our attention on the Krabi and Trang regions. After a bit of research we narrowed our search to an area stretching from Koh Yao Noi to Koh Lanta and down to Koh Kradan. Koh Yao Noi initially looked promising; however, availability of our preferred accommodation options soon forced us to look elsewhere. The islands of Koh Ngai, Koh Kradan and Koh Muk also appealed, however, organising transfers and availability of quality accommodation soon led us to rule those out as well. Ultimately it was a choice between Koh Lanta and the relatively unknown Koh Jum. Having already decided that we were keen for some diving and snorkelling, Koh Lanta and its proximity to both Koh Rok and Koh Haa was an obvious choice. The decision was made, we would visit both islands! Splitting our time equally between Koh Jum and Koh Lanta, we hoped to find an interesting contrast between the relatively undeveloped and authentic nature of Koh Jum, with the more mainstream Koh Lanta.
I could only find a few articles and blog posts about Koh Jum, but it definitely sounded well off the beaten track and by all accounts retained an authentic feel with just a few rural villages and a smattering of beach huts along the west coast. Unsurprisingly accommodation options on Koh Jum are in fairly short supply! Most are located along the western beaches, ranging from modest beach huts costing £10 a night upwards to the mid-range bungalows at Koh Jum Lodge (£90/night) and the only luxury resort on the island; Koh Jum Beach Villas. Having saved on flights and benefiting from slightly lower prices due to travelling at the end of peak season we decided to splurge on 5 nights at the eco-luxe Koh Jum Beach Villas. It wasn't a decision we were going to regret! It didn't take long before we were dreaming of deserted beaches, massages in the sand and eating spicy thai food under the stars.
I can happily report that Koh Jum was everything we had hoped for and more. In fact part of me felt reluctant to write this article out of fear for letting the secret out! Located off the coast of Krabi and roughly halfway between Krabi Town and Koh Lanta, Koh Jum is a small island measuring only 6km in length. The northern half, known as Koh Pu is a made up of rugged cliffs and mountainous jungle – here you will find the 400m peak of Khao Koh Pu, a great adventure for hikers and a vital habitat for native species such as the Asian Pied Hornbill and Burmese Python. The island has a small local population of about 1500 who live mostly in the three main villages of Ban Koh Pu in the north, Ting Rai in the middle and Ban Koh Jum at the south-eastern tip.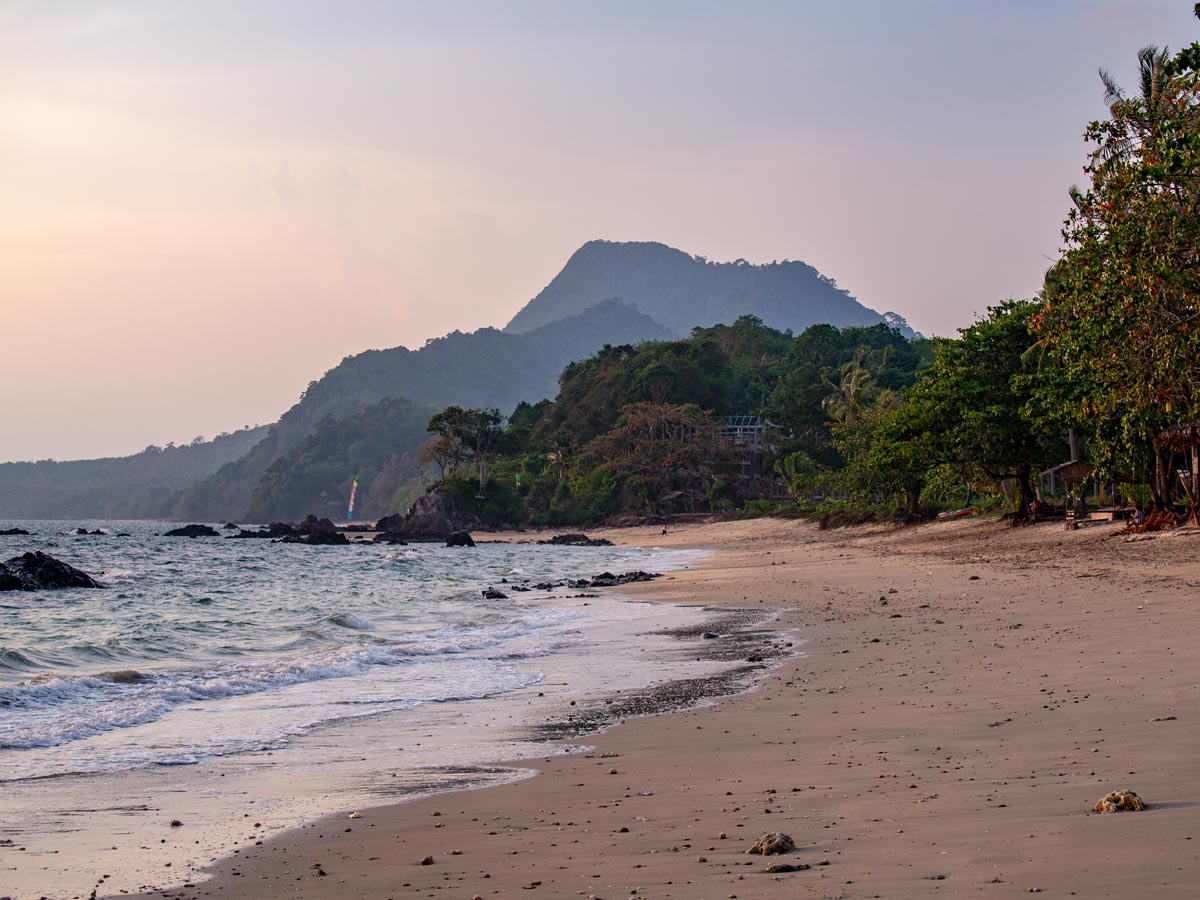 View of Koh Pu Mountain from Koh Jum
The locals on Koh Jum engage mostly in Fishing, Farming, Rubber cultivation and local crafts of cloth weaving and painting.  Though the villages are small they don't lack authenticity, and provide an opportunity to experience everyday daily life on the island, there are a handful of small eateries and a bar at the end of one the piers in Ban Koh Jum along with small shops selling local crafts and produce. Along the island's only paved road (which runs north to south) you will struggle to find any four-wheeled vehicles as most people get around by bicycle or scooter.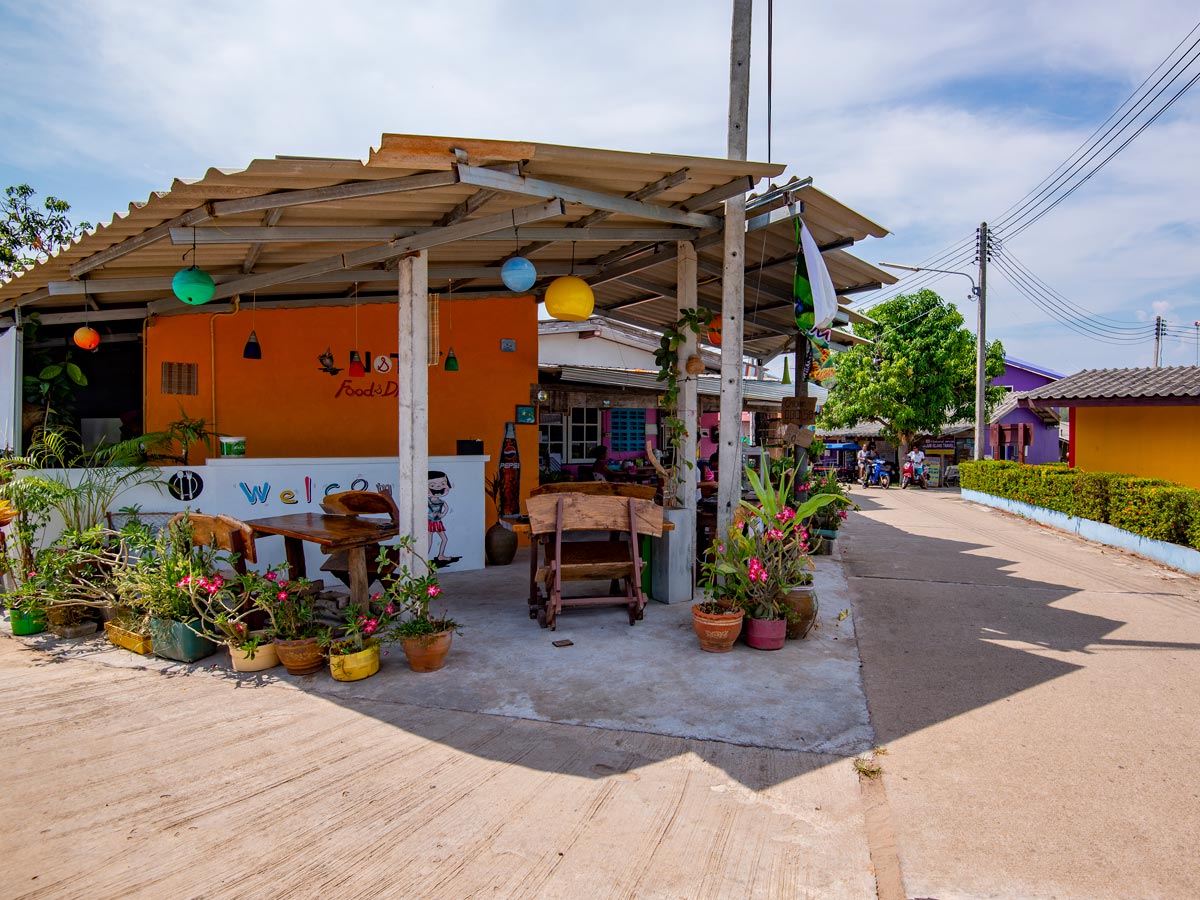 Ban Koh Jum
Ban Koh Jum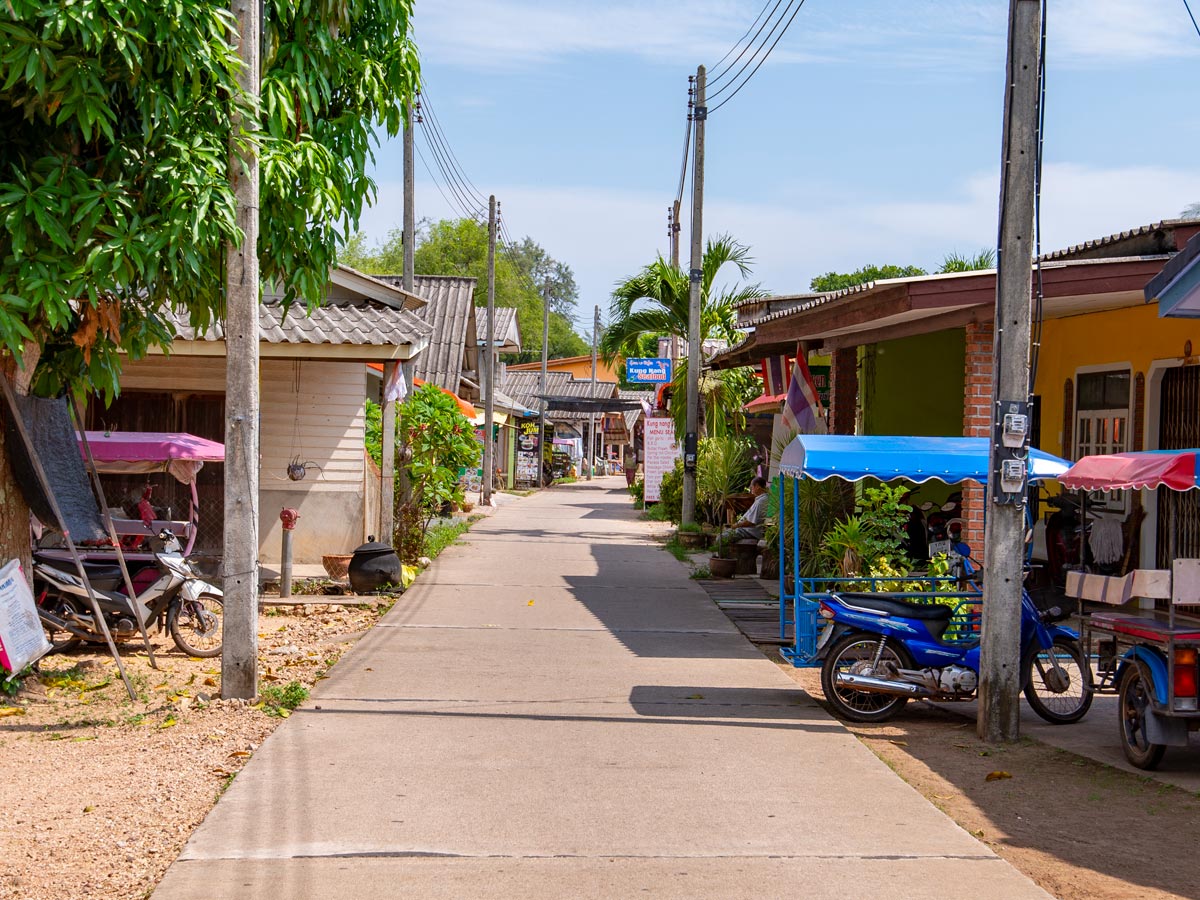 Ban Koh Jum
We rented a scooter to do some exploring on our second day on Koh Jum and barley passed a soul on our way from one end of the island to the other! After a morning exploring followed by a delicious lunch at Koh Jum Seafood (Thai / Chinese cuisine) we stopped off at Kallakal Cofffee - a crafts and coffee shop on the main road just opposite the track which leads to Koh Jum Beach Villas. As we were the only customers, we sat and chatted with the owner for what must have been half an hour or more. He told us a bit about his life and how he came to settle on Koh Jum stating that "when you look at Thailand today, you see there is something special about this island". We couldn't help but agree.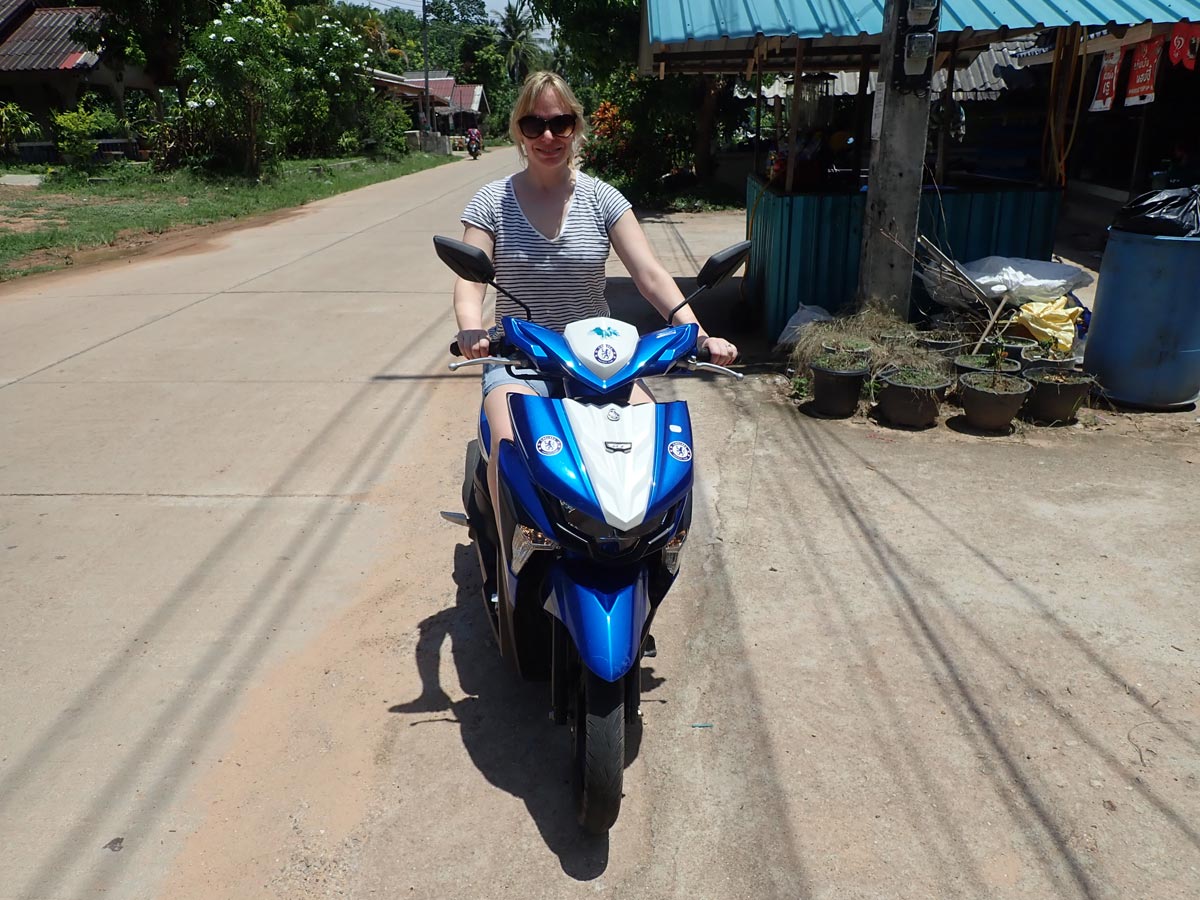 Our "Chelsea" scooter!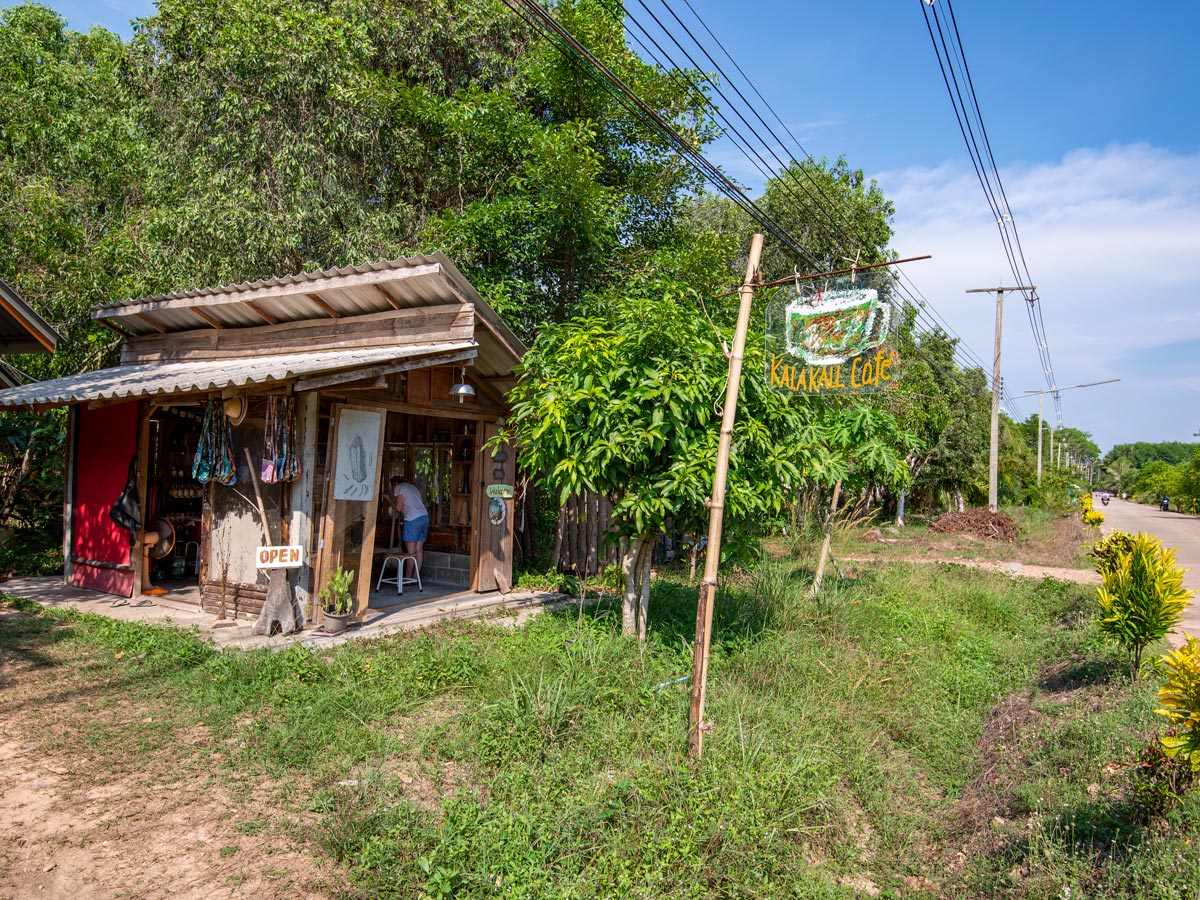 KalaKall Cafe
From a cultural perspective Koh Jum's population is a mix of Muslim, Buddhist and Thai Chinese. The northern end (Koh Pu) is predominantly Muslim whilst the south is Buddhist and Thai Chinese. The local community is very kind and friendly toward visitors but apparently they have so far been resistant to change; the parties, throbbing bass and big chain resorts you find on Koh Phi Phi or Phuket are not welcome here. Mains electricity only came to the island in 2009 which has also halted any sizeable development. This is what makes Koh Jum, long may it last!
We spent most of our time on Koh Jum just chilling out, either lying on the deserted beaches or by our stunning private pool at Koh Jum Beach Villas. This isn't the place you come for lots of action, it is however, where you come to de-stress, re-charge you batteries and switch off from the rest of the world. It was great to spend five days on Koh Jum and we would definitely come back. The best thing about a place like this is you don't have to feel pressured to get out and do things you can just simply be.
We took one excursion during our stay – a trip out to Railay beach and the nearby islands (Koh Poda and Chicken Island), this was organised by the resort.  It was nice to have our own private long tail boat and we enjoyed visiting the islands. However, the sheer number of boats and people at Railay made us appreciate what we were experiencing at Koh Jum all the more.  If (not if, when!) we go back to Koh Jum we will definitely be taking a guided trek to Khao Koh Pu and there is also a kayaking trip you can take around the mangroves off the east coast of the island, which looks fascinating. We thought about taking a trip over to Phi Phi (which is very close) but after reading so much about the impact of tourism there and the permanent closure of Maya bay by the Thai authorities we decided it just wasn't for us.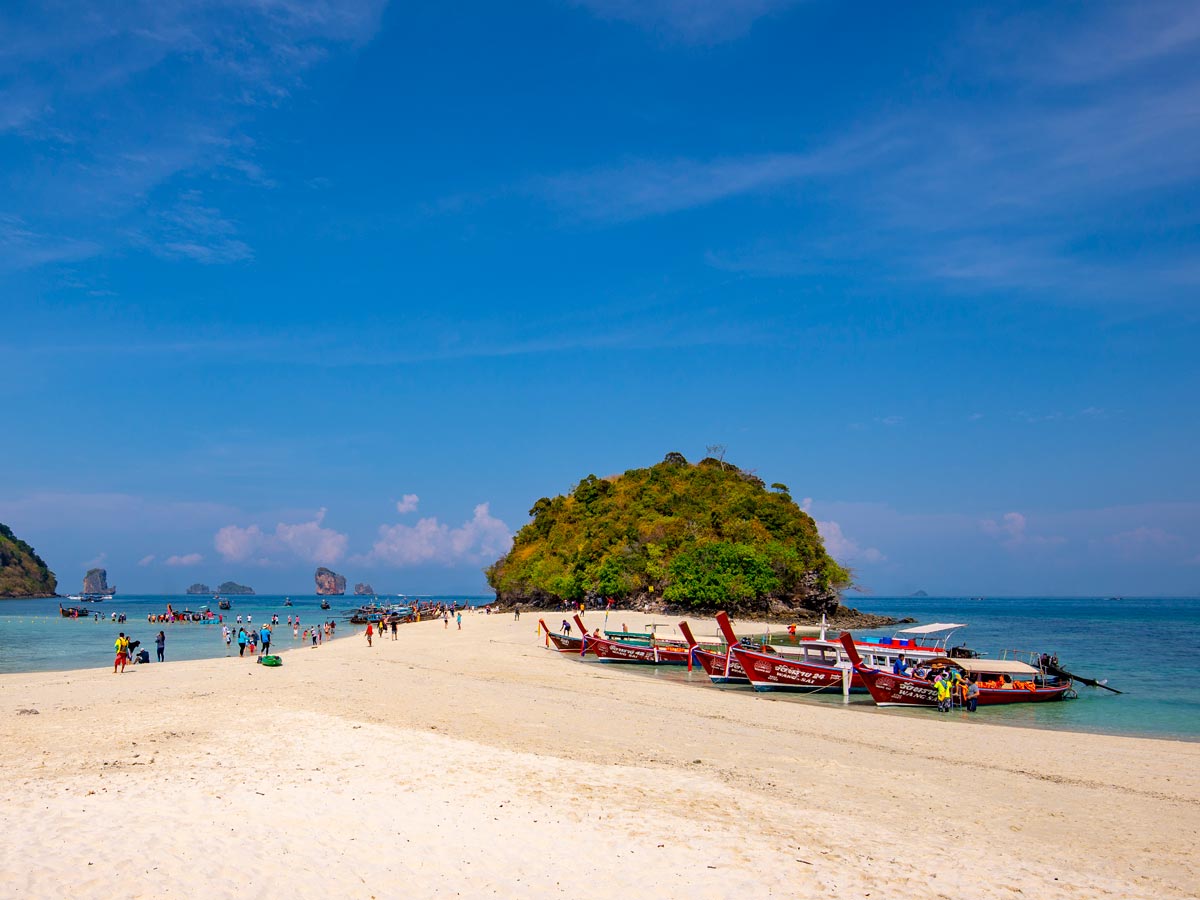 Chicken Island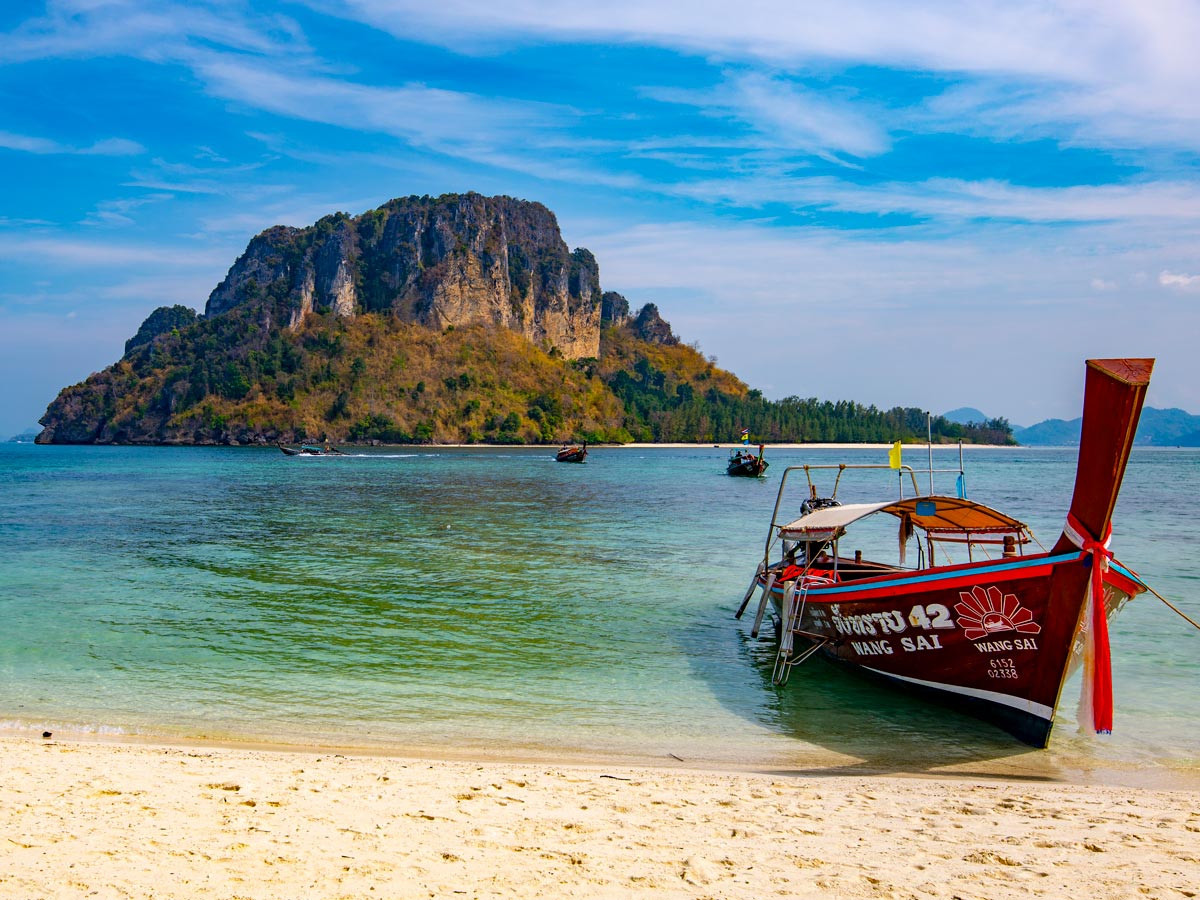 Koh Poda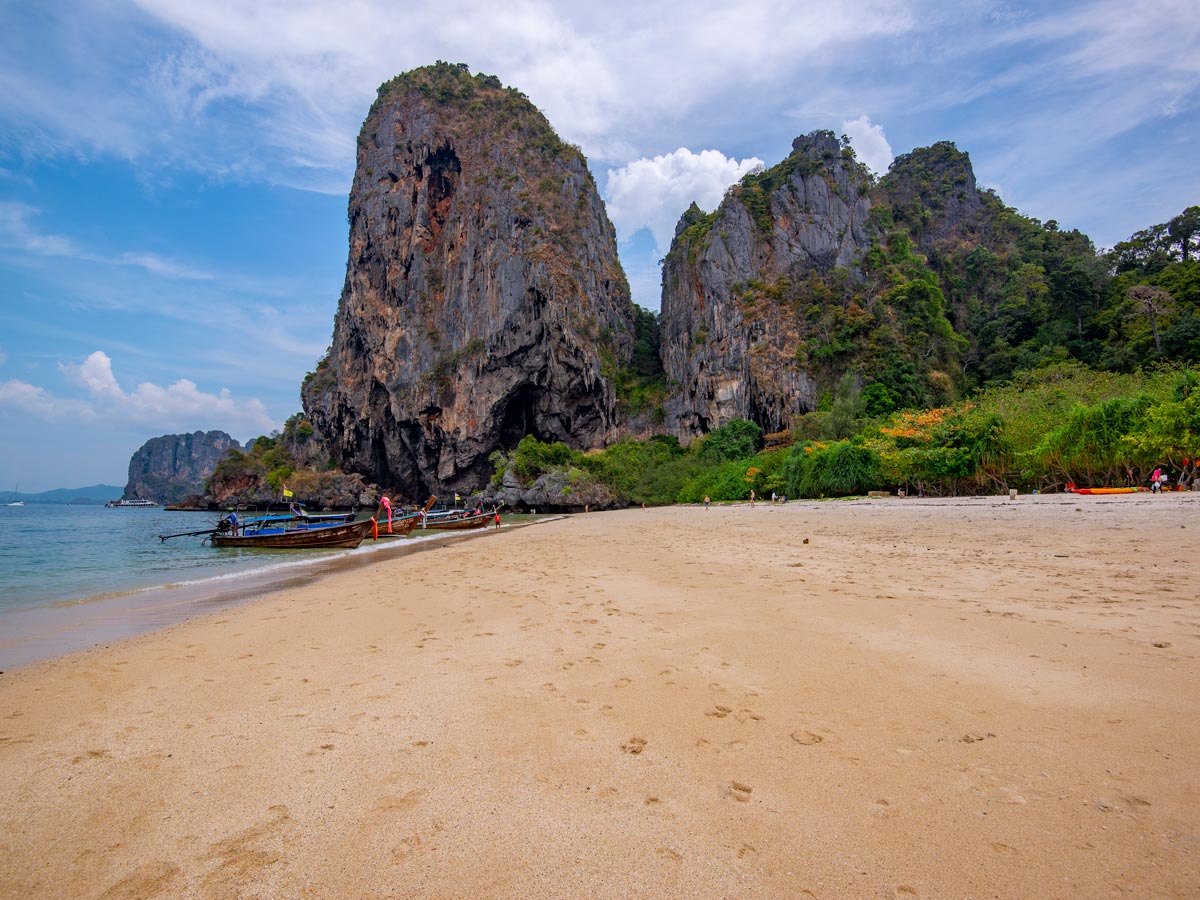 Railay Beach
Koh Jum Beach Villas is by far the most luxurious accommodation on the island. The 19 elegant villas blend in perfectly with the surroundings, all offering seclusion and modern amenities. The grounds of this boutique eco-luxe resort have been thoughtfully designed and the main pathway feels like an enchanting jungle trail and there is also an organic garden near the reception area. With the exception of some of the one-bedroom villas, most have a private swimming pool, which means the main swimming pool is usually left uncrowded. We ate at the resort restaurant every night of our stay. This was mainly due to laziness on our part – helped along by the fact that the food there is so good that there's little point in venturing elsewhere! The restaurant offers reassembly priced traditional Thai stir-fries and curries (the Massaman is particularly tasty) along with western / European dishes.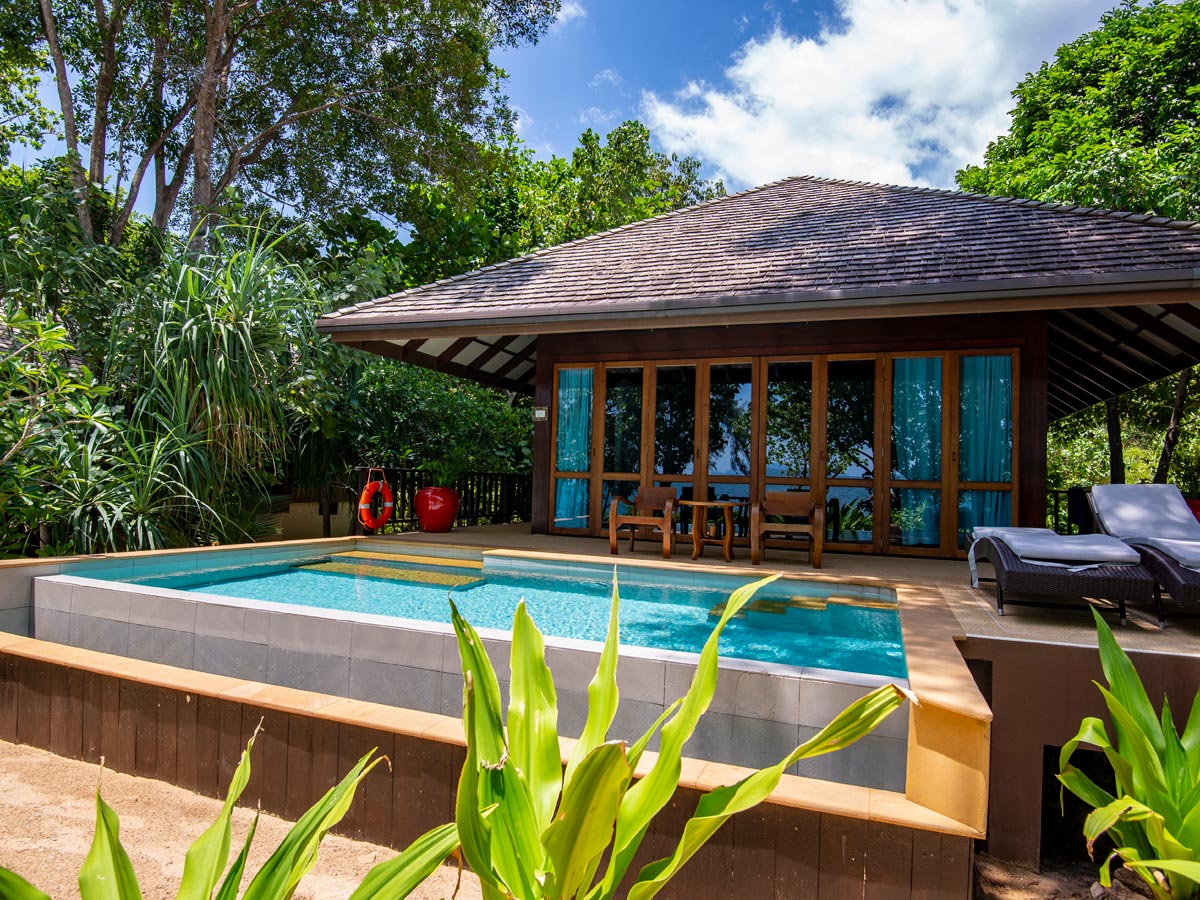 Ban Si Dang - Our room at Koh Jum Beach Villas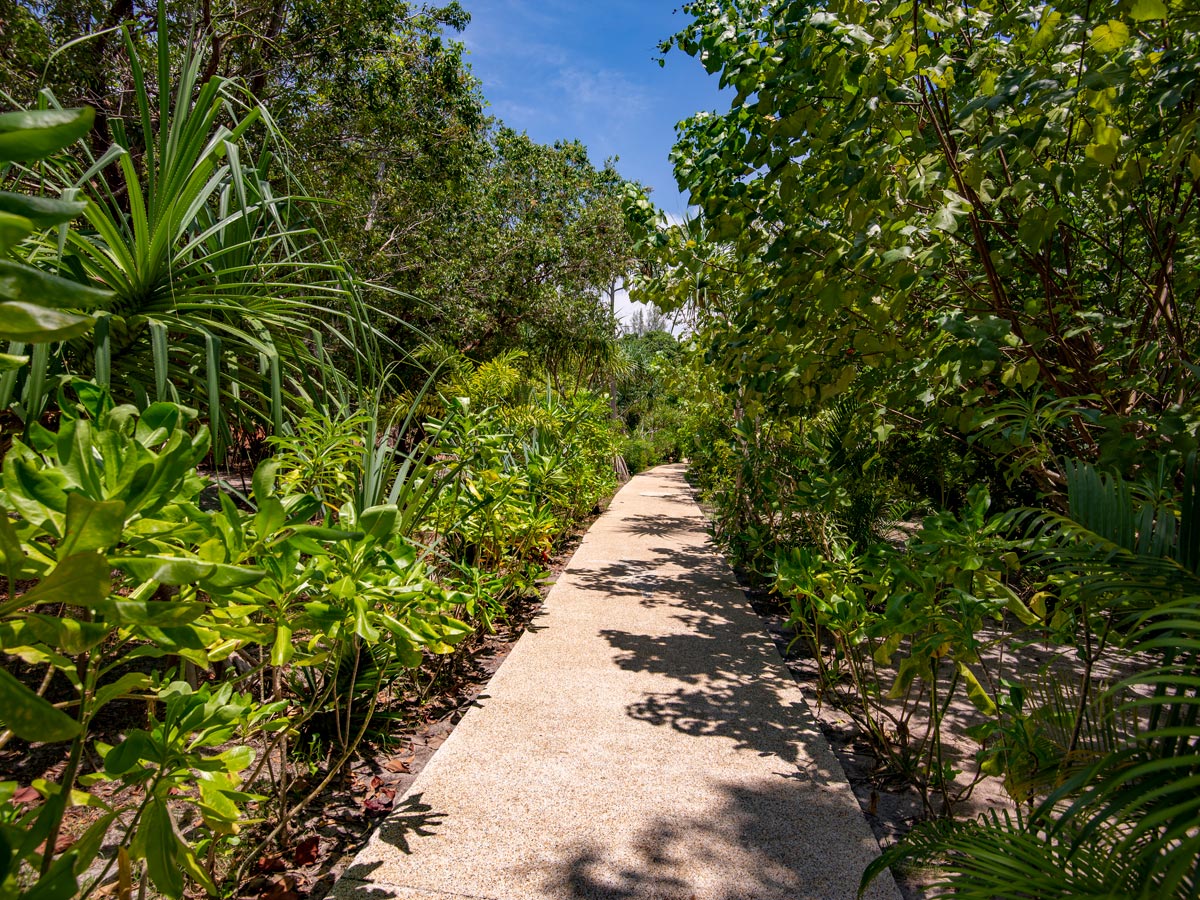 Pathway leading through the resort at Koh Jum Beach Villas
The main beaches along Koh Jum's west coast include Long Beach and Golden Pearl Beach. Most of the better accommodation options are located on either Ting Rai or Golden Pearl beaches. Golden Pearl is where Koh Jum Beach Villas is located, and we found this to be our favourite beach. Here you can find a handful of small laid-back resorts with beachfront bars and eateries. Koh Jum lodge has a nice beachfront restaurant which is a great little spot for lunch, further along; Fu Bar (part of the Golden Pearl Beach Resort) and Rock Bar (on the rocks at the north end of the beach) offer fantastic happy hour cocktails which you can enjoy whilst watching the sun go down – and Koh Jum doesn't disappoint when it comes to sunsets!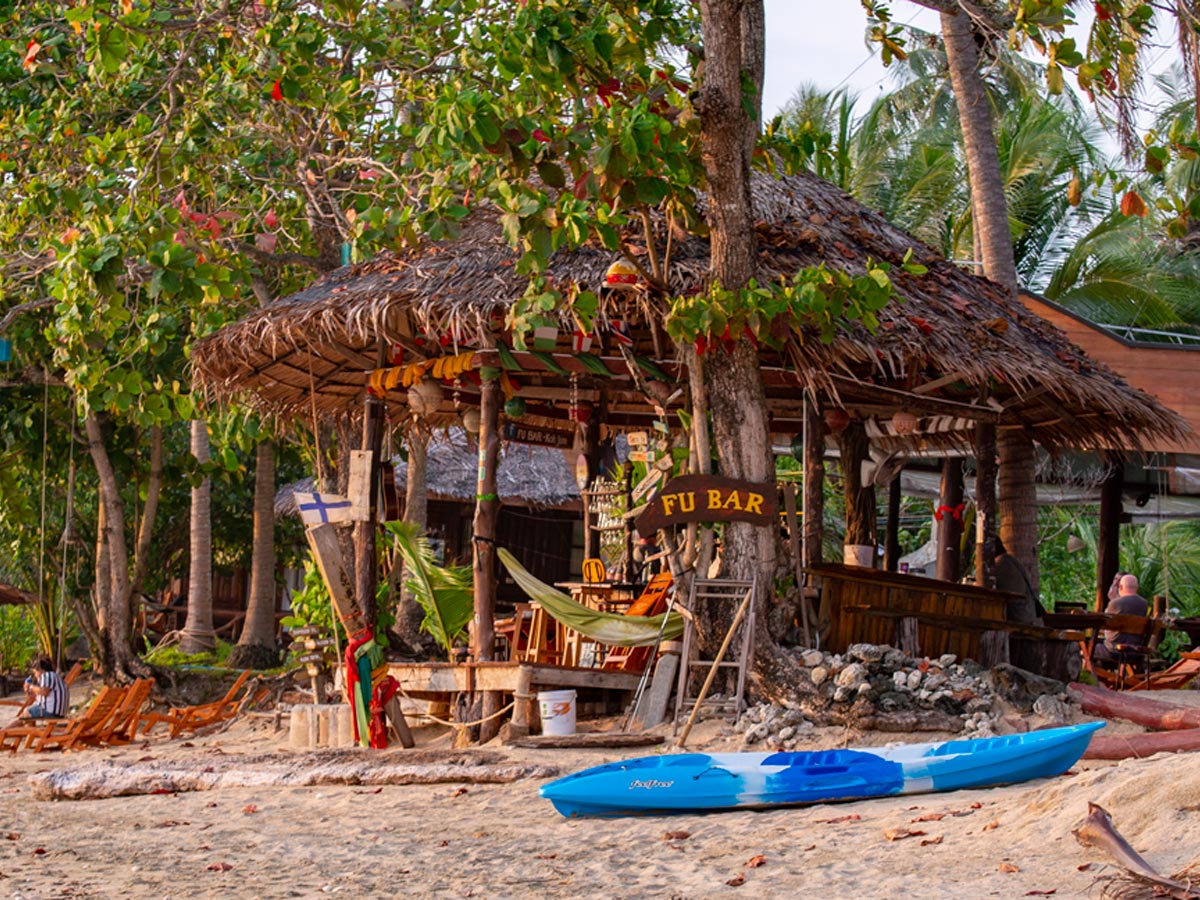 Fu Bar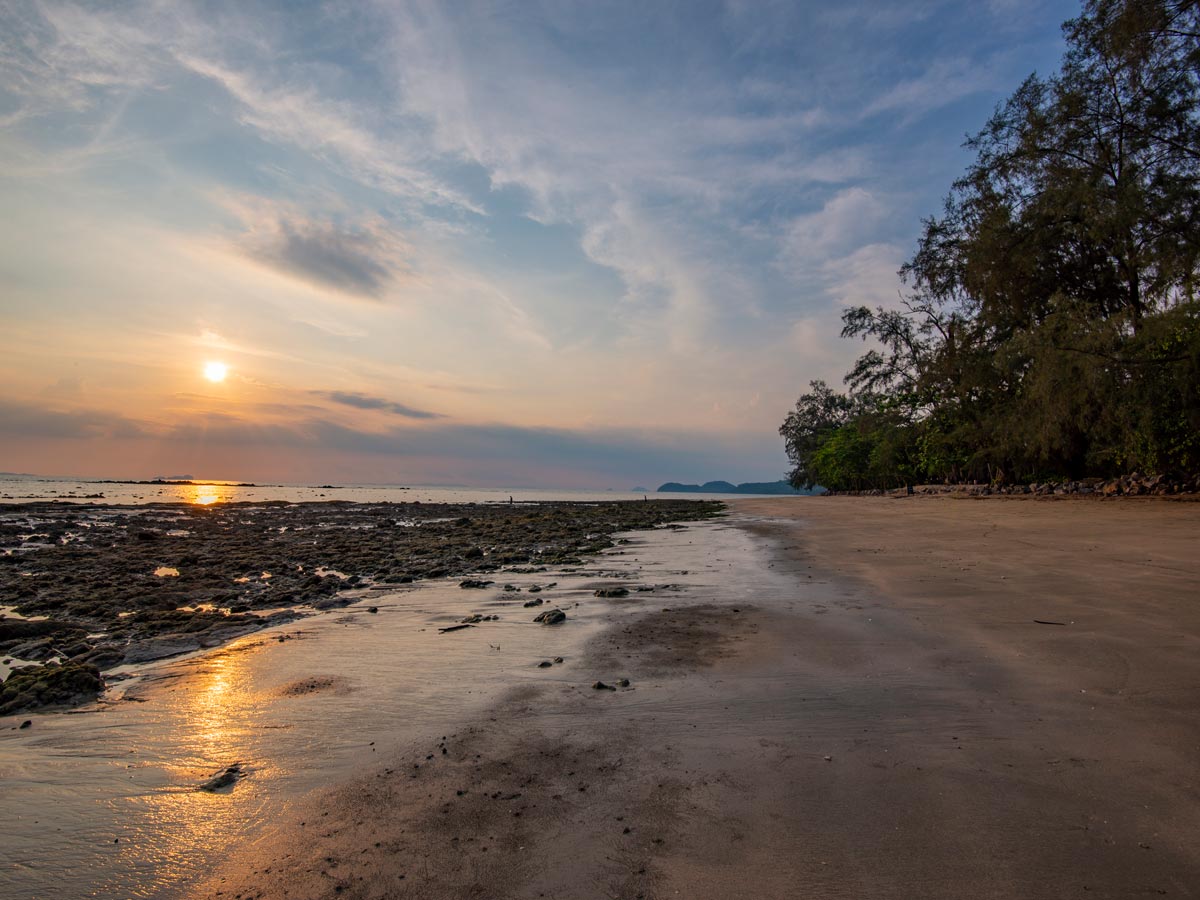 Sunset, Golden Pearl Beach
Conclusion: Come to Koh Jum for total relaxation, and an opportunity to immerse yourself in authentic local life. If you are feeling energetic; hike a mountain for a chance to see exotic wildlife or go canoeing through backwater mangrove forests, if you're not – no worries, just relax on deserted beaches, soak up the sun and switch off from the world. Definitely have a massage on the beach, sip cocktails whilst watching epic sunsets and enjoy spicy food under the stars. Unless something dramatic happens, there's no rush either, like the people that live here we hope Koh Jum stays the way it is for the foreseeable future.