Costa Rica
What is the best GPS / Sat Nav for Costa Rica?
Driving in Costa Rica is all part of the experience, but sometimes the experience of trying to navigate your way around this amazing country can become a somewhat stressful affair!
Reliable GPS or Sat Nav options can also be very expensive, especially as most car rental companies charge extortionate daily rates for renting the devices. Here are the average prices you can expect to pay over a 14 day trip to Costa Rica:
Adobe (Local / Nationwide in Costa Rica) : $142.00 / £115 (excl taxes)
Europcar: £100
Enterprise: £270
Alamo: £165
Sixt: £105
As you can see, the very least you'll be paying to rent a GPS system is around £7 or £8 ($10) per day, sometimes it can be even more - adding up to over 50% of your car hire costs!
So what are the alternatives? 
Offline GPS / Sat Nav Maps for Smart Phones (iPhone and Android)
Using Google Maps you can now download maps to your mobile device and then use them for offline navigation using Google Maps and Waze. You'll want to do this in your home country or when connected to WiFi to avoid data roaming charges, and we recommend you do this before setting off for Costa Rica!
Getting your mobile device set up for offline navigation in Costa Rica is actually pretty straight forward. The first thing you need to do is open the Google Maps app and simply search for Costa Rica: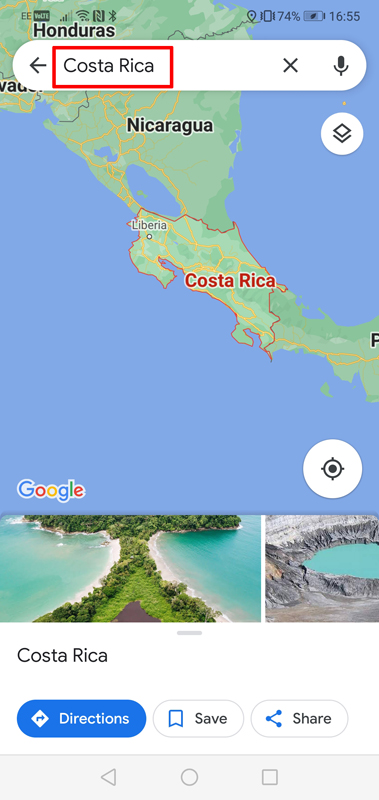 Then scroll down and select "Download".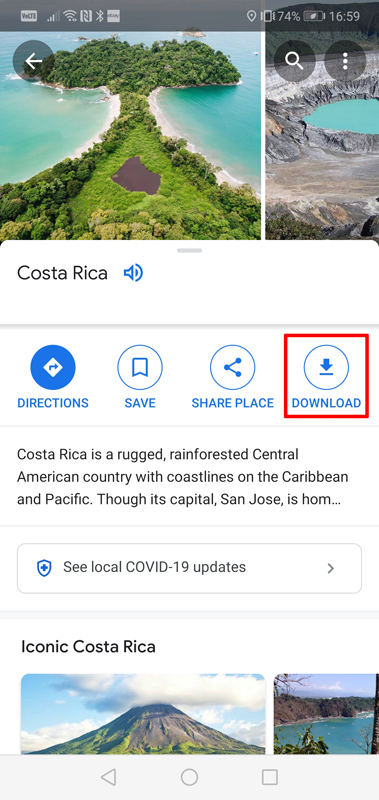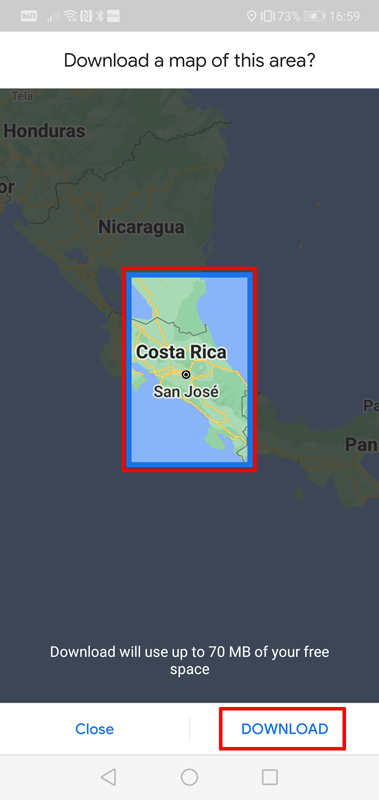 You can save the map data to external (SD) storage if your device has this feature and full instructions can be found here: https://support.google.com/maps/answer/6291838
Waze has become increasingly popular in Costa Rica and offers good accuracy for route planning. In order to use Waze to its full potential you are better off using it with an Internet connection so that you can benefit from the live traffic updates. However despite the app not having an official "offline" mode there is a handy little trick whereby you can plan routes in the app whilst connected to the internet, this stores the route in your device and allows you to use the Waze app for navigation without an internet connection. For more information on using Waze offline, see: https://mygpstools.com/waze-gps-navigation-app-how-use-offline-maps
Smartphone Navigation Apps using a Local Sim Card
If you are planning to use a smartphone app for GPS navigation in Costa Rica then buying a local sim card with a data package on arrival is something we would definitely recommend. You can pick up a local sim at the airport on arrival, or pop into any supermarket to buy one. We picked up a sim card at the Walmart store close to SJO airport, this store has a Claro boutique and the staff there were extremely helpful. We picked up a few snacks and drinks for our first leg of our trip and got set up on a prepaid data plan within a few minutes. It's also very cheap and we paid around £5-10 for a data plan that lasted the entire 2 weeks. See here for more information on Claro prepaid data plans: https://www.claro.cr/personas/servicios/servicios-moviles/prepago/planes-y-precios/?gclid=CjwKCAjwz6_8BRBkEiwA3p02VVDOvlXn7u0M-ZXYXdtNMBOr8lvMvzQ3tTNPFprP1t3rbVqmWpkpqRoCJCwQAvD_BwE
The Best and most accurate GPS / Sat Nav option for Costa Rica - Garmin Device plus an add-on map.
If you want the security of the most reliable and accurate navigation system then this is the way to go. You wont need to worry about the charge in your phone battery running out, the sometimes unreliable nature of Google Maps or Waze when trying to find more remote locations or the loss of cellular data coverage. 
Although the major manufacturers of GPS / Sat Nav units (TomTom, Garmin) offer their own map software upgrades and bolt-on packages these are often vastly over priced. The good news is that you can buy third party map packages from local suppliers for a fraction of the cost and you are good to go. By buying a GPS / Sat Nav unit you also have the device for as long as it lasts and can use it wherever you go in the world!
Our recommendation is to buy an entry level device from Garmin. The Garmin devices generally have a wider choice of 3rd party maps due to better compatibility. A device such as the Garmin Drive 40LM is ideal and can be picked up on Amazon for around £79.
https://www.amazon.co.uk/Garmin-Satellite-Navigation-Western-Lifetime/dp/B01BVUBW5O/ref=sr_1_3?dchild=1&keywords=Garmin+Drive+40LM&qid=1603041954&s=electronics&sr=1-3
For Costa Rica there are two main vendors of GPS maps for Garmin devices there are:
Either of these are a great option and will help you get around costa rica hassle free. We used the NAVSAT maps on our trip and they did not disappoint. The support offered by the company was fantastic and the installation on our Garmin device could not have been easier. GPS Travel Maps are also excellent and we have used their maps in places like Argentina with 100% satisfaction.
Top Tip - We loaded all of our main routes into the GPS unit before we left the UK so that we could just load them up on arrival, this really made things easy! After reading up about how GPS / Sat Nav systems sometimes struggle in Costa Rica we used the GPS coordinates rather than addresses to plan our routes - most hotels and tourist attractions will provide GPS coordinates on their website and actively encourage you to use them!
One final point - Buy a physical map too! Sometimes you can't beat the old fashioned way of doing things and in the event of a technology failure you can't beat having a real map in your hands. We highly recommend this waterproof map: https://www.onbuy.com/gb/waterproof-travel-map-of-costa-rica~c2680~p5153743/?exta=gshp&stat=eyJpcCI6IjExLjk5IiwiZHAiOjkuOTksImxpZCI6IjI5ODc3NTQ2IiwicyI6IjQ5IiwidCI6MTYwMjE0NDEzNCwiYm1jIjoiMC4wIn0=&lid=29877546&gclid=CjwKCAjwz6_8BRBkEiwA3p02VUAMoiEDrkP4cGJZYaJTlJztyLlDAbeOGiFJlNCwVOA0AkC_y2K4ohoCtIUQAvD_BwE&gclsrc=aw.ds