Thailand
Our guide to visiting Koh Lanta, Thailand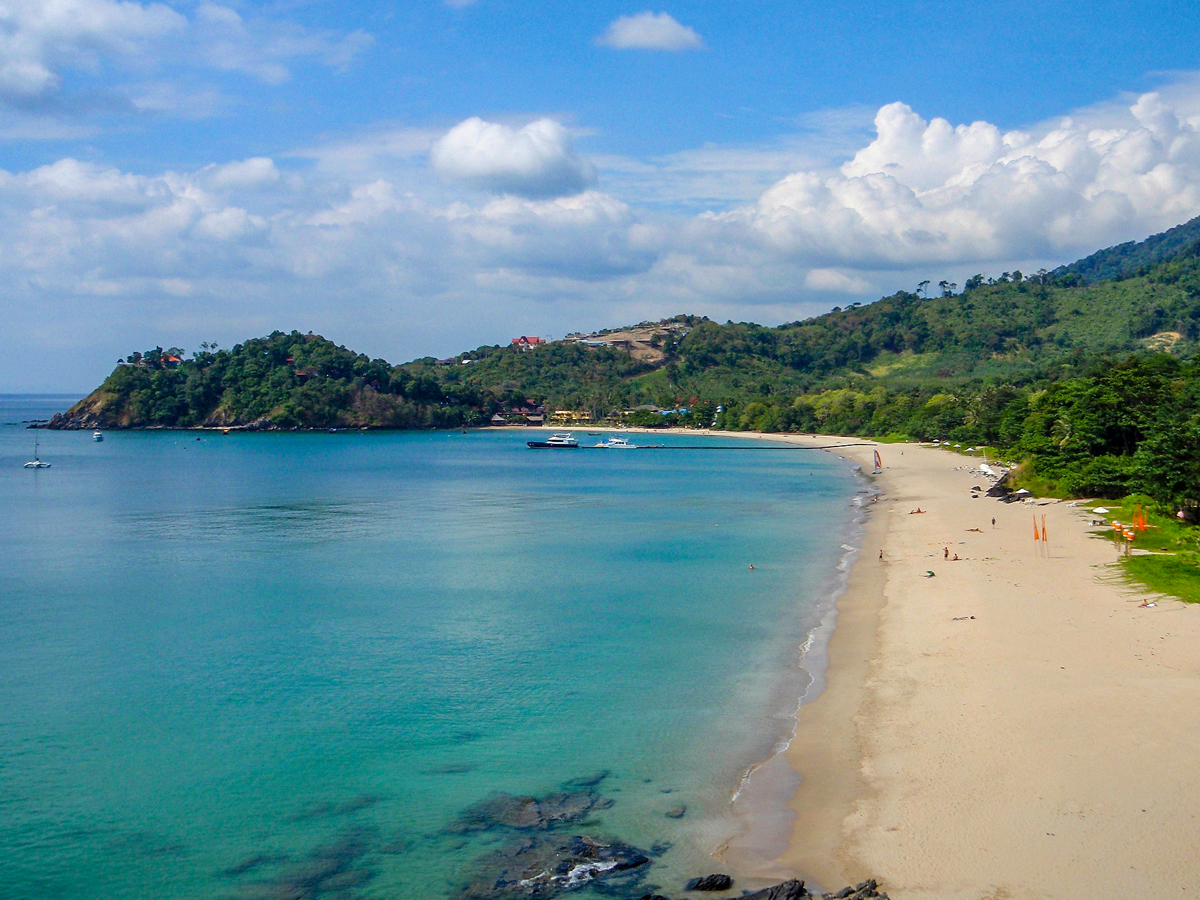 We recently posted an article about our last trip to Thailand and how we fell in love with the island of Koh Jum. During our 10 day trip we also spent five days on the magical island of Koh Lanta. We decided to visit Koh Lanta as we wanted to spend some time diving and snorkelling and the proximity of Koh Lanta to Koh Haa and Koh Rok made it an obvious choice. From reading up about the island we also got the impression Koh Lanta had a relaxed vibe but also had enough to keep us entertained for our 5 day visit. 
Located roughly one hours' drive south of Krabi International Airport, Koh Lanta Is quite a large island. The vast majority of accommodation and beaches are located on Lanta Yai, the southern half of the island, which stretches 25km from the port town of Ban Saladan in the north to the village and beaches of Ao Kantiang in the south. All of the islands best beaches and resort villages are located on the islands west coast, the only notable development on the eastern side of the island is Lanta Old Town.
Arriving in Koh Lanta, Ban Saladan
Ban Saladan situated on the northernmost tip of Lanta Yai. Most visitors to Koh Lanta will pass through the village, whether arriving by ferry, speedboat or minivan – however you arrive on Koh Lanta, your first impression will be Ban Saladan's stunning wooden houses built along the water's edge on stilts above the sea, many of these houses have been turned into restaurants. The village does get busy during high season when boats from Krabi, Phi Phi and Koh Lipe run every day. Pretty much everything you'll need is here, from beachwear shops and mini marts to tour agents and dive shops. The accommodation options in Ban Saladan are mainly of the budget range and backpacker hostels, although there are some mid-range options such as Hotel Zealonta.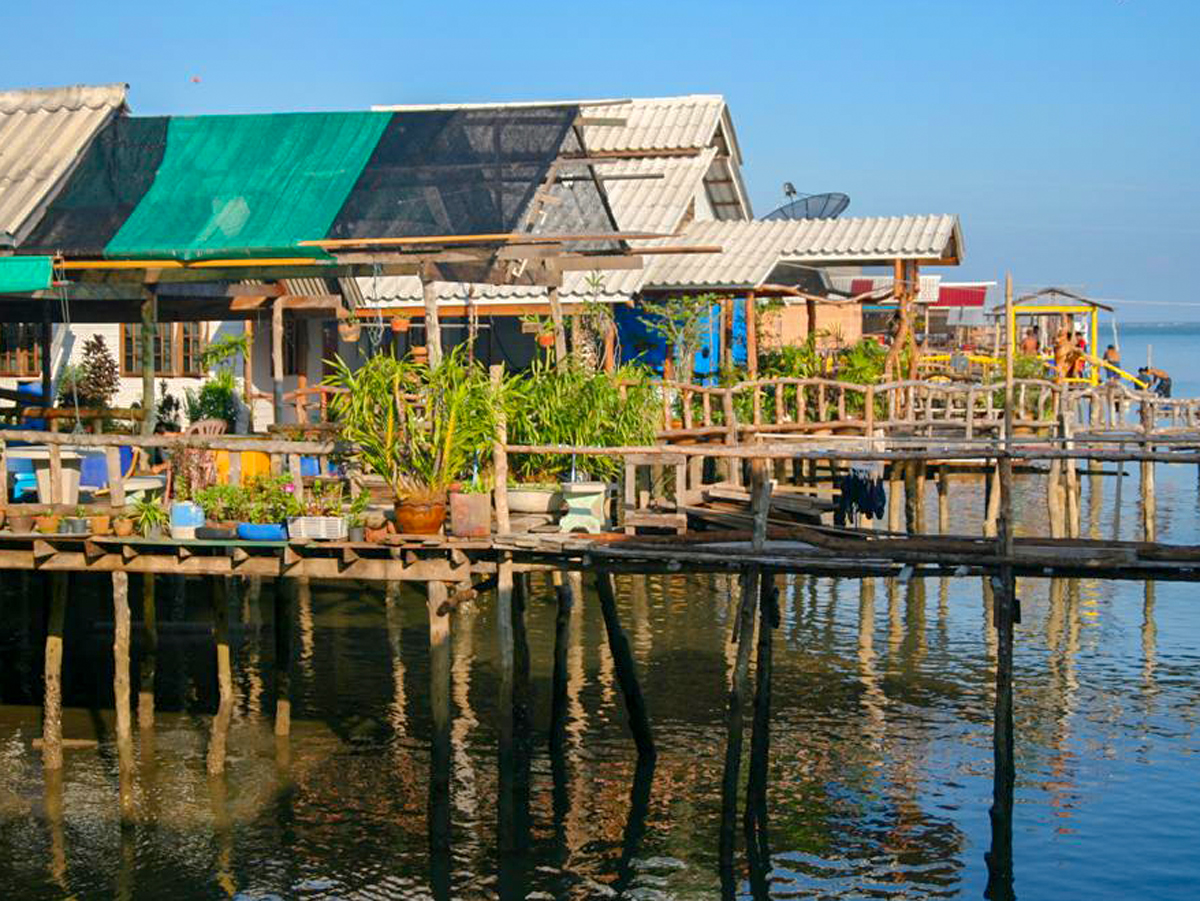 Ban Saladan
Where to stay on Koh Lanta
The main areas to stay on Koh Lanta are beachside villages of Hat Khlong Dao, Ao Phra-Ae (Long Beach), Hat Khlong Khong, Hat Khlong Nin, Hat Khlong Nam Jud and Ao Kantiang.
The Northern Beaches
The first beach along the coast from Ban Saladang is the gently curving bay of Hat Khlong Dao, known as "the family beach", it is a great spot swimming, hugged by protective headlands. Despite having been developed to full capacity Hat Khlong Dao covers a large enough area to not feel overcrowded. The village has plenty of minimarts and transport outlets, both along the shoreline and the main road. The most well-known resort on Hat Khlong Dao is the Lanta Crown Resort & Spa, offering affordable luxury options all the way from deluxe rooms to 235 square metre private pool villas. 
Ao Phra-Ae / Long Beach
Ao Phra-Ae or Long Beach is a stunning arc of soft white, calm and crystal-clear water that's perfect for swimming, many consider Long Beach to be the most beautiful of Koh Lanta's many beaches. The accommodation options on Long Beach are more varied than Hat Khlong Dao, there are lots of budget and mid-range beach huts but the stand-out is Layana Resort and Spa – a luxurious retreat regarded as one of the best hotels on the island.
Ao Kantiang
Consistently voted one of the best beaches in Thailand (and South-East Asia for that matter), Ao Kantiang is located towards the southern end of Koh Lanta, it's a much quieter, more secluded beach than Klong Dao or Long Beach and boasts some of Koh Lanta's best soft golden sand which stretches for nearly 2 kilometres. This superb southwestern sweep of sand backed by mountains and lush jungle, creates a perfect crescent shape keeping the Andaman Sea mostly flat, calm and with crystal clear water. Ao Kantiang it is also its own self-contained village with mini-marts, internet cafes, dive shops, motorbike rental and restaurants. It's far from everything so is a great place for couples, honeymooners and low key family holidays. Koh Lanta is also well known for its epic sunsets and with picture perfect ocean sunsets Kantiang bay offers some of the best we've ever seen!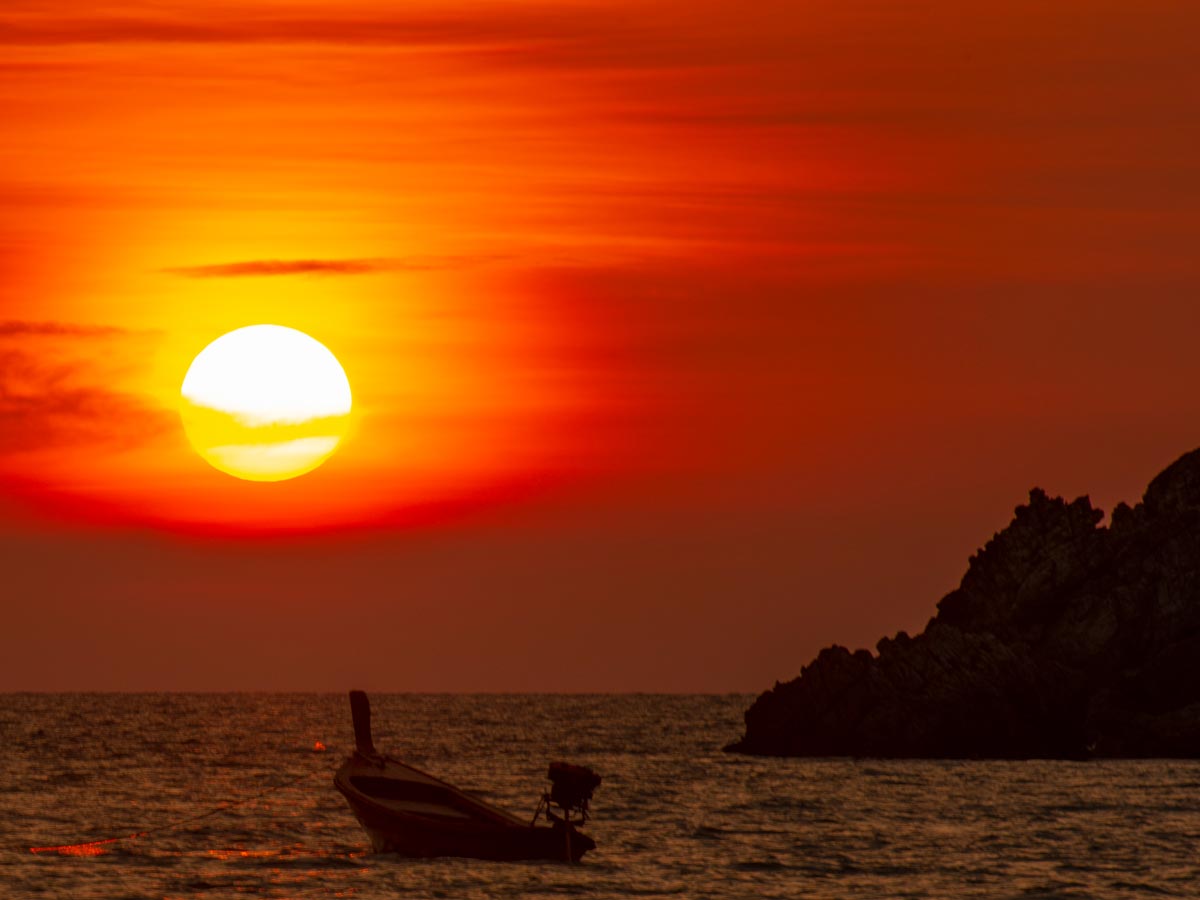 Sunset at Ao Kantiang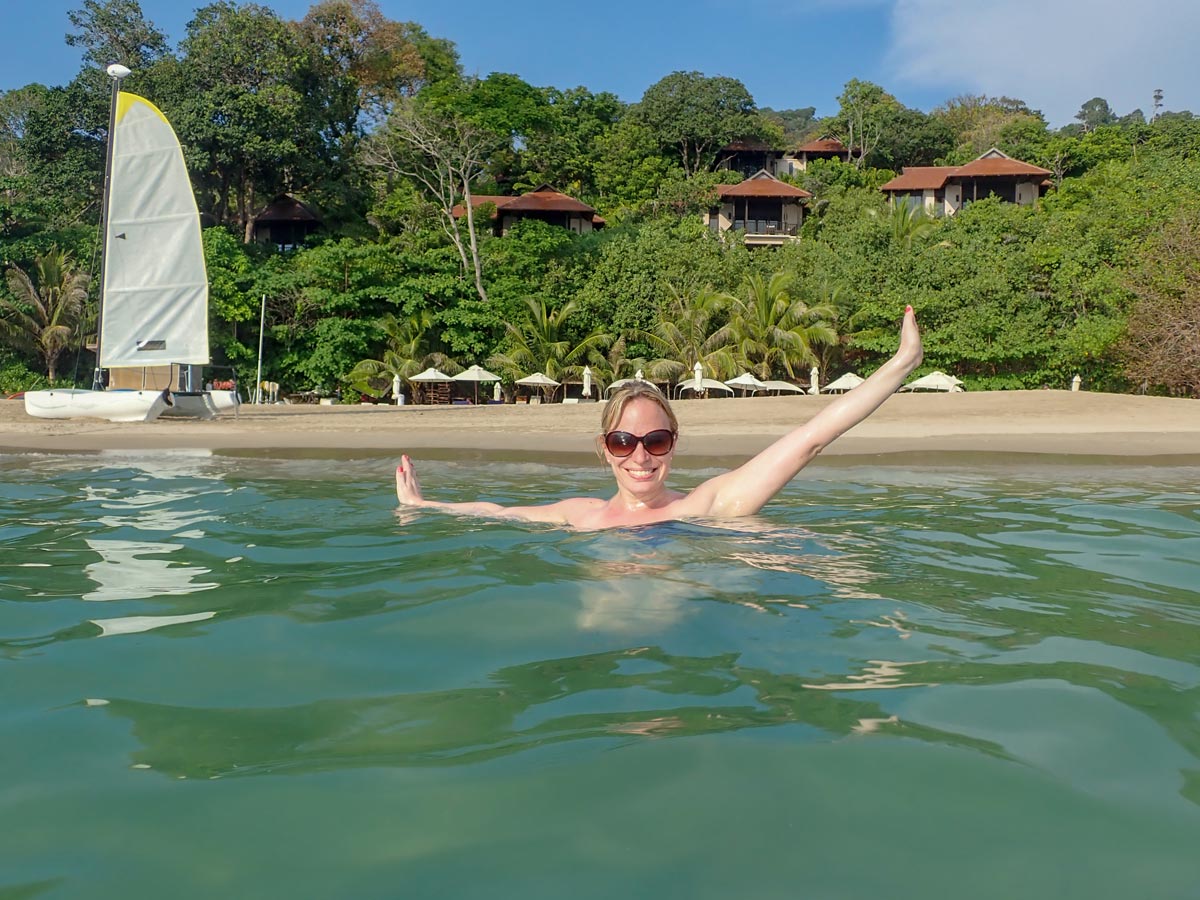 The perfect beach!
Where To Eat And Drink
While in Ao Kantiang, we visited several of the restaurants in the village. The "K.Himalaya" Indian restaurant was one of our favourites - run by a local chef with more than 18 years of experience in the industry. This place is famous for its Thai options, veggie, and vegan-friendly menu and it's speciality tandoori oven pizzas. We also enjoyed a pleasant lunch at "Drunken Sailors" - A chic coffee shop with bean bags and hammocks, this hip cafe offers a rich variety of dishes, featuring everything from traditional thai and delicious breakfasts to flavorful pastas and savory western burgers.
The "Why Not" bar is a popular beach bar, thanks to its prime location in Ao Kantiang. The bar offers, as you might imagine, the usual selection of drinks, but also some good food too, if you're feeling peckish. It also runs regular music, and fire shows most evenings, making it a great place to chill out and enjoy some casual entertainment.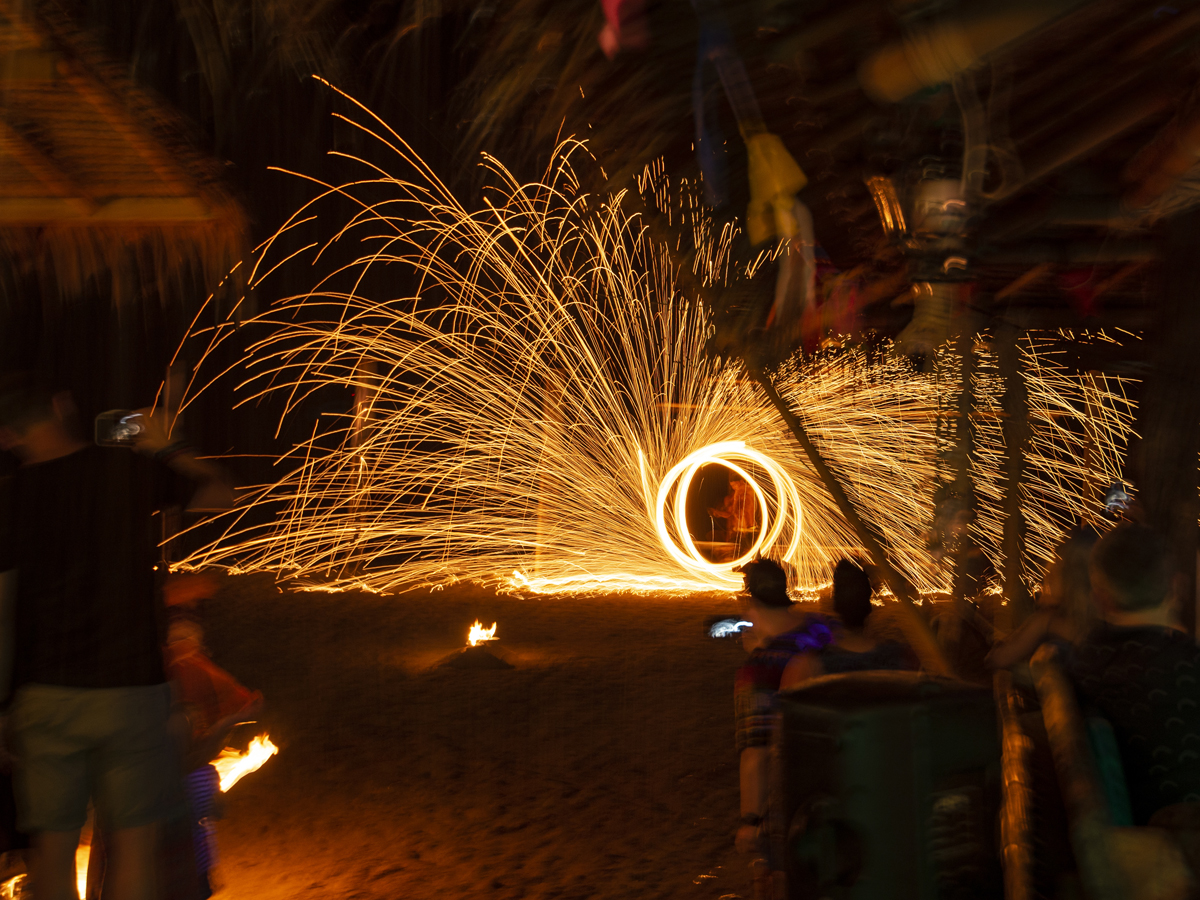 Firework show at "Why Not" Bar
"Same same… but different" is another beach bar and restaurant located at the southern end of the bay. This is a super relaxed place where you can enjoy some authentic and tasty thai food and drinks on the beach.
Where To Stay 
The accommodation options in Ao Kantiang are excellent and top of the list is without a doubt the five star Pimalai Resort & Spa, where we were lucky enough to be hosted for our trip to Koh Lanta. Pimalai sits on a hill overlooking the southern end of Ao Kantiang, it has stunning views over the bay and is surrounded by jungle. The grounds of the property are immaculately kept and you can often spot big "Water Monitor" lizards roaming around the gardens.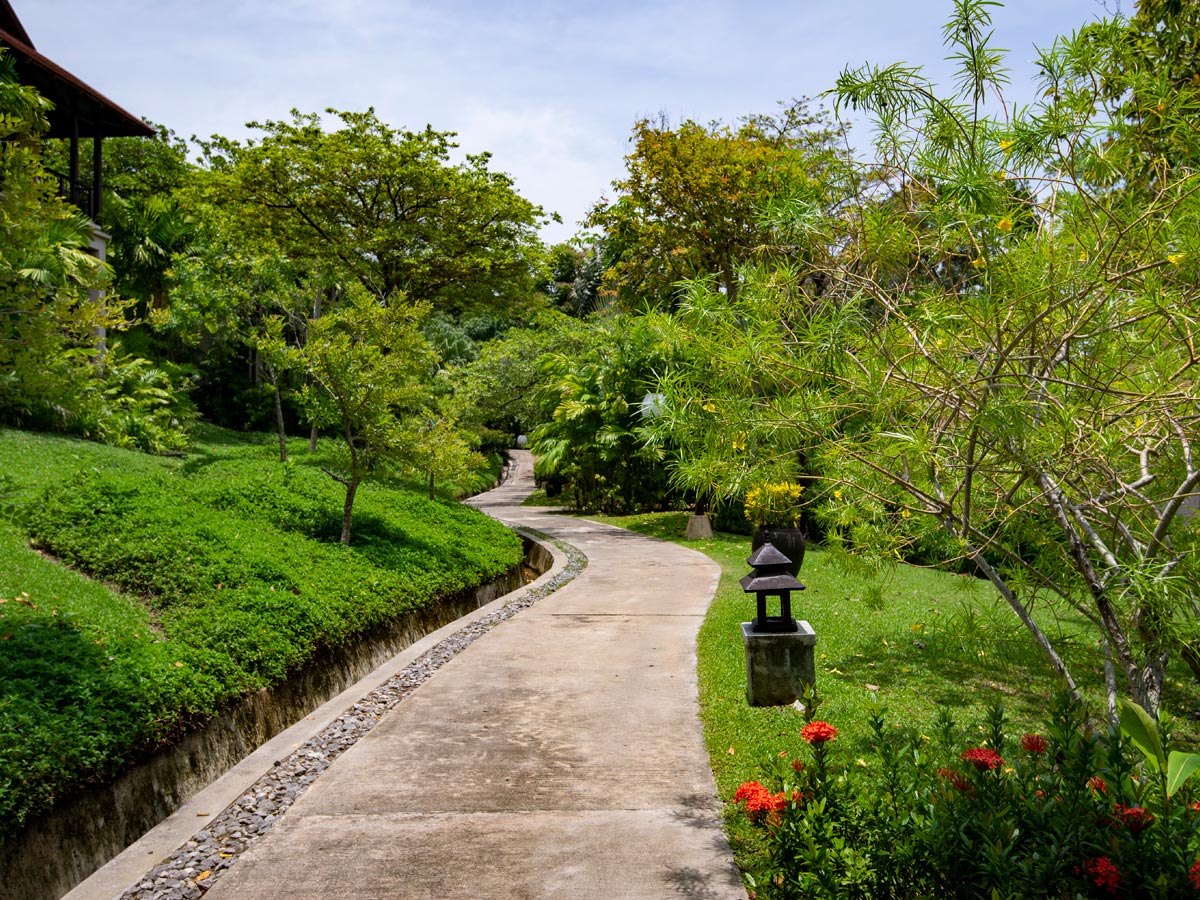 Pimalai Resort Gardens
The resort has more than 900 meters of unspoiled beachfront and hosts visitors in a serious of self-contained units, the most opulent of which have private pools. We stayed in a Pavilion Suite which was more like luxurious 110 sq metre apartment than a hotel room! All rooms at Pimalai are equipped with a king-size bed, and elegant traditional Thai style interior design elements, complete with polished teak wood flooring. We enjoyed the balcony with a sea view and it was perfectly located, just a stone's throw away from the beach.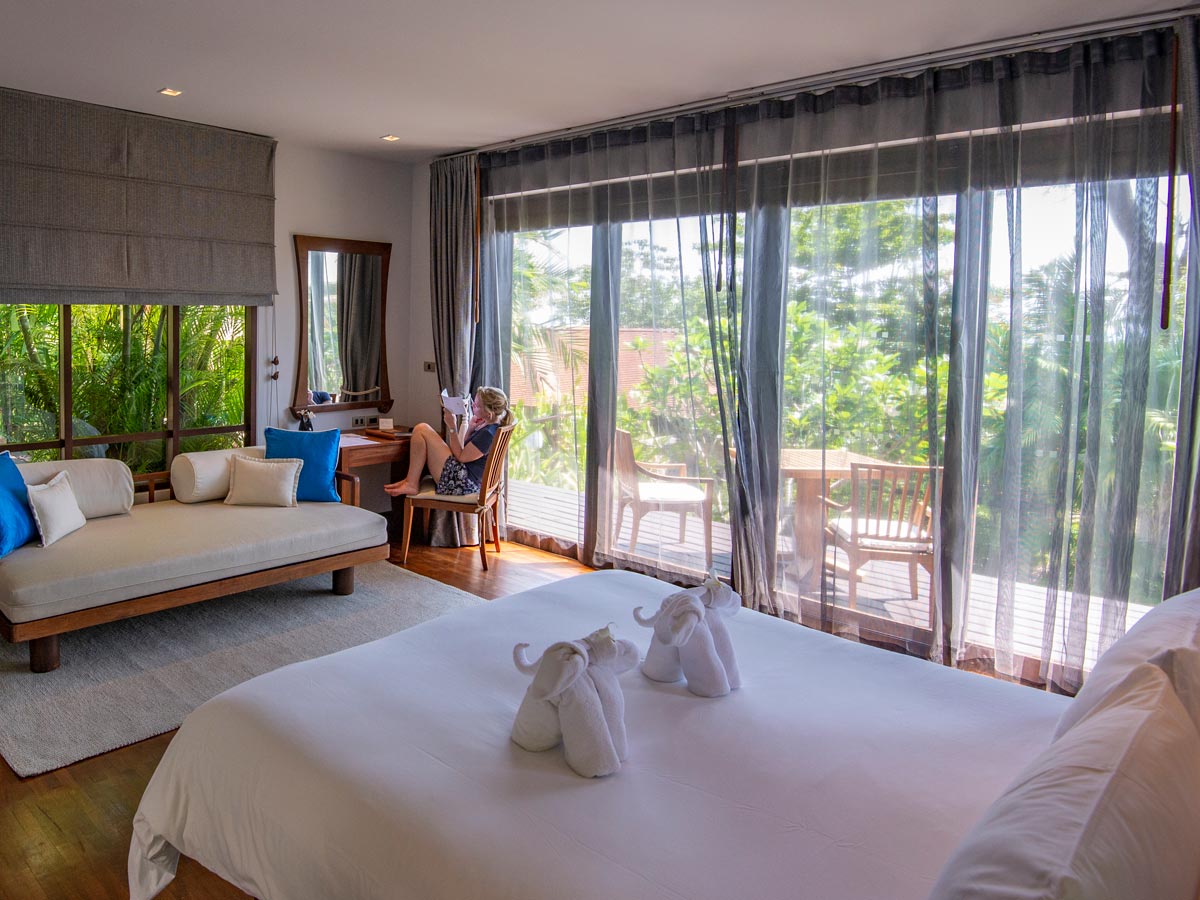 Pavilion Suite room at Pimalai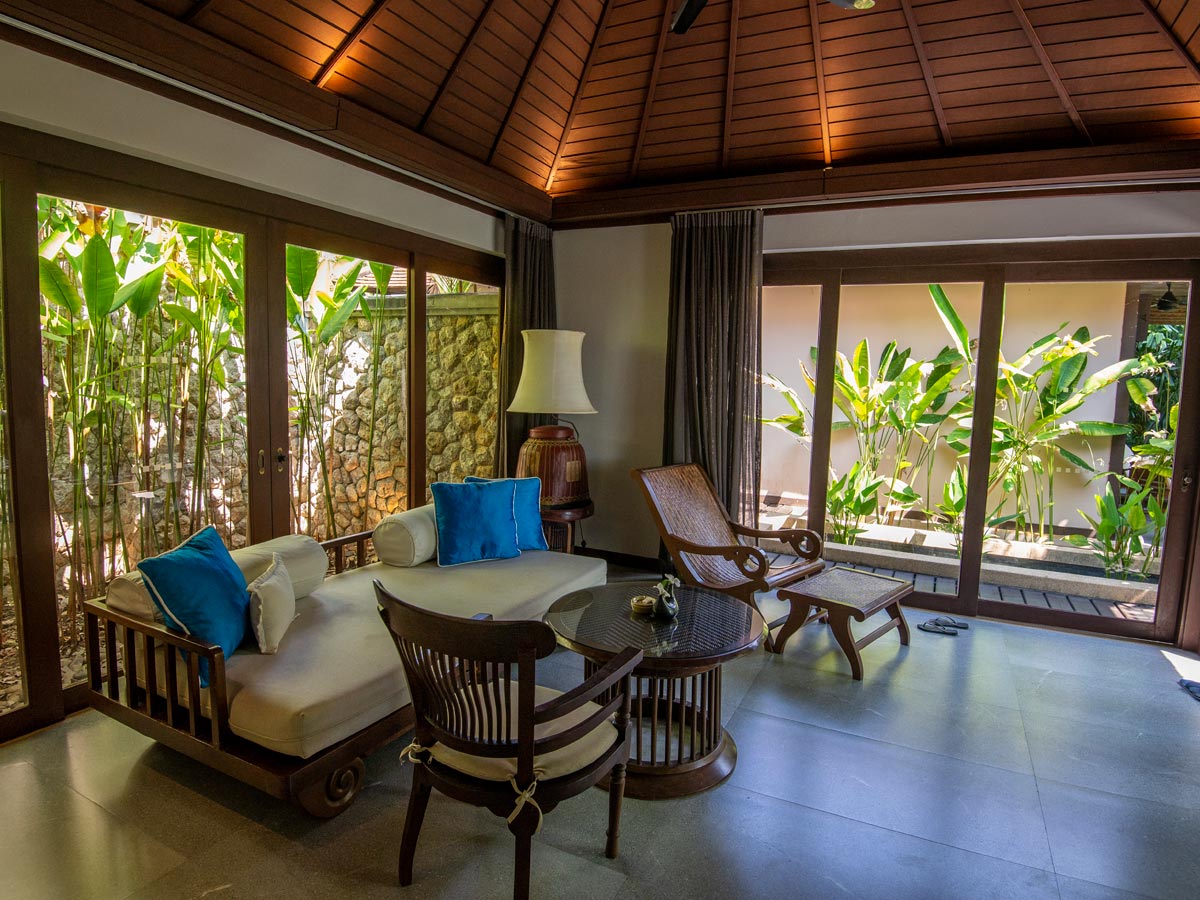 Pavilion Suite room at Pimalai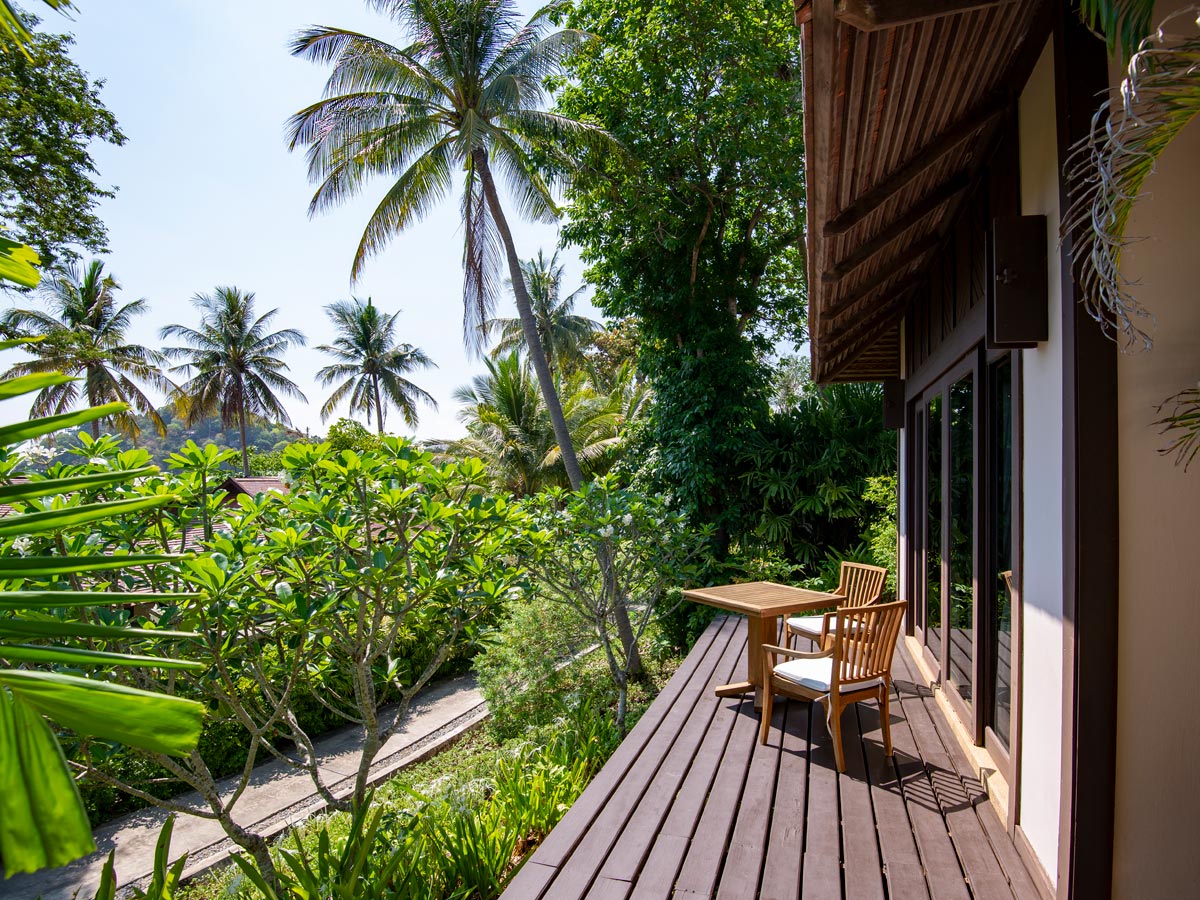 Pavilion Suite room at Pimalai
Massage therapy is provided on-site, as well as an excellent range of exercise classes and a gym. During our stay we took part in a morning Yoga class and had a private one hour introduction to Muay Thai (boxing) which was a lot of fun! Pimalai also has two beautiful swimming pools.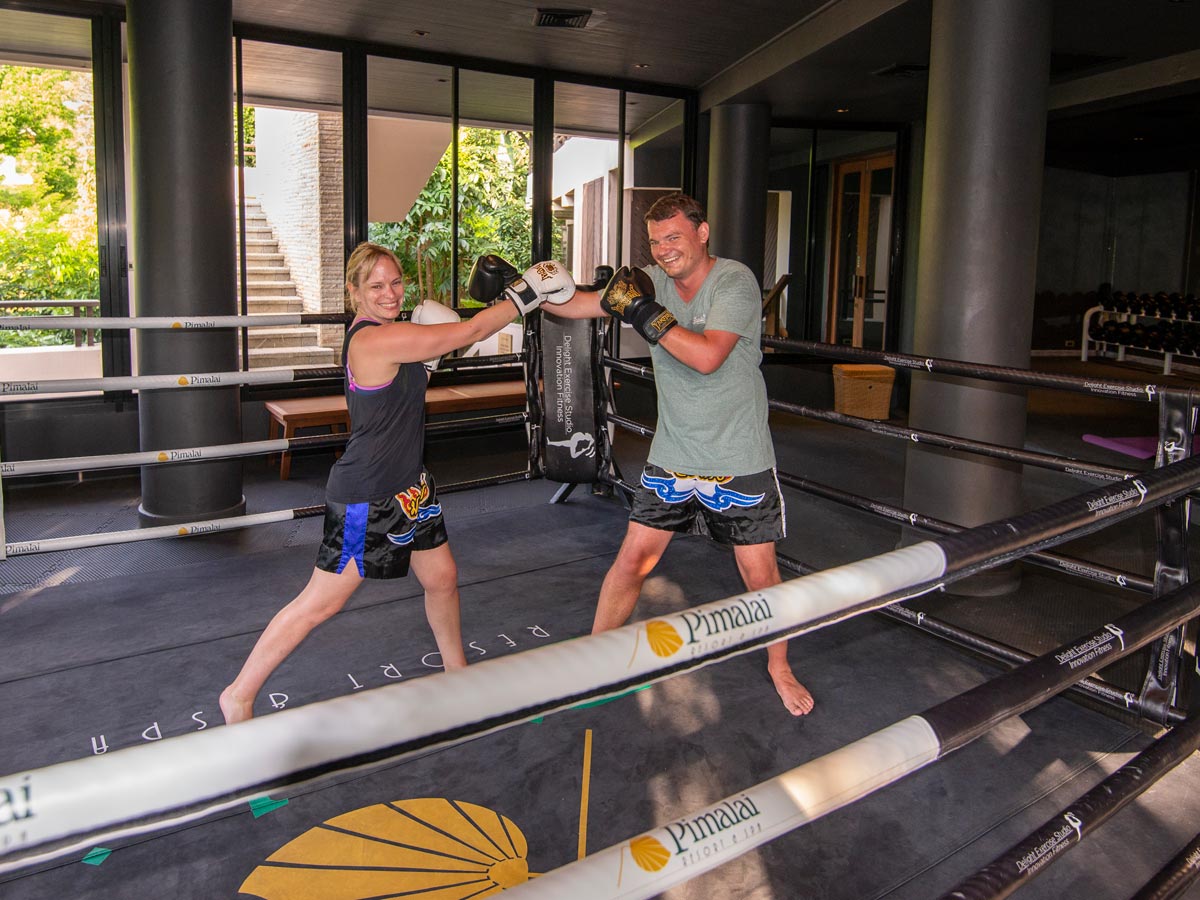 Muay Thai class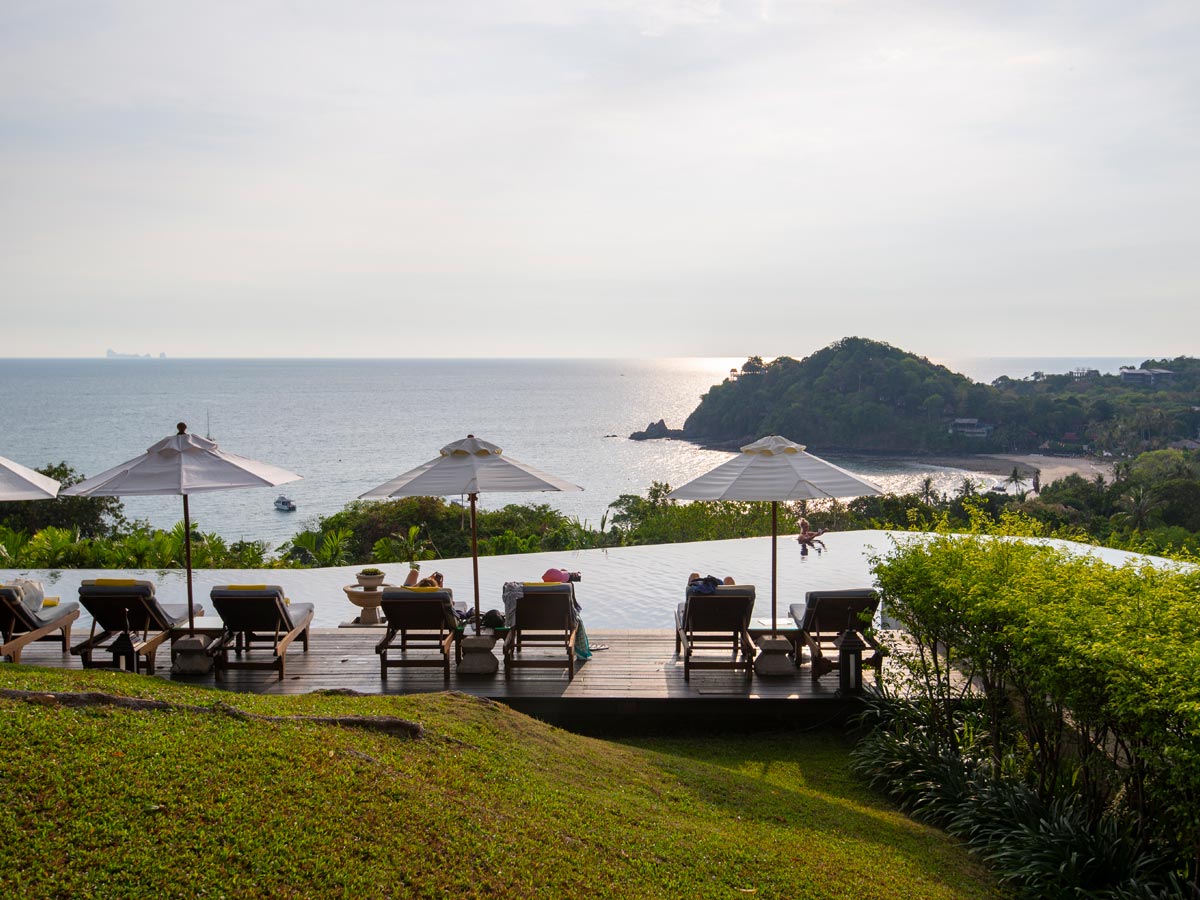 View from the swimming pool at Pimalai
Pimalai resort also features three excellent restaurants and we had a superb meal at Seven Seas (the resorts signature restaurant) which has won a World Luxury Restaurant Award.
Lanta Old Town
Lanta Old Town, located on the East coast of the island, provides a welcome respite from the miles of rolling jungle and white-sand beach. Old Town is stuck in something of a time-warp; the place doesn't look as if it's changed in over a hundred years, with its old pier and houses on stilts, overlooking the water. 
Lanta old town is home to a variety of boutique shops, restaurants, and craft beer bars. It's an ideal place to pick up a souvenir to remind you of your trip to the island. The best bars in the area including the Caoutchouc, Mango House, and Apsara, though there are others. There is a range of novelty shops, including one called Hammock House which, as you might guess, specialises in selling hammocks.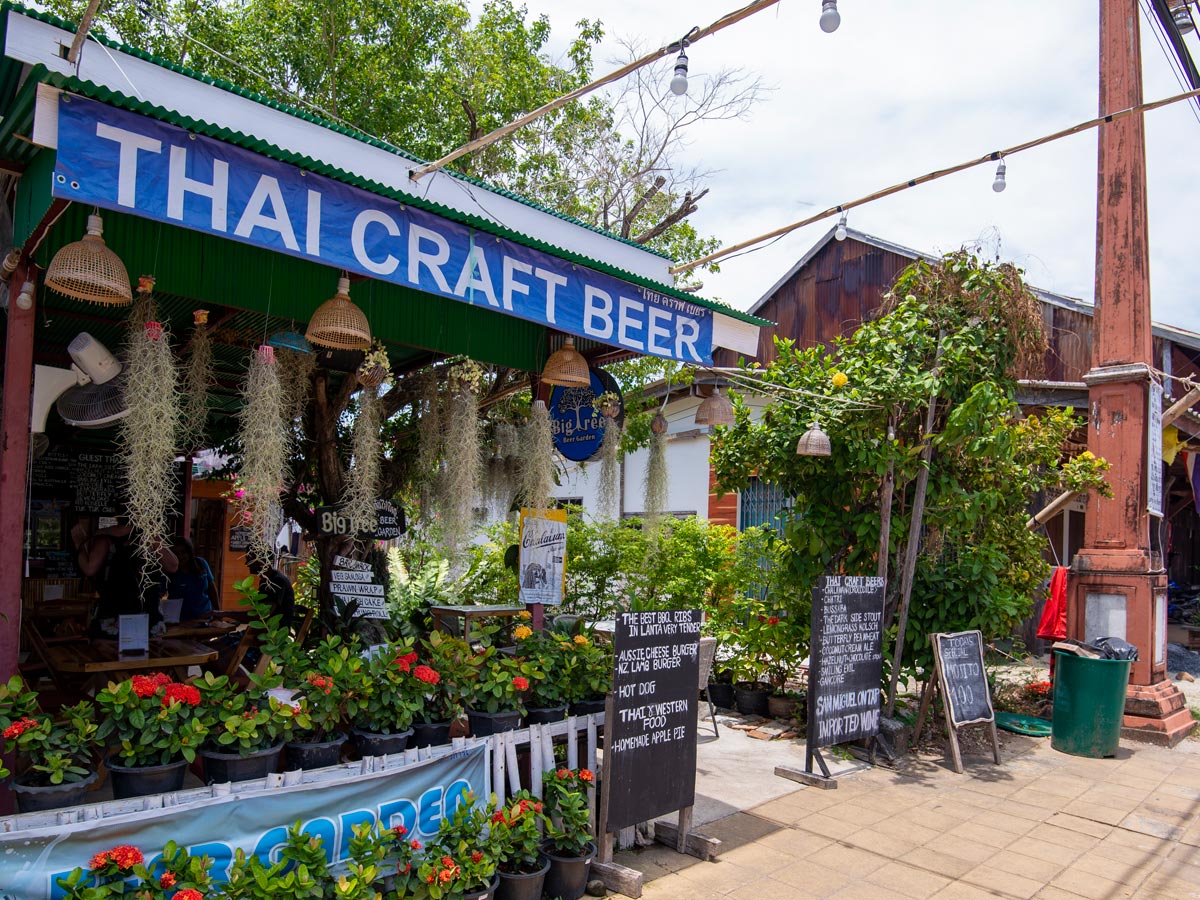 Lanta Old Town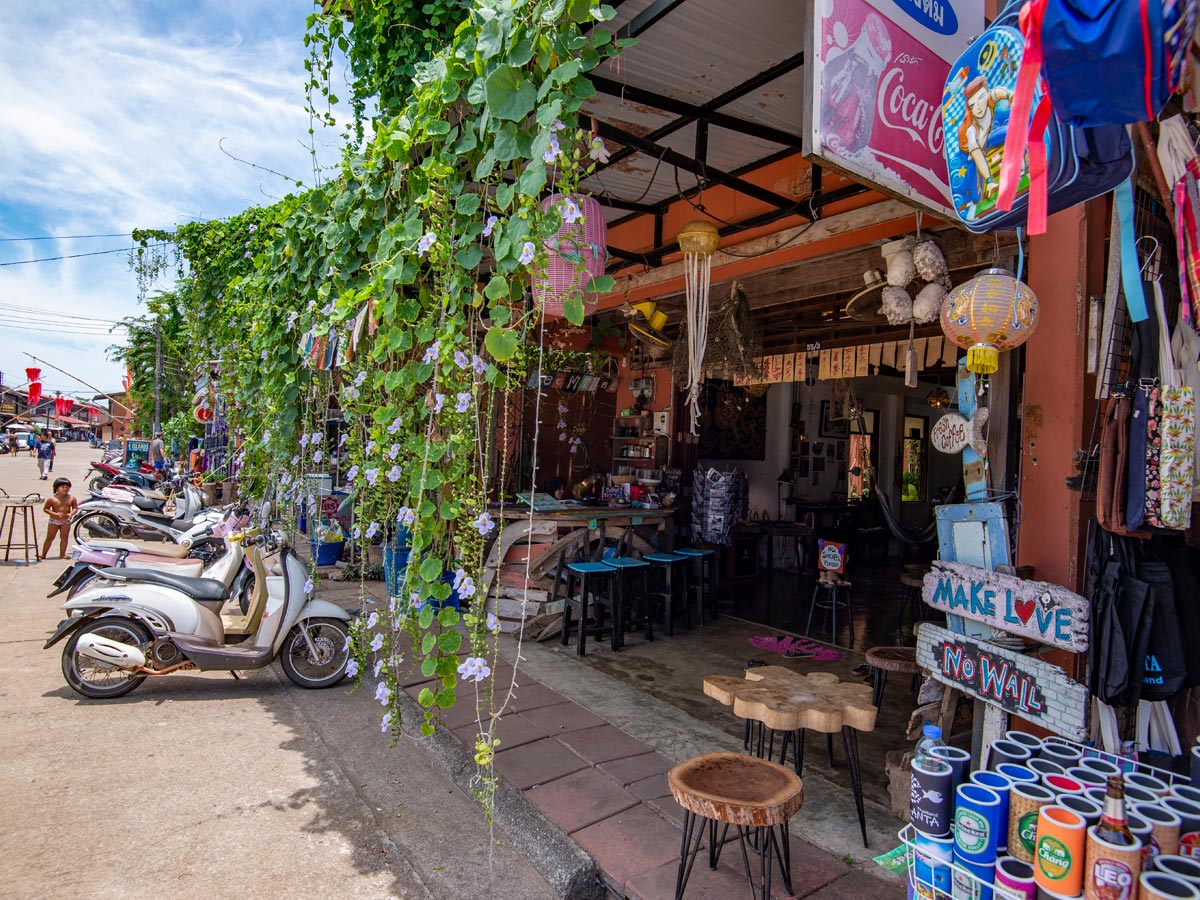 Lanta Old Town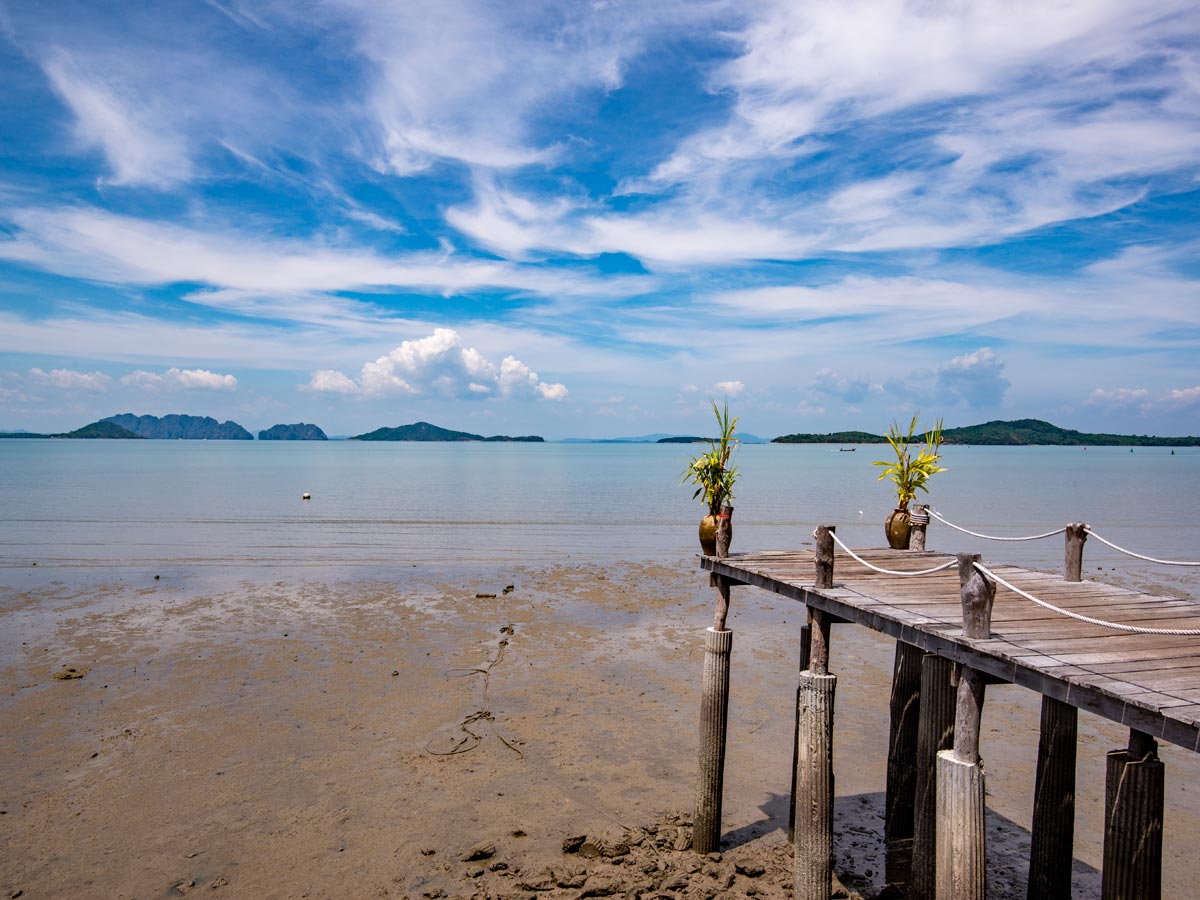 Lanta Old Town
Diving And Snorkeling Trips
The proximity of southern Koh Lanta to Koh Haa and Koh Rok make Ao Kantiang a great place if you wish to explore some of Thailand's best diving and snorkeling sites. Koh Haa, located about 45 minutes away offers spectacular diving, where you can often see Whale Sharks and Turtles. The Koh Rok islands lie around an hour to the south of Koh Lanta and feature some of the finest and most remote beaches in all of Thailand. The island is popular among snorkelers, thanks to the stunning array of wildlife on show, lurking just beneath the water. 
Scubafish dive company - a five star PADI center in Ao Kantiang, organises snorkelling and diving trips for people of all abilities, from the expert to the novice. You'll not only get up close and personal with living corals but also see a range of marine species, including turtles, puffer fish, damselfish, pipefish, surgeonfish, groupers, shrimp gobies and many more. We spent a day with Scubafish on their Koh Haa trip which was excellent, we saw lots of fish, corals and a turtle!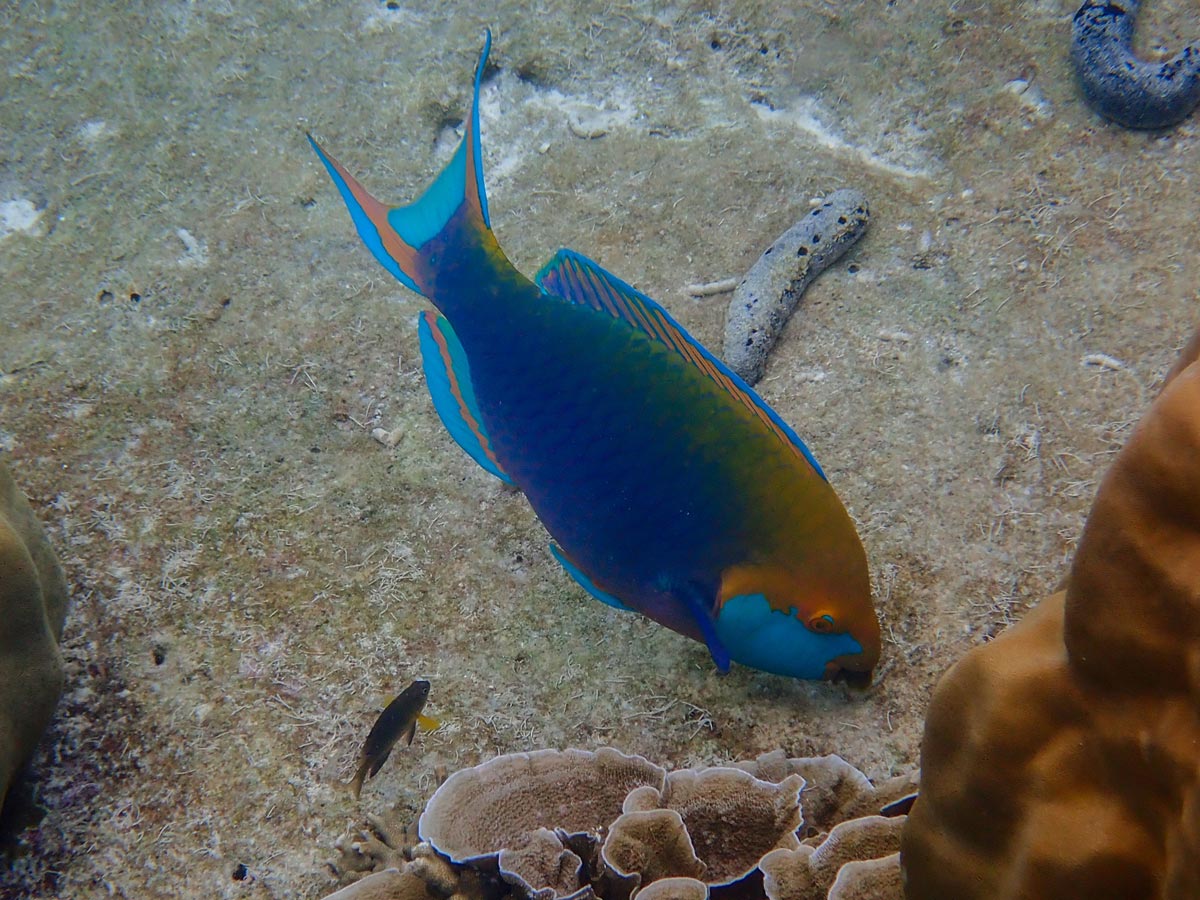 Parrot Fish at Koh Haa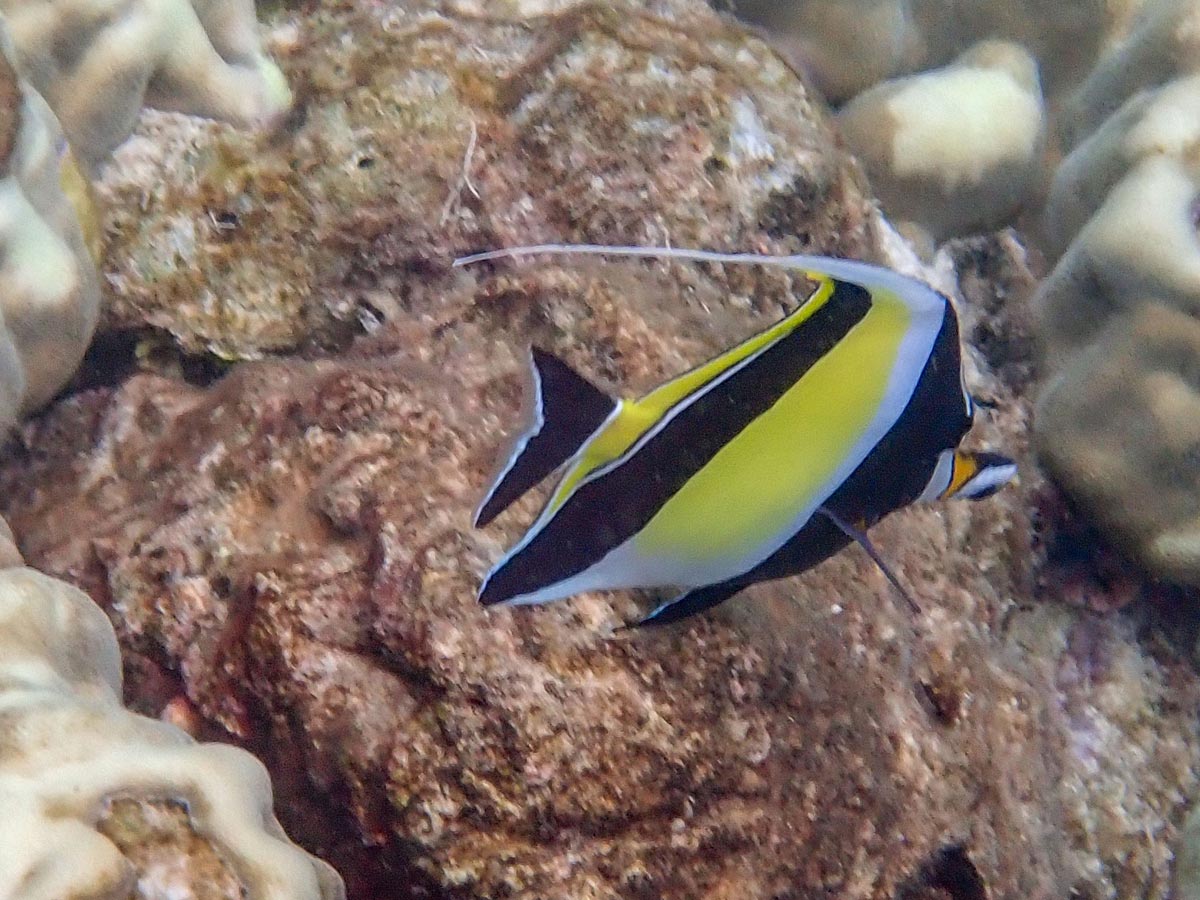 Moorish Idol at Koh Haa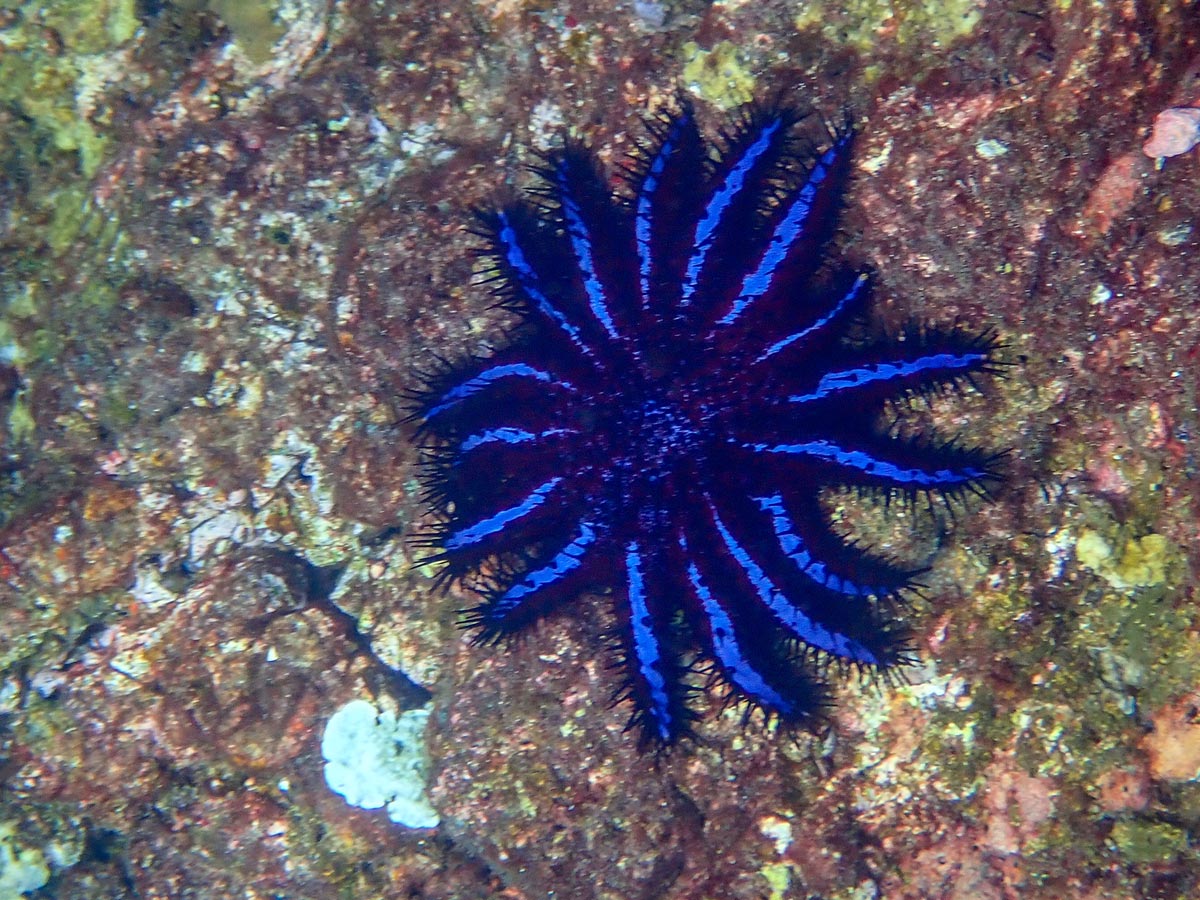 Crown of thorns Starfish at Koh Haa